The Nintendo Switch will launch with Dragon Quest Heroes I & II in Japan, and if you want to play it digitally you'll have to invest in expandable Micro SD cards: the game is literally too big to fit on the system's onboard storage.
Nintendo's new Switch handheld-console hybrid has a paltry 32GB of onboard NAND flash memory, which converts to 29.8GB, and 4GB of that is taken up by the Switch's OS. This leaves gamers with 25.9GB of memory that's actually available for game downloads, saves, screenshots and other content.
Although most Switch games are small, if you plan to download your games digitally you'll want to make use of the Switch's supporting up to 2TB Micro SDXC cards and pick up some expandable memory.
But there's a particular launch game that will exceed the Switch's max available memory by 6.1GB: Square Enix's Dragon Quest Heroes dual-port.
Nintendo's Japanese site confirms that Dragon Quest Heroes I & II will clock in at a massive 32GB on the Switch. As the name suggests, the game isn't just one game but two sizable hack-and-slash RPGs, so that's why it's so huge.
To give you an even clearer picture on what to expect from the Nintendo Switch's digital install sizes, check below for a list of confirmed game sizes:
The Legend of Zelda: Breath of the Wild - 13.4 GB

Mario Kart 8 Deluxe - 7 GB

Snipperclips: Cut it Out, Together! - 1.60 GB

Disgaea 5 - 5.92 GB

Puyo Puyo Tetris - 1.09 GB

I Am Setsuna - 1.40 GB

Dragon Quest Heroes I·II - 32 GB

Nobunaga's Ambition - 5 GB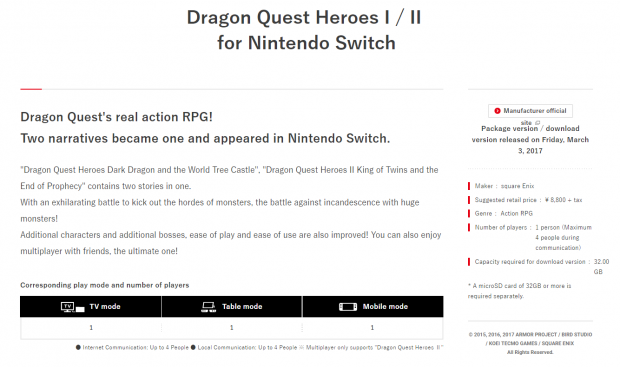 Square Enix has also confirmed that Dragon Quest Heroes I & II has been optimized specifically for the Switch and will leverage JoyCons and HD Rumble tech in intuitive ways.
This suggests the developers have taken time and consideration with the release instead of rushing it to the market, and this could also account for the massive file size.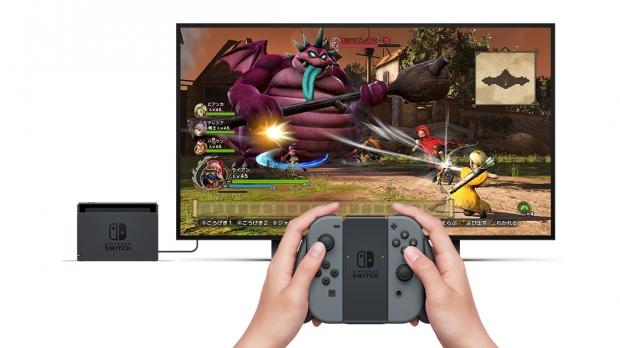 Remember that all North American and European gamers will have access to Japanese Nintendo Switch launch games since the system is region-free. Of course you'll still have to import the physical game cartridges or make a new Nintendo Account in Japanese to download the game from the JP eShop.
I'm just hoping the game will have English dubs!
The Nintendo Switch will release on March 3, 2017 for $299. Check below for a massive catalog of everything we know about the system so far.
Everything we know about the Nintendo Switch: