Nintendo Switch games lineup: a visual guide
This nifty visual aid helps outline all of the Switch's upcoming games, showing the handheld-console hybrid has a lot of titles on the way.
Published
|
Updated Tue, Nov 3 2020 11:56 AM CST
7 minute read time
Nintendo's new Switch handheld-console hybrid might only have a total of fourteen games when it launches on March 3, 2017 (half of them being Japanese), but Nintendo President Tatsumi Kimishima wasn't kidding when he said the Switch would have a "full software library."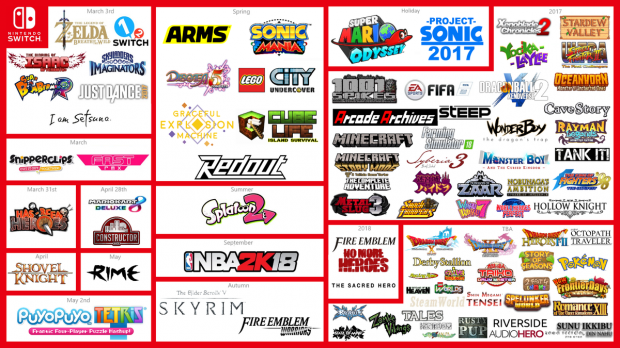 We've seen lots of lists of confirmed Nintendo Switch games, but sometimes a visual aid is needed to truly underline the scope of the hybrid console's software library. Nintendo America President Reggie Fils-Aime has confirmed that "over 50 developers are working on more than 80 games for the Switch," many of which haven't been announced. But when we take a look at all the confirmed announced titles, it certainly adds much-needed perspective to the Nintendo Switch's games lineup.
The above visual aid was crafted by Twitter user Dystify, and if you're keen on more Switch news, you should definitely give them a follow. It's also interesting to note that publisher and developers are revealing even more Switch launch games as time goes by, so this list could continue to grow. For example, Square Enix today announced that I Am Setsuna would be a day one Switch game. So by no means are online lists like IGN's Switch games lineup list 100% complete.
Read Also: Putting Nintendo Switch launch games into perspective
This visual aid certainly reflects affirmations made by Nintendo America President Reggie Fils-Aime, who said that the Switch will have a "steady pacing of content."
"Launch day is not the be-all and the end-all," Nintendo of America President Reggie Fils-Aime said in a recent interview with CNET.
"It really is the steady pacing of content that continually reinforces for the people who bought into the platform why they made a smart choice, as well as what compels people who might be sitting on the sidelines to jump in."
"We feel we have this great ongoing march of content to motivate you to jump into the platform," the Nintendo President affirmed.
In fact, my original video on putting the Nintendo Switch launch games lineup into perspective isn't totally accurate now that publishers and devs have locked in release dates and other info, so expect to see even more games added to the lineup.
Take a look at the full list of the Switch's confirmed third-party partners to get an idea of what to expect from the Nintendo Switch's games.
Nintendo Switch North America Launch Games
1-2-Switch

Just Dance 2017

The Legend of Zelda: Breath of the Wild

Skylanders: Imaginators

Super Bomberman R

I Am Setsuna

The Binding of Isaac: Afterbirth+
Nintendo Switch Japanese Launch Games
Disgaea 5 Complete

I Am Setsuna

Nobunaga's Ambition: Sphere of Influence

Puyo Puyo Tetris S

Romance of the Three Kingdoms 13

Snipperclips

Dragon Quest Heroes 1 & 2
The Nintendo Switch launches on March 3, 2017 for $299. Check below for a complete catalog of everything we know about the console so far.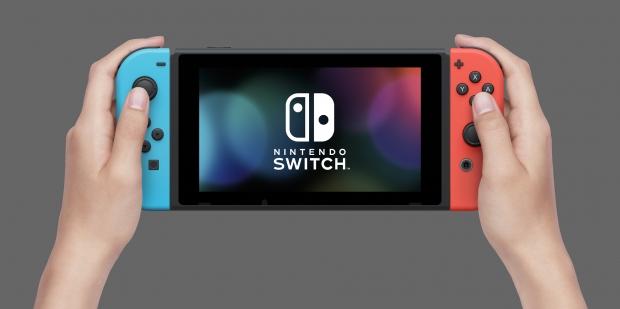 Everything we know about the Nintendo Switch:
Related Tags