Nintendo Switch will have 'steady pacing of content'
The Switch's launch games are just the beginning, and Nintendo promises that a 'ongoing march of content' will motivate gamers to adopt the system.
Published Jan 17, 2017 11:24 AM CST
|
Updated Tue, Nov 3 2020 11:56 AM CST
5 minute read time
The Nintendo Switch's launch lineup is rather sparse: when the system releases on March 3, 2017, it'll launch with 12 games, and half of those are Japanese games. Nintendo has officially defended the lineup by promising that the Switch will have a "steady march of content" throughout 2017.
Nintendo America President Reggie Fils-Aime echoes the points I made in my recent video about the Switch launch games. The launch is just the beginning--not the final destination--and Nintendo will have an arsenal of unique and innovative games rolling out on the handheld-console hybrid throughout 2017 and beyond. Fils-Aime's words echo the promises of Nintendo President Tatsumi Kimishima, who promised that the Switch would have a "full software lineup" within its life cycle.
"Launch day is not the be-all and the end-all," Nintendo of America President Reggie Fils-Aime said in a recent interview with CNET. "It really is the steady pacing of content that continually reinforces for the people who bought into the platform why they made a smart choice, as well as what compels people who might be sitting on the sidelines to jump in."
"We feel we have this great ongoing march of content to motivate you to jump into the platform," the Nintendo President affirmed.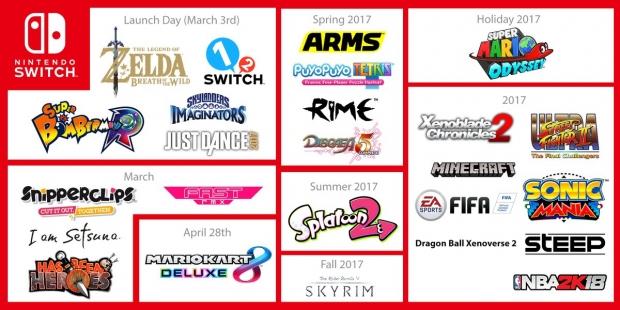 The Nintendo Switch will launch with these 12 games on March 3, 2017:
Zelda: Breath of the Wild (NA, JP and EU)

1, 2 Switch!

Skylanders: Imaginators

Snipper Clips: Cut it Out Together!

Just Dance 2017

Super Bomberman R
Japanese Switch launch games:
Dragon Quest Heroes 1 & 2

Disgaea 5: Complete

Nobunaga's Ambition - Sphere of Influence

Puyo Puyo Tetris

Romance of the 13 Kingdoms

Spelunker
Despite the launch lineup, Nintendo is in a very unique position to bolster these games with its massive array of Virtual Console games. These titles are curated lists from classic retro systems such as the NES and SNES, and would be an immeasurably valuable asset for Nintendo to tap.
Alas, Nintendo hasn't said a single word about its Virtual Console plans for the Switch. We do know that VC will be coming to the Switch, along with a paid online service that's required for online multiplayer, but the company has been mum on specific details.
In any case, the Nintendo Switch's launch games could be better, but 2017 looks pretty solid for the system as a whole. Nintendo has promised that over 50 developers are working on over 80 games for the Switch, so the console should have a vast array of first-party exclusives, third-party ports, indies and Virtual Console games to fill in its content offerings.
The Nintendo Switch launches March 3, 2017 for $299. Check below for a catalog of everything we know about the system so far.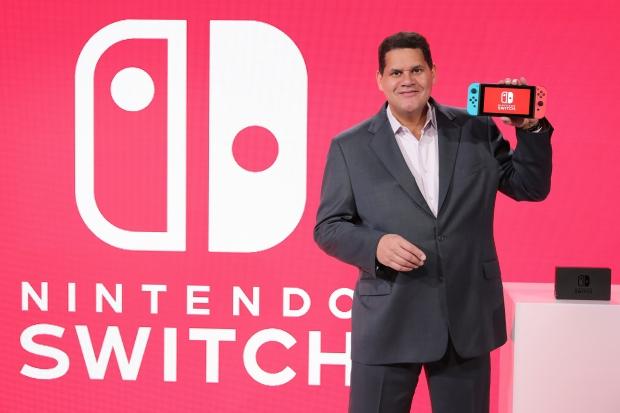 Everything we know about the Nintendo Switch:
Related Tags