Stock Nintendo Switch JoyConGrip won't recharge JoyCons
The Switch's included JoyCon Grip won't recharge your JoyCon controllers. Here's why that's a big deal.
Published
|
Updated Tue, Nov 3 2020 11:56 AM CST
4 minute read time
The Nintendo Switch's included JoyCon Grip accessory recharge your JoyCon controllers--you'll have to shell out another $30 for that extra bit of convenience. This poses some problems for console-owners, and will lead to interrupted play in TV Mode--and here's why.
Nintendo's new Switch console has two different kinds of JoyCon Grip accessories: the stock JoyCon Grip that comes in the box with the Switch that doesn't recharge your JoyPads, and the JoyCon Charging Grip, a $30 peripheral that recharges the JoyCon Grips as you play.
Eurogamer reports that the basic JoyCon Grip that comes with the Switch won't have an internal battery nor a USB Type-C port to recharge your JoyCons, and we've corroborated that information via the official Nintendo Switch Fact Sheet that I've included below.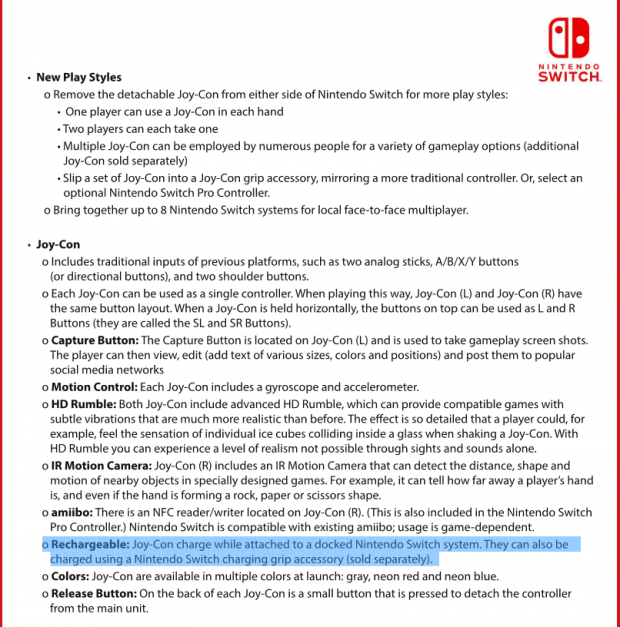 The included base JoyCon Grip only combines the JoyCons into a single controller to facilitate TV Mode play--it does not recharge the individual controllers. Now the stock JoyCon Grip does indicate battery power life, but it has no internal battery to allow recharging.
The following picture shows what's included in the Nintendo Switch's box, clearly showing a JoyCon Grip and not the JoyCon Charging Grip.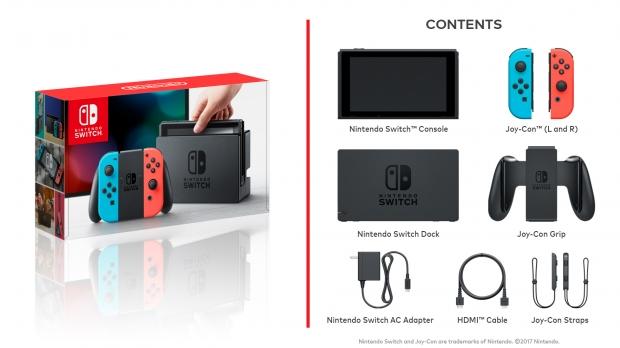 There are no retailer listings for the basic JoyCon Grip. Only the JoyCon Charging Grip shows up. Even Nintendo's own "Buy Now" section only lists the JoyCon Charging Grip. This strongly indicates this information to be true, however Nintendo has yet to release an official statement to clarify.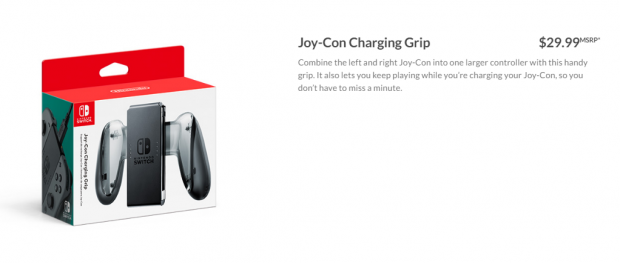 The JoyCons are only recharged via Nintendo's new rail system, meaning they can't be recharged individually; they have to be attached to an outside peripheral--like the JoyCon Charging Grip--or the Switch tablet to recharge.
Now the JoyCon controllers do have about 20 hours of battery life, but we're not too sure how fast they will recharge--it all depends on the specifications of the on-rails system. Although the Switch likely supports USB Type-C quick-charging, the JoyCons could take a bit longer to charge via the rails system.
JoyCon Grip (included with Nintendo Switch, not JoyCon Charging Grip)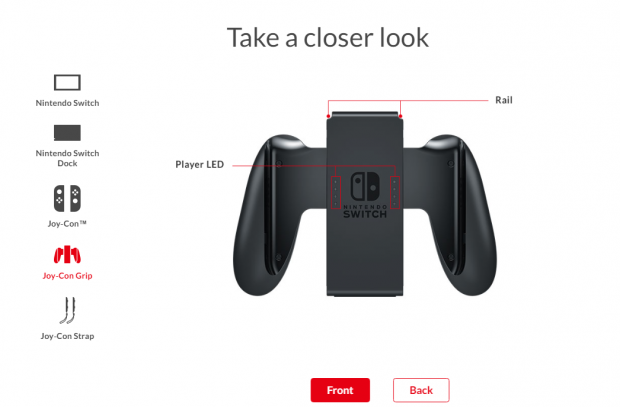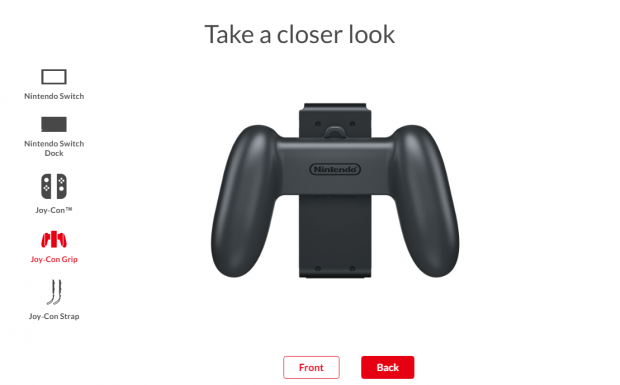 So what this effectively means is that with the current out-of-the-box configuration, gamers will have to re-attach the JoyCons to the Switch while it's docked or hooked up to USB Type-C adapter to recharge the controllers.
This is quite confusing especially since Nintendo affirms the Switch is a home-console "first and foremost," and TV Mode delivers better performance than Tabletop and Handheld Modes. Why pull a weird move like this just to earn a quick buck? It is Nintendo, after all.
What's more is that the Switch does not come with a USB Type-C to Type-C/Type-A cord, meaning to charge the Switch table in Handheld Mode you'll have to unhook the included Type-C AC adapter from the dock, hook it up to the Switch via it's USB Type-C port, and then hook it into a wall socket.
So...$299 turns into $330 just for all the peripherals that we really need for TV Mode.
This is a mess, Nintendo, and you can't afford to keep doing weird stuff like this. You couldn't even pack in a $30 peripheral that's needed to conveniently recharge your next-generation JoyCon controllers, and this feels like the weird N3DS AC adapter fiasco all over again.
One thing's for sure: Nintendo has to make this clear to everyday consumers. We can't have this much guessing going on; it's not healthy. Nintendo has done an amazing job presenting the Switch's information clearly and concisely up to this point, but this is super important.
Square it away, Nintendo!
The Nintendo Switch launches on March 3, 2017 for $299. Check below for everything we know about the Switch.
The Nintendo Switch will launch on March 3, 2017 for $299. Check below for a catalog of everything we know about the Nintendo Switch so far.
Everything we know about the Nintendo Switch:
Related Tags