Nintendo has joined the modern age its new Nintendo Switch console, and it's looking to supercharge its industry presence--and that means new ways to make money. Contrary to its previous will soon make gamers pay a subscription fee to play online games, and here's everything that will include.
When the Nintendo Switch rolls out on March 3, 2017, online play will be free. It'll stay free until Fall 2017 when Nintendo's new online subscription service launches, requiring uses to pay to play specific games online. Essentially, Nintendo is making its own version of Xbox LIVE Gold and PlayStation Plus, but it'll be much different, and I feel that Nintendo won't be heavy-handed like Microsoft and Sony are. Now it's worth noting that not every game will require the subscription for online play--just "most games."
Subscribing to the service will net you some perks: first off, you'll get to play games online. I expect titles like Splatoon 2, Street Fighter, Dragonball Z: Xenoverse and more to require the sub to play online. Secondly, you'll get a free SNES and NES game every month, but you won't get to keep it--you'll only get to download and play it for that month, and at the end of the period Nintendo will take it it away and replace it with another game. So it won't be like PlayStation Plus or Xbox LIVE's Games With Gold.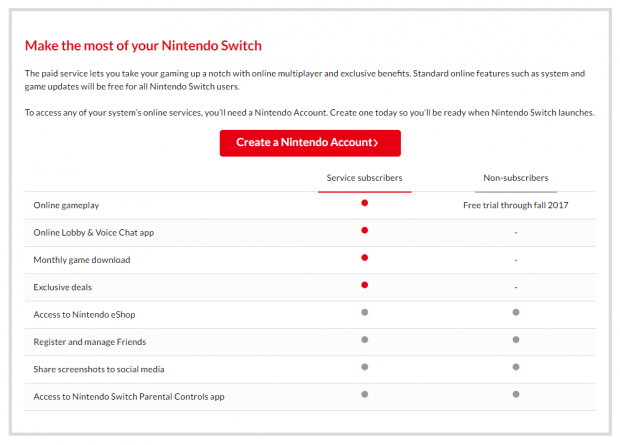 Thirdly you'll be able to chat online with friends with a dedicated smartphone app. Now this is the most confusing part of the entire service. Will the smartphone app be required for voice chatting? I don't think so. I think the app is just an easy way for people without a headset to communicate with friends online. The Switch console doesn't have a built-in microphone, but it does have a 3.5mm audio jack that can support gaming headsets.
We're not sure if the Switch's built-in 3.5mm audio jack will also support voice chatting through headset mics or not, but we're betting it does. Still, though, this isn't an ideal solution: hooking up a wired headset to your Switch would be awkward. Now it's worth noting the Switch's 3.5mm headset jack isn't obscured when it's docked for TV Mode play, so it's entirely possible to chat with friends with a wired headset.
The voice chat app is just an easy, hands-free way for people to use a kind of Voice-over-IP voice chatting framework to do multiplayer interactions.
Last off, you'll get exclusive deals and discounts as a subscriber. I expect that you'll get steep discounts on that month's Virtual Console game, as well as discounts on other Switch titles--but don't expect big discounts on proper retail games.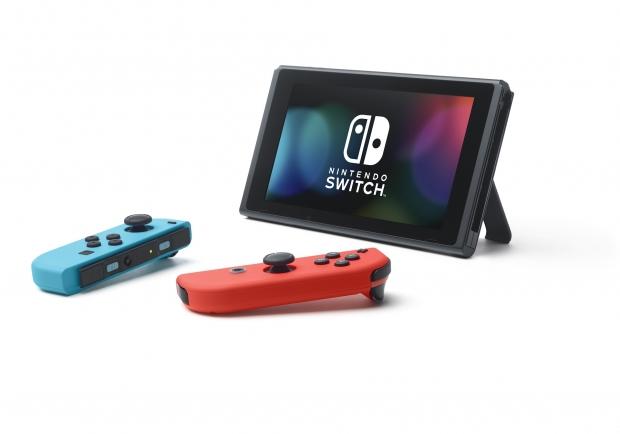 Why you don't have to worry about this sub
I strongly believe gamers shouldn't be worried about this subscription plan. Nintendo isn't Microsoft or Sony, and the Switch is dramatically different than any other system on the market today. You don't have to worry about the company pushing you towards this service; if anything, it's a side add-on that won't be required to have fun on the Switch.
Nintendo has made it clear that the Switch is made for everyone: it's a new system that appeals to every gamer and every style of play. The Switch can transform and be taken on-the-go for offline play, whereas current consoles just can't achieve that level of mobility.
If you want to, you can play the Switch 100% offline and use it as a big 3DS. There's no real need for online play for a lot of people's play styles, and Nintendo realizes that.
The Switch also supports same-screen and living room co-op, which is super rare in today's console games. If Nintendo wanted to push its online play service, why would it enable up to 8 Switches to be hooked together for local play? Why would the Switch allow local multiplayer in Mario Kart 8 Deluxe? Or Arms?
It's simple: the Switch is the answer to a lot of gaming equations, and will meet a huge array of different needs and styles. Nintendo doesn't want to limit gamers to sitting at home playing single-screen online multiplayer; it wants to meet all these different solutions and not be constrained like the PS4 and Xbox One currently are.
So you shouldn't be worried about this service. It's not what you're thinking, and you totally don't have to buy into it if you don't want to.
Wrap-Up
Nintendo has yet to reveal full pricing of its online subscription service, but I'm guessing it'll cost anywhere from $10 to $15 a month, with a discount on the annual sub.
The Nintendo Switch launches March 3, 2017 for $399.
Check below for details right from the official Nintendo website:
Read Also: Nintendo Switch hardware specs revealed
Read Also: Nintendo Switch UI revealed, let's take a closer look
Online Play on Nintendo Switch

You'll be able to play compatible co-op and competitive games online by signing in with your Nintendo Account. Online play will be free for Nintendo Account holders until our paid online service launches in fall 2017.

After the free-trial period, most games will require a paid online service subscription from Nintendo in order to play online.

This service is only for Nintendo Switch. It does not affect Wii U or Nintendo 3DS systems or online play.

Planned for fall 2017

Online lobby and voice chat

Our new dedicated smart device app will connect to Nintendo Switch and let you invite friends to play online, set play appointments, and chat with friends during online matches in compatible games─all from your smart device.

A free, limited version of this app will be available for download in summer 2017.

Monthly game download

Subscribers will get to download and play a Nintendo Entertainment System™ (NES) or Super Nintendo Entertainment System™ (Super NES) game (with newly-added online play) for free for a month.

Exclusive deals

Special offers for subscribers may include discounts on select digital games and content.