Switch's 4310mAh battery takes 3 hours to fully recharge
We take a closer look at how long it'll take to charge the Nintendo Switch on its dock and on-the-go via a Type-C AC adapter.
Published Jan 18, 2017 9:24 PM CST
|
Updated Tue, Nov 3 2020 11:56 AM CST
7 minute read time
Nintendo has confirmed that the Switch will take about 3 hours to completely recharge while on the dock over USB Type-C.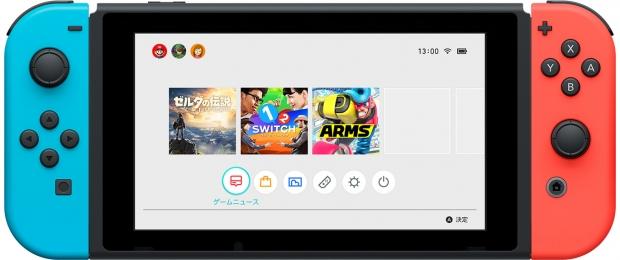 We've just found out the Nintendo Switch's 6.2-inch "console" tablet features a non-removable 4310mAh rechargable 3.7V Lithium-ion battery, which seems pretty beefy in itself, but for a dedicated games tablet at 1280 x 720 we should have at least 5000mAh, so it's no wonder the battery life is about 3 hours with major games like Zelda: Breath of the Wild. Now we've gleaned from Nintendo Japan's press site that a completely depleted Switch handheld will take 3 hours to completely recharge via the dock or separately with the included Type-C AC adapter.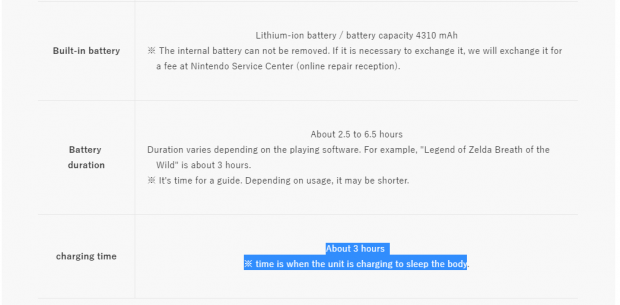 Nintendo has affirmed that the Switch's battery can last up to 6.5 hours in Mobile Mode, but this long life is likely prolonged via the system's Sleep Mode, which is enabled to extend the system's battery life while on-the-go.
Actual gameplay in Mobile Mode will likely be around the 3 or 4 hour mark, and while gamers can recharge the system as they play, the Switch's depleted recharging time will be as long as the actual system's play time.
What's more is that the Switch's 4310mAh, 3.7 V Li-ion battery may take longer to recharge on the dock, which transfers 5V DC across a 2.6A current, which equals 39W, than hooking the Switch directly up to a AC wall socket which will provide between 100W - 240W of converted AC power.
That's not to say that the Switch will leverage the full brunt of that power, however, as the device has a 3.7 V battery.
But in all actuality, taking 3 hours to recharge a 4310mAh battery isn't abnormal.
While Qualcomm-powered devices tout blazing-fast speeds with its new QuickCharge 3.0 technology, today's modern phones typically take multiple hours to charge.
For example, Google's new Pixel XL, which rocks a 3450mAh battery, takes 2 hours and 3 minutes to fully charge a depleted battery, whereas the iPhone 7 Plus (2900mAh) takes 3 hours and 27 minutes. Samsung's S7 Edge, which uses Qualcomm's Quick Charge 2.0 technology, takes just 1 hour 29 minutes to recharge its 3600mAh battery.
Read Also: Nintendo Switch hardware specs revealed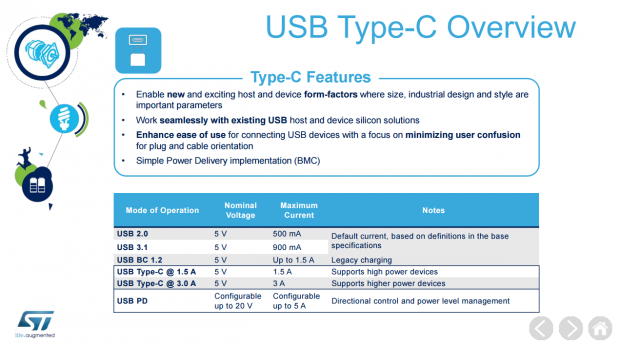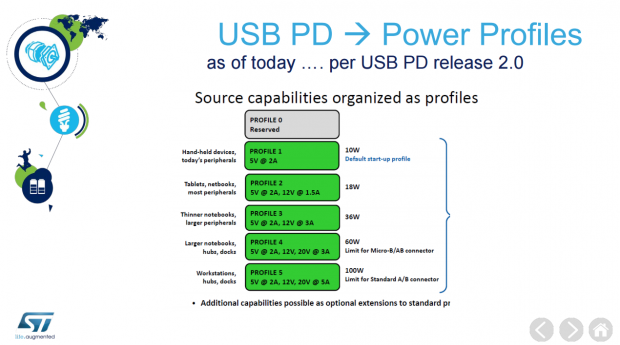 Nintendo Switch and USB Power Delivery 2.0
While the 3 hour recharge time indicates Nintendo Switch won't support quick charging, it could support USB-PD 2.0 (aka USB Power Delivery 2.0) which is a new spec that's wholly dedicated to recharging batteries via USB 3.1 (Type-C).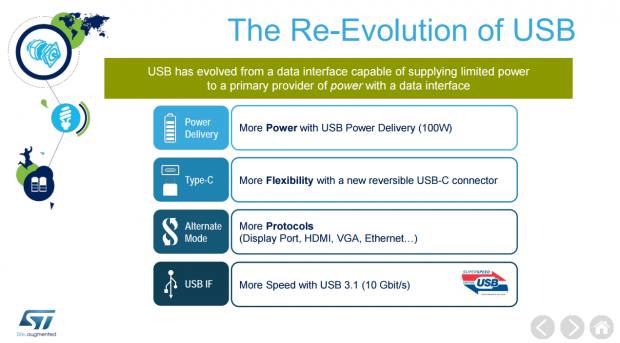 USB PD 2.0 offers power transfers up to 100W, allowing for quick-charging in certain devices--and batteries--capable of handling such an influx of power. 100W is usually reserved for larger devices such as monitors and laptops--not tablets.
"Almost at the same time as the USB 3.1 release, the USB Implementers Forum (USB-IF) released the USB Power Delivery Specification. This new USB power delivery specification allows power transfers of up to 100 W, along with other features and benefits," reads a report on Electronic Design.
When docked, however, the Switch will only use 39W of the possible 100W of power that can be transferred via USB Type-C. We learned this in the Switch's official FCC filings:
AC Adapter output (from dock to handheld) DC 5 V - DC 15 V, 2.6 A - Switch has max power draw of 39W while charging on cradle*
AC Adapter input (from wall to dock) AC 100 - 240 V 50 / 60 Hz, 1 A - standardized power
*Basic formula to convert volts to watts is Watts = Volts x Amps, so we plug in the Switch's 15V times the 2.6A to get 39W, meaning the Switch will draw a max of 39W while docked.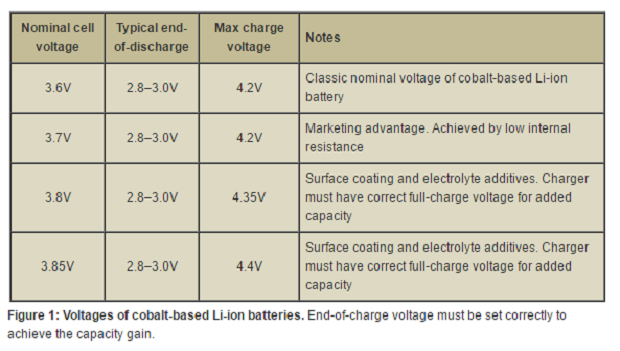 But if the Switch supports this new battery-charging spec, why does it take 3 hours to recharge the 4310mAh battery?
How fast a device recharges depends on two major factors: the battery itself, and the cord that transmits said power. We don't everything about the Nintendo Switch's battery outside of it's capacity, that it's a lithium ion battery with a 3.7 V/cell rating, and that it doesn't support boosted turbo-charging, but we do know that rated power transfers of the AC adapter (see above).
In any case, this certainly gives players expectations about the Nintendo Switch and what to expect from its battery life.
The Nintendo Switch will release March 3, 2017 for $299. Check below for a catalog of everything we know about the console so far.
Everything we know about the Nintendo Switch:
Related Tags