Nintendo Switch UI revealed, let's take a closer look
The Nintendo Switch UI was noticably absent during the console's official presentation event, but we managed to find a quick snap nonetheless.

Published Sat, Jan 14 2017 9:00 AM CST
|
Updated Tue, Nov 3 2020 11:57 AM CST
The Nintendo Switch's user interface has been a mystery that wasn't shown off during the console's entire hour-long presentation event. Until now, that is.
The Switch's portable Handheld Mode UI was spotted on a Japanese Switch overview video, and shows a very easy-to-use clean-cut UI. We have to keep in mind that this UI is likely for demonstration purposes and may not reflect the same UI we see on Switch launch consoles, but it's a starting point nonetheless.
We're going to break down each part of the UI point-by-point to get a better idea of the system's interface and functionality. So let's get right to it, shall we?
Read Also: Nintendo Switch hardware specs revealed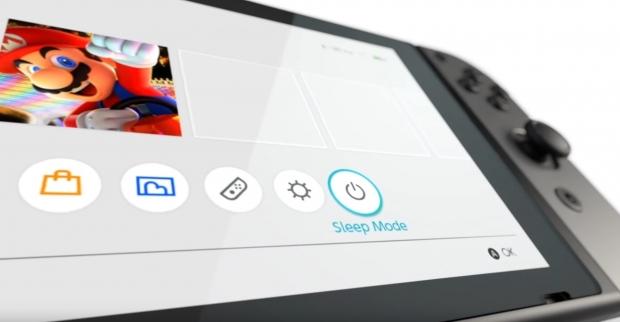 Sleep Mode
As we reported a bit ago, the Nintendo Switch tablet will have a sleep mode function. Sleep Mode will allows gamers to preserve their gameplay sessions while the system goes into a low-power mode. This will be useful when there's any kinds of interruption in on-the-go play, or if the system is running of power and needs to be recharged--just initiate sleep mode to lock in your progress, and then find a charging point.
The Switch will also use its USB Type-C port for quick-charging. The battery itself can last up to 6.5 hours on a single charge, but battery life varies on a game-to-game basis. More demanding games like Zelda: Breath of the Wild last for about 3 hours.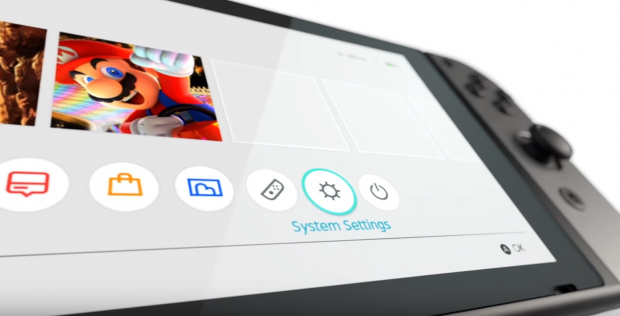 System Settings
Here we'll find the basics, including network connectivity, brightness settings, memory storage, battery life, Nintendo Account options, and more.
I'm hoping to see some in-depth system settings like maybe even heat and specific power % settings, but I'm not sure that's in the cards.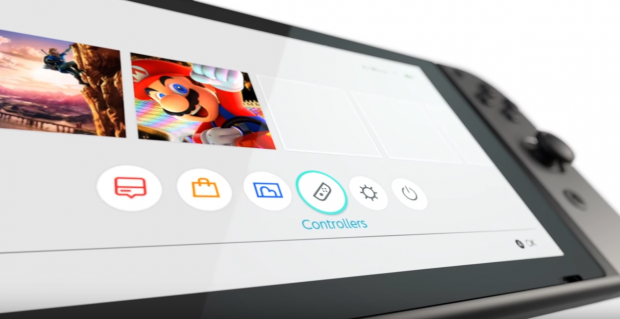 Controllers
The Nintendo Switch can support multiple controllers while on-the-go in Handheld Mode and Tabletop Mode, including JoyCons and the Pro Pad. This screen will show the status of all connected controllers, including battery life, and allow you to disconnect and un-sync the controllers from the system.
Remember that the JoyCons have their own internal batteries that can only be charged via the Switch's rails, so you have to hook the JoyCons up to a charging Switch tablet in order to recharge the batteries.
You can also get a separate JoyCon Charging Grip controller accessory that lets you charge the JoyCons independently of the Switch console.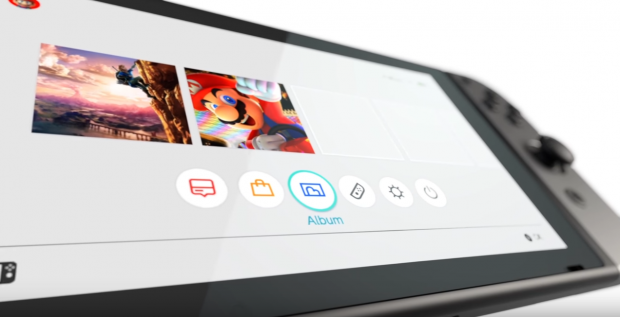 Album
The left-hand JoyCon controller has a dedicated Share button that will easily capture in-game screenshots, which can then be shared on social media. Since the Nintendo Switch's tablet has a 1280 x 720 resolution, we expect the screenshots to match this resolution when pictures are taken during Handheld or Tabletop Mode.
The Album will store all taken screenshots and likely allow users to independently share screenshots to Twitter or Facebook directly from the UI, and even make multi-picture posts across both social media streams.
We also expect to see little nifty photo studio apps that allow us to change up the colors and effects from the pictures.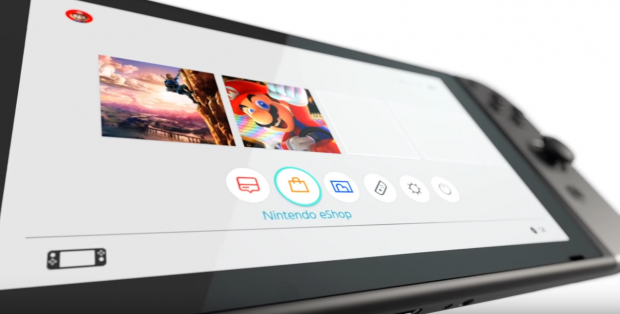 eShop
This one is self-explanatory. Clicking this button will open up the eShop and show all the current Nintendo Switch games, as well as upcoming titles.
We also expect to see a considerable Virtual Console presence for the Switch as well.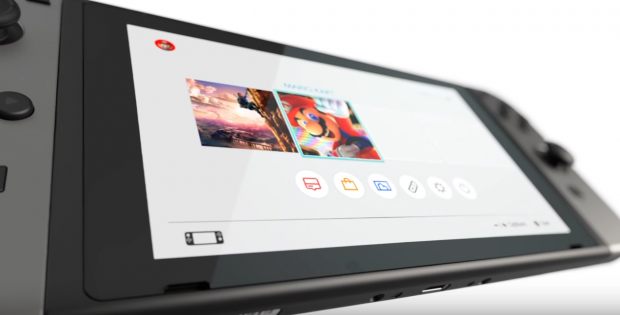 Mystery Button - Online Interactions? Nintendo Account?
This button wasn't highlight during the tiny three-second segment, but I think it has to do with the console's online functionality. The icon looks like a chat window of sorts, and could tie into with the company's new subscription-based online gaming plan.
The Switch doesn't have LTE capabilities, but it does have 2.4GHz and 5GHz Wi-Fi support that will likely enable multiplayer online play on the go--if you're connected to the internet, of course. I'm thinking that users can connect to a Wi-Fi source or even use mobile hotspot tethering over LTE connections with their phone and play online with the Switch while in Handheld or Tabletop Mode.
Also remember that the Switch requires a separate voice chatting app in order to chat with people online. This is because the Switch tablet doesn't have an onboard microphone, and even if it did, the mic would be obscured when the Switch is plugged into the dock. So a hands-free device is needed for microphone voice-over-IP style chatting, and Nintendo chose to use a device that everyone already has: their phone.
That being said, the Switch will have an audio jack, and multiple companies are making gaming headsets with mics for the Switch. But where will we plug a headset into when it's docked? The Switch Pro controller has a USB Type-C port that will be used for charging, but there's a chance it will also support audio headsets and mics, but you'll need a 3.5mm to USB Type-C adapter to get that to work.
In any case, that last button could be a Nintendo Account button that encompasses all of these different things--online multiplayer sessions, Nintendo Account perks/rewards/status, etc--but we're not too sure.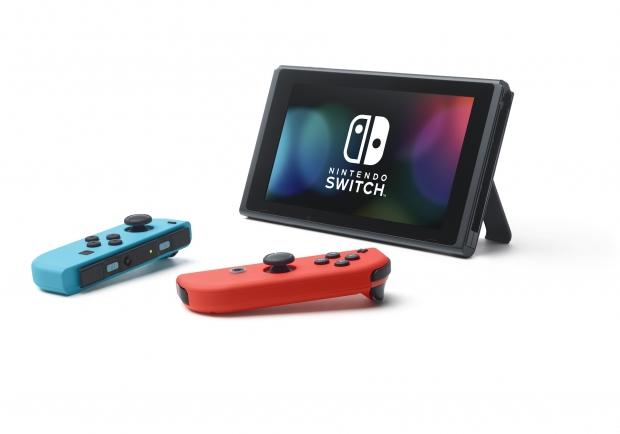 Wrap-Up
All in all the Nintendo Switch's UI looks pretty nice, but it's quite sparse and very un-Nintendo-y. I expect to see all kinds of custom dynamic themes with beloved Nintendo characters like Mario, Donkey Kong, Link and Kirby.
The Nintendo Switch releases on March 3, 2017 for $299.
Related Tags