Nintendo has officially revealed specs and features of its new handheld-console Switch hybrid, delivering some pretty nifty surprises. While most of the specs lined up with what we expected, the Switch's JoyCon controllers are incredibly advanced and hearken back to the Wiimote days of yore. Nintendo clearly outlines each of the Switch's components, pieces, and features--so let's dig in, shall we?
Before we jump in, I just want to get this out of the way: Nintendo hasn't said anything about the Switch's internal hardware, so don't expect them to answer the million dollar Tegra question any time soon. In the official Nintendo Switch fact sheet (see below), Nintendo delivers this vague statement: "The Switch uses a custom Tegra processor powered by NVIDIA."
There's no mention of how the Switch handheld's GPU clock might drop to 368MHz while on-the-go, but Nintendo did say that the Switch has varying levels of battery life depending on which game is being played, so that strongly hints at varying/scaled performance across the dual form factors.
Now let's jump in!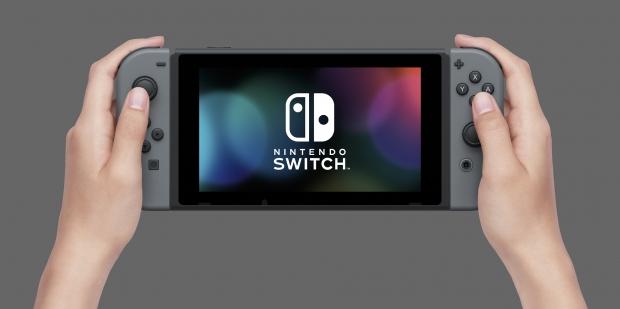 Switch Console
Tablet Display: The Switch tablet features a 6.2-inch screen with 10-point capacitive touch and 1280 x 720 resolution.
Portable Battery Life: The Nintendo Switch has an internal non-removable 4310mAh lithium ion battery. Varies on a game-to-game basis, can last anywhere from 3.5 hours up to 6.5 hours on a single charge. Users can play Zelda: Breath of the Wild, one of the Switch's most intensive games, for three hours before the battery is depleted.
"Battery life can last for more than six hours, but will vary depending on the software and usage conditions. For example, The Legend of Zelda™: Breath of the Wild can be played for roughly 3 hours on a single charge."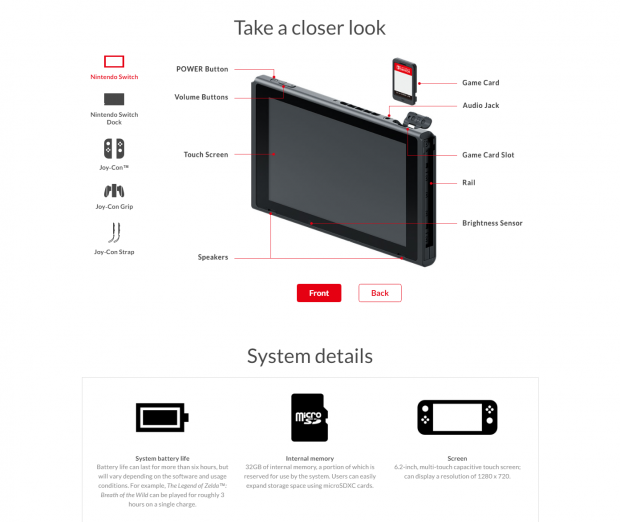 Expandable Storage Memory: The Switch can expand its memory via MicroSD cards, with up to 128GB cards being supported. The Switch tablet houses the Micro SD card on its back surface beneath the kickstand.
Onboard Storage: The Nintendo Switch comes with 32GB of onboard storage memory. The flash memory comes pre-installed with the Switch OS and can download games as well. Considering the Switch uses GameCard cartridges, users won't need to install their cartridge games onto the system. Digital games will need to be installed of course, but the Switch games shouldn't be too big--probably around 12GB - 15GB.
Region-Free Gaming: Nintendo has killed region-locked games, so you'll be able to play games from any region on your Switch system.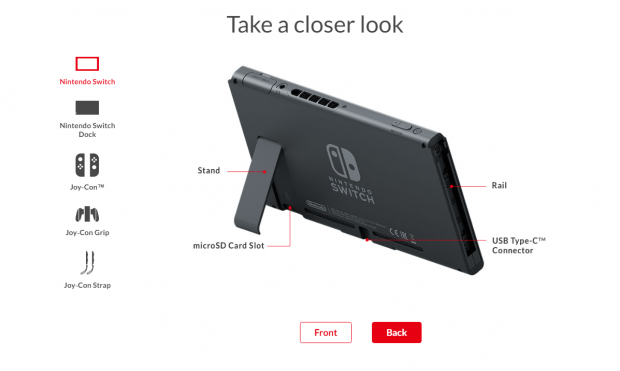 Wi-Fi and Connectivity: Both 2.4GHz and 5GHz 802.11ac Wi-Fi will be supported across Switch's three different modes (Docked, Handheld, and Tabletop modes). Wired LAN will require a special USB gigabit Ethernet adapter that will slot into the Switch's dock. The Switch tablet also supports Bluetooth 4.1 connectivity.
USB Type-C port: The Switch features a female USB Type-C (USB 3.1) port on the bottom of the tablet that will be used for recharging only. Nintendo has confirmed that users can recharge their Switch on-the-go using approved USB Type-C power banks. Owners will not be able to hook up the Switch directly to a display via USB Type-C as the dock is required to adapt the signal for HDTVs and displays.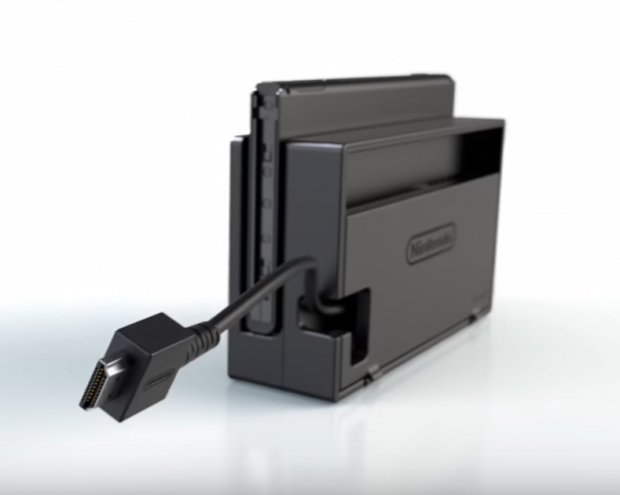 Full Nintendo Switch Console Specifications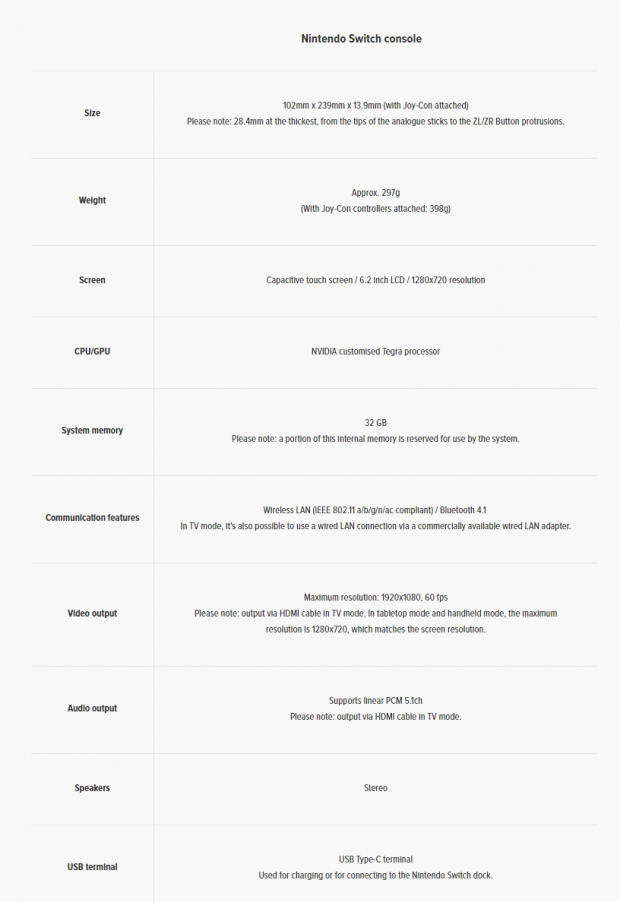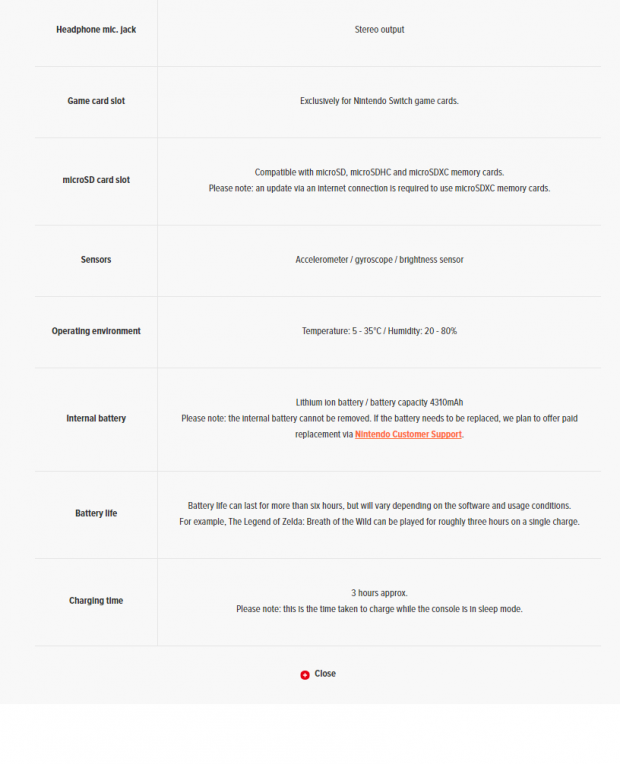 Switch Dock
Dock Required for Home TV Console Play: The Switch Dock effectively serves as an adapter of sorts that converts the video signal from the tablet through HDMI cords to transmit to HDTVs.
TV Mode Delivers Up to 1080p Resolution on HDTVs: The attached fact sheet clearly states the following: "Switch Video Output: HDMI up to 1080p resolution when played in TV mode." This may indicate the Switch may not play nicely with 4K UHDTVs, however I still think that DisplayPort over USB Type-C will enable smooth video signals over 4K TVs.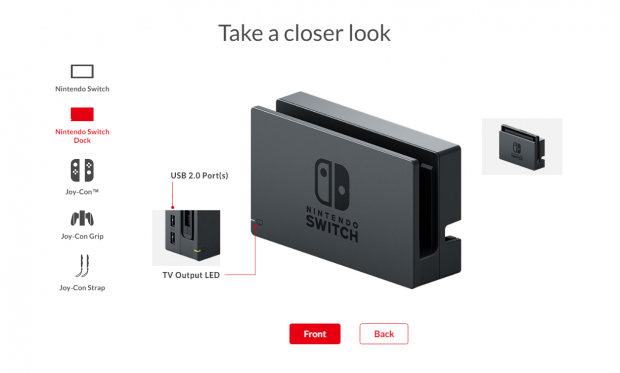 USB Type-C Power: As the FCC filings confirmed, the Switch tablet uses USB Type-C to deliver power, video signals, and data across a single protocol.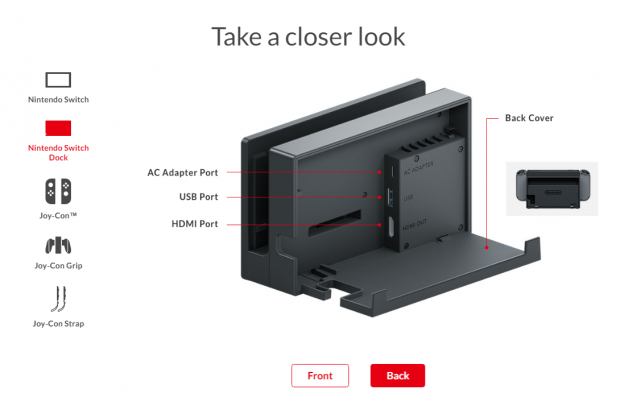 The Switch Dock features two different USB Type-C (USB 3.1) ports:
A male USB Type-C port in the U-shaped cradle that fastens into the Switch Console's female USB Type-C port, enabling fast charging, video output, and possibly DisplayPort over USB Type-C functionality, and data streams.

A female USB Type-C (USB 3.1) within the Dock's housing that the console's AC adapter plugs into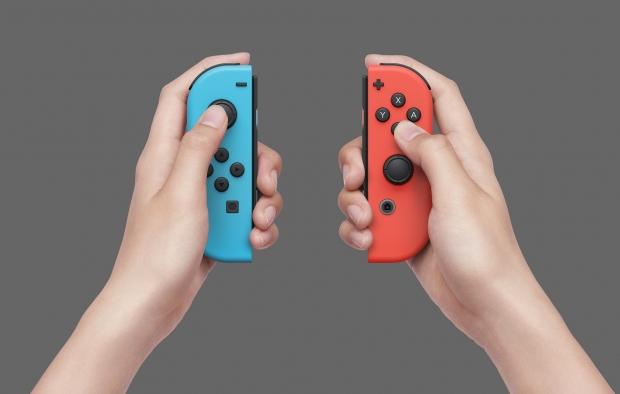 JoyCon Controllers
Detachable JoyCon Controllers Are Next-Generation Wiimotes: The JoyCon controllers were a smash hit at the show, and Nintendo dazzled a new generation of gamers by incorporating tech we've seen from the golden Wii age. The JoyCon controllers feature full accelerometer and gyroscopic motion tracking and can even be used for games that don't require a display, such as 1-2 Switch.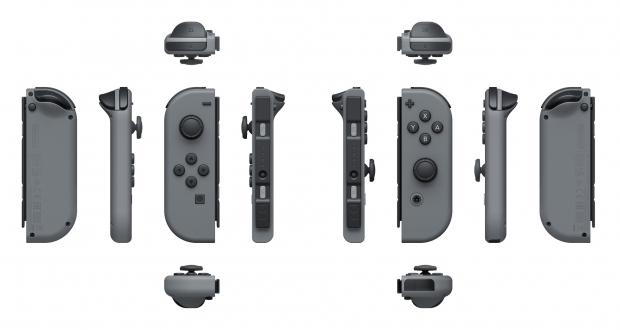 JoyCons are Fully-Fledged Controllers: While the JoyCons are small, they can be turned sideways to transform into fully-functioning individual controllers. The JoyCons feature SL and SR buttons alongside an analog stick for movement and a four-button layout for local multiplayer in Tabletop Mode or Docked Mode.
Capture Button: The left Joy-Con controller features a dedicated screenshot button that allows you to take in-game screenshots on-the-fly. Users can then share these screenshots on social media. Video recording will come soon throughout 2017.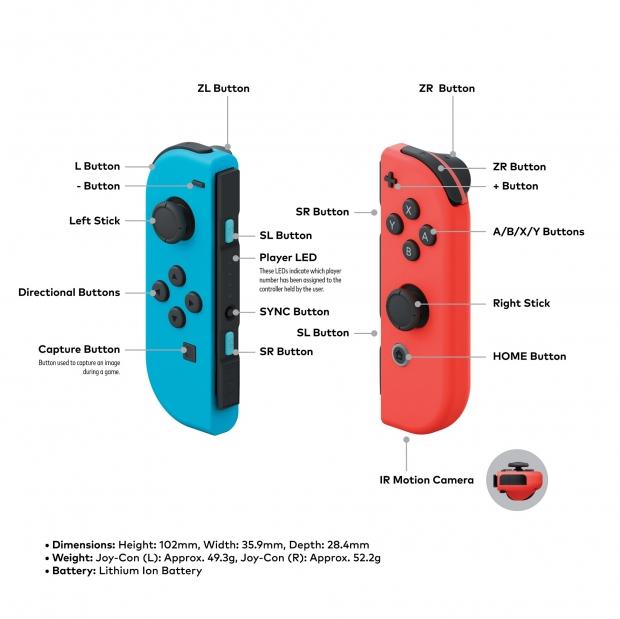 IR Motion Camera: The Right Joy-Con has an IR motion camera that can detect the distance, shape and motion of nearby objects in specially designed games. For example, it can tell how far away a player's hand is, and even if the hand is forming a rock, paper or scissors shape.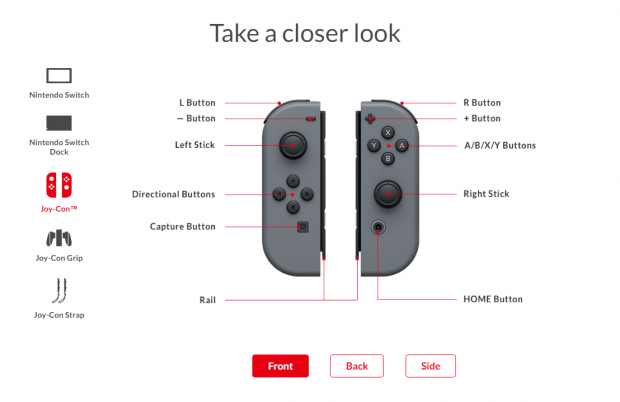 Amiibo NFC Reader: The Joy-Con (R) also has a NFC reader for amiibo functionality. All existing amiibos are compatible with the Switch, but they are game-dependant.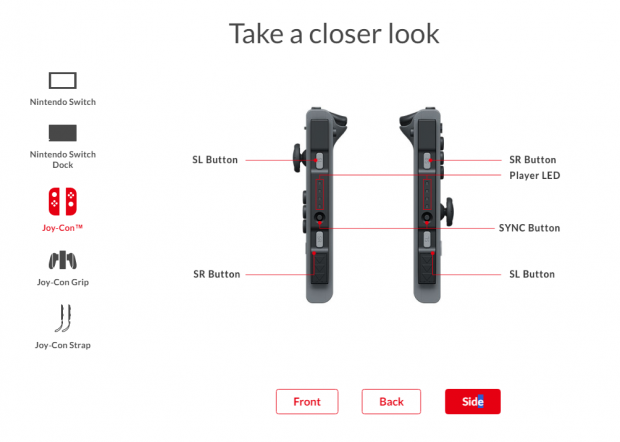 Battery Life: The Joy-Con controllers each have a non-replaceable 525mAh Lithium Ion battery, and can only be charged via rails when attached to a JoyCon Charging Grip (sold separately) or when hooked up to the Switch tablet. The tablet itself will slowly charge the JoyCons regardless if the tablet is hooked up to a power source and charging.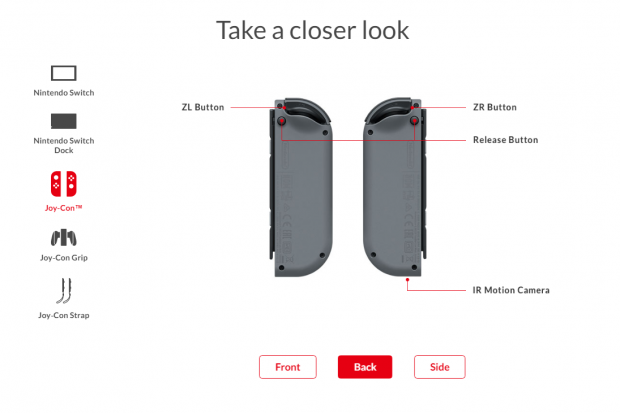 HD Rumble Technology: The JoyCons feature Nintendo's new HD Rumble hardware, which uses special haptic feedback tech that allows users to feel vibrations that convey specific game-specific stimulus. For example, HD Rumble can be fine-tuned to simulate how many ice cubes are in a digital glass through vibrations, allowing gamers to feel the cubes shaking in the glass.
HD Rumble and the motion tracking enables a ton of different unique mini-game experiences including competitive shaving (yes, really), table tennis, quick-draw gunslinging, dancing competitions, rock band shows, swordfighting--and so much more.
Full Nintendo Switch JoyCon Controller Specifications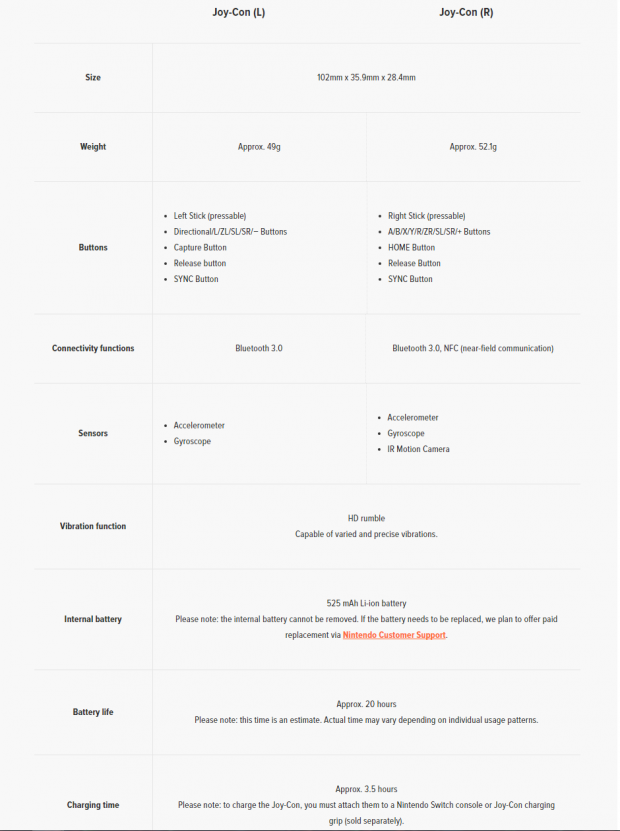 "Games come to life through easy-to-use motion controls and HD rumble-advanced vibration features built into each Joy‑Con."

"Use the included Joy‑Con grip to combine both Joy‑Con into a traditional-style controller."

"Depending on the game, you might use a single Joy-Con in each hand-or even give the second one to a friend."
Final Nintendo Switch Fact Sheet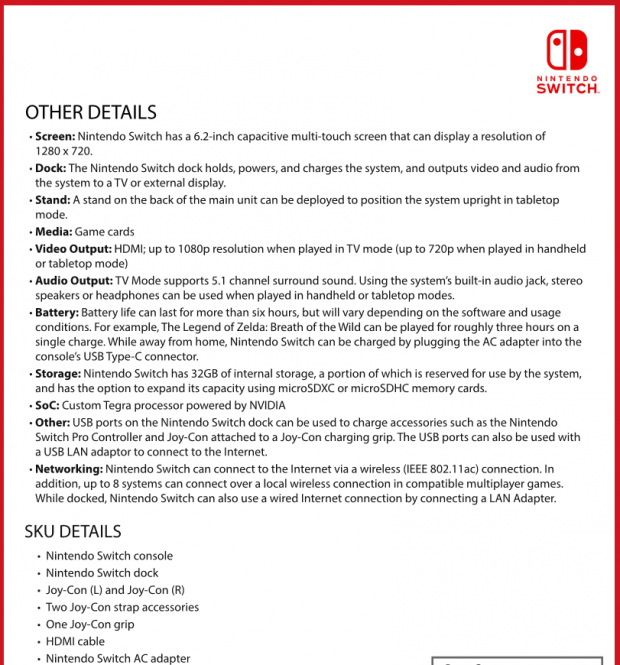 The Nintendo Switch launches on March 3, 2017 for $299. Check below for a huge listing of high-res Switch product shots, as well as a Japanese overview video.