Nintendo Switch uses 20nm Maxwell Tegra SoC
Leaked documents seem to confirm the Switch uses a customized second-generation NVIDIA Tegra Maxwell chip instead of Pascal Tegra.

Published Mon, Feb 13 2017 3:29 PM CST
|
Updated Tue, Nov 3 2020 11:56 AM CST
Nintendo Switch will use a second-generation 20nm NVIDIA Tegra SoC processor based on the Maxwell architecture, according to recently leaked documents.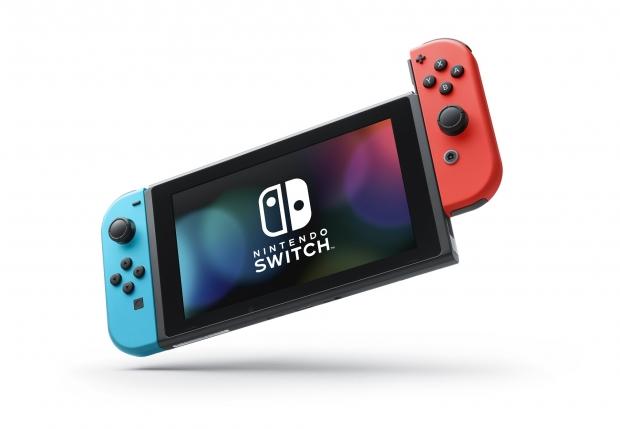 Remember when Eurogamer broke the news about the Switch's 6.7-inch screen and varying processor speeds across handheld and docked modes?
The source document used for that coverage has now been leaked, and they confirm the Switch will use a Maxwell Tegra X1 instead of NVIDIA's new Pascal-powered 16nm "Parker" SoC as we previously reported. The documents highlight specs for internal devkits, but actual retail models should use the same processor.
Read Also: Nintendo Switch hardware specs revealed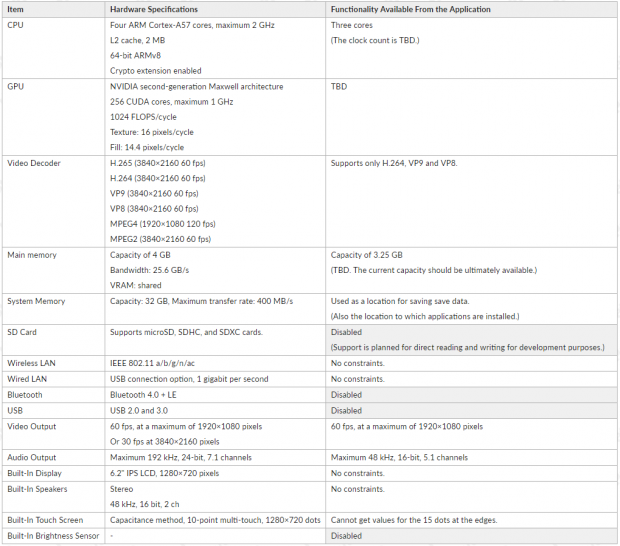 The Switch's internal Maxwell-based Tegra SoC ishighly customized to scale across the resolution and performance disparity between docked mode (up to 1080p 60FPS) and handheld mode (720p varying FPS).
In basic raw specs, the Switch should be quite similar to NVIDIA's new Android-based Shield TV Pro microconsole: both the Switch and the second-gen Shield TV use a new refreshed Maxwell Tegra X1 chip with 256 CUDA cores at up to 1GHz, four ARM Cortex-A57 cores at up to 2GHz, 1024 TFLOPs of compute power, and support for advanced APIs like Vulkan and OpenGL.
Interestingly enough, according to the documents Switch games and apps on the devkit will only have access to 3.25GB of the system's total 4GB of shared unified memory pool. Games and apps will also only have access to three of the four ARM Cortex A57 cores--but again, this is a devkit, so actual retail performance could be different.
It's worth mentioning these documents are quite old--the Switch is still labeled as the "NX" for example--but the actual system specifications won't change dramatically and the core processor will remain the same.
Read Also: Nintendo Switch will have varying GPU and CPU performance while docked vs on the go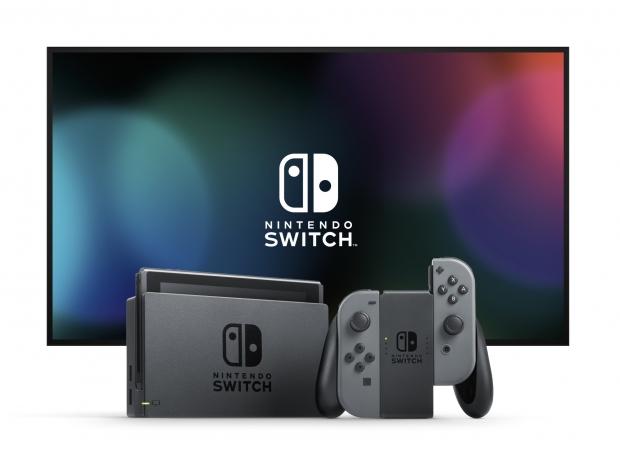 So why did Nintendo stick with the Maxwell chip and not Pascal?
It's really very simple: the Parker Tegra SoC is made specifically for vehicles, and furthermore it wasn't widely available in time for NX devkit production. Nintendo opted with the tried and true Maxwell chip considering the Switch is based off of the NVIDIA Shield tablet and Shield TV in terms of dual form-factor, but is a "home console first and foremost," meaning it shares more prevalence with the set-top box's functionality and feature-set.
Then there's the cost associated with diffusing and shipping so many 16nm chips. Unlike enthusiast-grade GPUs, the Switch is meant to be a mass-market console, and to meet the high production demand NVIDIA and Nintendo would have to order quite a few 16nm Tegra chips to be made at TSMC, which could directly compete with the production of NVIDIA's latest GeForce GTX 10-series GPUs which use its latest Pascal architecture in tandem with 16nm FinFET nodes to increase efficiency and power.
Second to last is the actual retail cost of the console itself. Putting an advanced Pascal-powered SoC into the Switch would probably drive its cost up quite a bit. Sure the console-hybrid would be more efficient and have a boost in power, but the system is meant to be accessible--Nintendo needs this system to sell and sell well for it to recoup its R&D costs.
Furthermore, NVIDIA says that it spent quite a lot of time making the Switch's custom Tegra chip. This work was accelerated likely due to NVIDIA's familiarity with the Maxwell-based Tegra X1, which has been refreshed into a new Shield TV box, and it may have taken NVIDIA longer to adapt the Pascal-based Parker Tegra to fit the Switch's needs.
Creating a device so fun required some serious engineering. The development encompassed 500 man-years of effort across every facet of creating a new gaming platform: algorithms, computer architecture, system design, system software, APIs, game engines and peripherals. They all had to be rethought and redesigned for Nintendo to deliver the best experience for gamers, whether they're in the living room or on the move.

The Nintendo Switch's gaming experience is also supported by fully custom software, including a revamped physics engine, new libraries, advanced game tools and libraries. NVIDIA additionally created new gaming APIs to fully harness this performance. The newest API, NVN, was built specifically to bring lightweight, fast gaming to the masses.

Gameplay is further enhanced by hardware-accelerated video playback and custom software for audio effects and rendering. We've optimized the full suite of hardware and software for gaming and mobile use cases. This includes custom operating system integration with the GPU to increase both performance and efficiency.
The Nintendo Switch will release in just a few short weeks on March 3, 2017 for $299. Check below for a massive catalog of everything we know about the console so far;
Everything we know about the Nintendo Switch:
Related Tags