Nintendo Switch online chat requires smartphone app
Chatting online with friends on the Nintendo Switch will require a dedicated smartphone app. Yes, really.

Published Sat, Jan 14 2017 7:21 PM CST
|
Updated Tue, Nov 3 2020 11:57 AM CST
I was in denial about this particular subject. I thought for sure that Nintendo wouldn't lock online voice chatting on its new Switch console to a smartphone app--I thought it'd be optional, and you'd still be able to hook up your dedicated gaming headset to the Switch's 3.2mm headphone jack while it's docked or in handheld mode and use it to chat. And I was wrong.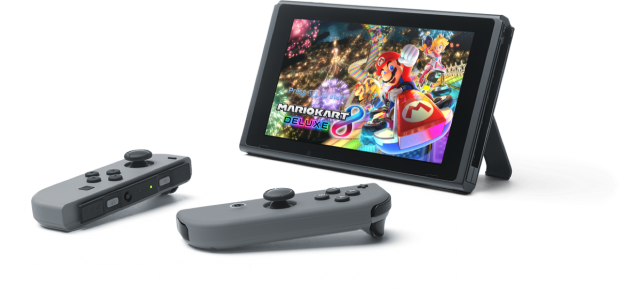 As it turns out, the smartphone app is absolutely required for online voice chatting. The app is described as the "Online Lobby and Voice Chat App" and is only accessible by paid subscribers of Nintendo's new online service.
"I think it would be helpful maybe to step back. Because I think it's important there's an understanding of the bigger vision.

"The bigger vision is that we are going to provide an overall online service, subscription-based, that not only will capture the multiplayer opportunity, but also the voice chat capability that we're going to provide through a global app.

"The reason for that is, it continues to reinforce our commitment to online, and do so in a way that will enable the consumer to enjoy their Nintendo Switch and to still be able to play those connected experiences-like Splatoon, like Kart, like fill in the blank-while they're on the go.

"Instead of having some sort of bulky gamer headset, you'll be able to do it right off your smartphone, put in your earbuds that you use for your standard mobile device. We think that's a pretty sweet solution. That's part of the overall opportunity that we see in a subscription service."
Read Also: Nintendo Switch hardware specs revealed
When I heard that the Nintendo Switch would connect with smartphones and tablets, I thought "hey, awesome!" But I had no clue this would be the bizarre fruits of that union. Seriously now...there's so much more Nintendo could've done with smartphone linking: second screen experiences like maps and mini-games, or even the ability to use your phone as an extra controller of sorts. Maybe even use it as a remote for media apps like Netflix and Hulu, somewhat like Microsoft's Smartglass feature on the Xbox 360 and Xbox One.
But no. That potential is being used for a voice-over-IP chatting app that should be 100% optional, not 100% mandatory.
Now I can't really defend this one. If it were optional, I could see where it'd be useful. If you don't have a gaming headset, you could download the app and use it to talk with your friends. But requiring gamers to use this app? No...this is just bad.
What this move tells me is that Nintendo is lazy.
Instead of adding some sort of audio port on the actual Switch dock or facilitating audio chat within the system itself, they just decided to use a device everyone has. In a way it's genius, but I'm disgruntled with the decision, so it absolutely seems lazy.
The real strange thing here is that the Nintendo Switch's 3.5mm jack isn't obscured while the system is docked. You could plug in a headset at the top while it's docked, but what Reggie's comments tell me is that the headset wouldn't work for mic chatting. It probably wouldn't even work for audio either considering the Switch tablet is beaming the audio/video signal through the dock's male USB Type-C port, which is then converted and passed through an HDMI port to your TV.
Sure you can use a headset while the Switch is in Handheld or Tabletop mode, but Reggie's comments basically say that we can't use that very same headset to voice chat in these modes. Which is a shame, because lots of people already have gaming headsets.
Please, Nintendon't muck this one up too.
The Nintendo Switch will launch on March 3, 2017 for $299.
Related Tags