Switch handheld battery lasts over 3 hours playing Zelda
Nintendo's Switch handheld can play Zelda: Breath of the Wild for over three hours on a full charge.
Published
|
Updated Tue, Nov 3 2020 11:56 AM CST
9 minute read time
YouTubers and press have gotten their hands-on early Nintendo Switch consoles, and now the million dollar question has been answered: the Switch can play Zelda: Breath of the Wild on-the-gomore than three hours on a full charge.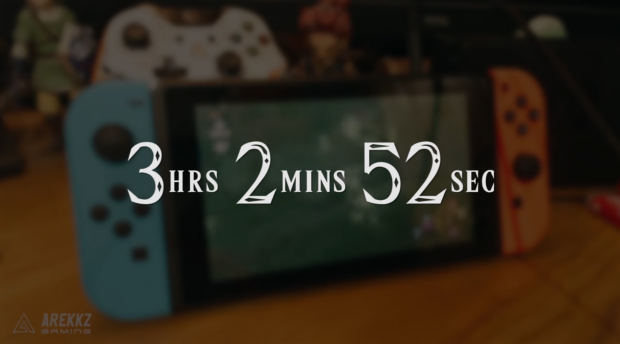 Nintendo has confirmed that the Switch's battery can last anywhere from 2.5 to six hours on a full charge while in handheld or tabletop mode depending on the game and mode. The Switch's internal 4310mAh battery takes 3 hours to fully recharge, and Nintendo estimated that the Switch would last about 3 hours while playing demanding games like Breath of the Wild.
It turns out that Nintendo's estimates were spot-on. YouTuber Arekkz conducted a quick Switch handheld battery life test and concluded that we can play Breath of the Wild for approximately 3 hours, 2 minutes and 52 seconds with a full charge. This is almost three minutes longer than Nintendo's battery life estimates.
Read Also: Zelda: Breath of the Wild will be a playground of fun
So there you have it, folks: the Switch is able to maintain longer playtime due to its efficient power scaling while in the Mobile Mode, even while churning out 720p gaming. As we've reported, the Nintendo Switch scales back its GPU performance while in handheld or tabletop mode as to conserve battery life and reduce heat.
Sadly we weren't able to get our hands-on an early Switch console, so you'll have to wait until the console drops on March 3 before we have our content ready. But rest assured: it is coming, and I for one am super excited to be part of Nintendo's new revolutionary push.
The Nintendo Switch will release on March 3, 2017 for $299. Check below for a massive catalog of coverage and info about the system.
Everything we know about the Nintendo Switch:
Related Tags