The Nintendo Switch has already been torn down, revealing some interesting things: a custom NVIDIA Tegra X1 chip that perfectly matches the second-gen Shield TV's 20nm Tegra X1 transistor count, and the possible confirmation that the handheld-console hybrid will use efficient DDR4 mobile RAM.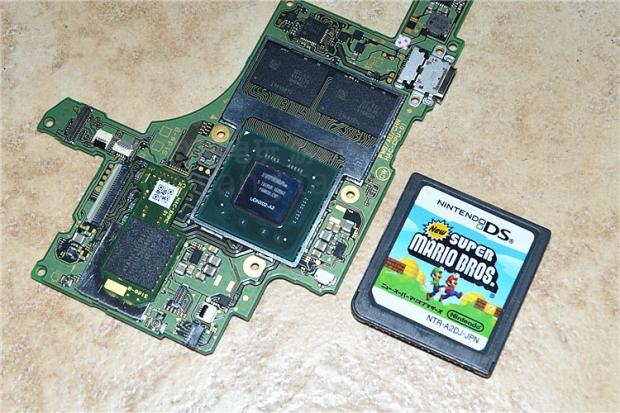 We already know the Nintendo Switch should use 4GB of unified shared RAM system memory, but until now we weren't exactly sure how fast or what grade of memory would be in the Switch. Now we might know. According to recent Switch teardowns spotted on Chinese site Tabao, two Samsung-made SDRAM modules were spotted on the system's PCB.
The pictures are very fuzzy, but the consensus is that the SDRAM modules are K4F2E304HBMGCH modules, which are described as "LPDDR4 DRAM Chip Mobile LPDDR4 DRAM 16G-Bit 512Mx32 1.8V 200-Pin FBGA." These particular Samsung LPDDR4 modules have a 16gigabit density, which is 2GB, and there are two of them totaling for 4GB of unified LPDDR4 memory.
Samsung's website confirms these modules can have maximum frequencies of up to 2666MHz, however I think its likely the Switch's 4GB of unified LPDDR4 memory will be clocked at 1600MHz, and scroll down to find out why.
Switch RAM
SPECIFICATIONS
MOBILE DRAM > K4F6E304HB-MGCH
Density 16 Gb (16 gigabits = 2 gigabytes)
Organization x32
Speed 3200Mbps
Package 200FBGA
Vdd & Vddq 1.8V / 1.1V
Temperature -25°C ~ 85°C
Production Status Mass Production
Application ULT, Tablet
Max Frequency 2666MHz
"Samsung LPDDR4 mobile DRAM is high-speed, power-saving memory built specifically for smartphones and tablets. LPDDR4 provides higher bandwidth and greater density for superb graphic resolution, smooth streaming multimedia and instant-on, instantplay performance. Multitasking, longer standby, larger screen sizes and thinner profiles are also possible using LPDDR4 mobile DRAM. When choosing Samsung LPDDR4 memory, manufacturers gain the following exceptional design advantages while end users benefit from enhanced performance."
(Cont. below)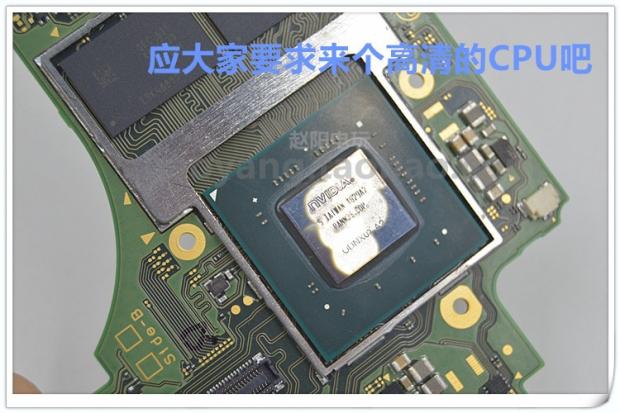 But what about the frequency?
Samsung's own website was light on particular RAM details including frequency. So I decided to look up the "package" platform 200FBGA. I still couldn't find the frequency speeds of the K4F6E304HB-MGCH modules, but I did find listings for a very close match that seems pretty much identical: K4F6E304HA-MGCH.
According to this site the K4F6E304HA-MGCH modules have 2GB densities, use the same 200-pin FBGA platform, and are built on x32--quite similar to the Switch's apparent RAM.
In fact this module is only one-letter off from the Switch's modules (4HA- instead of 4HB-) suggesting the Switch RAM is based off of this type.
The site goes on to say that the K4F6E304HA-MGCH 2GB modules run at LPDDR4-1600 frequencies, or 1600MHz.
(Cont. Below)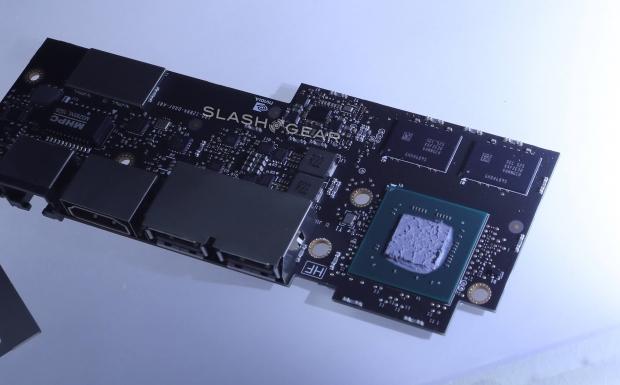 Shield TV RAM vs Nintendo Switch
While the Nintendo Switch might share similarities with NVIDIA's new Shield TV in terms of its Tegra X1 processor, the Switch actually has more but slower onboard RAM system memory.
According to Anandtech, NVIDIA's latest second-gen Shield TV uses Samsung LPDDR4 RAM clocked at a 3200MHz frequency. This is double the Switch's possible 1600MHz RAM frequency.
The exact model for this RAM module is Samsung K4F2E304HMMGCH LPDDR4 RAM, which come in 6 Gb (1.5 GB) modules a piece. This model of LPDDR4 RAM is found in both Google's Pixel C tablet and NVIDIA's new Shield TV microconsole, however I do not think the memory ran at 3200MHz on the Pixel C.
Interestingly enough I couldn't find a listing for the K4F2E304HMMGCH modules on Samsung's own website to confirm the LPDDR4-3200 frequency.
Why would the Nintendo Switch have slower RAM than the Shield TV?
Well, the Nintendo Switch is a fully-fledged mobile device. It's a tablet that can transform into a home console, but everything is contained in the actual mobile tablet portion.
The Shield TV, however, is console-only. It's not portable and is always hooked up to a dedicated source of power, thereby being able to run hotter, faster, and utilize beefier components than the Switch (at least in terms of RAM). LPDDR4-1600 will be fast enough for the Switch to do things efficiently while not pulling too much power.
(Cont. Below)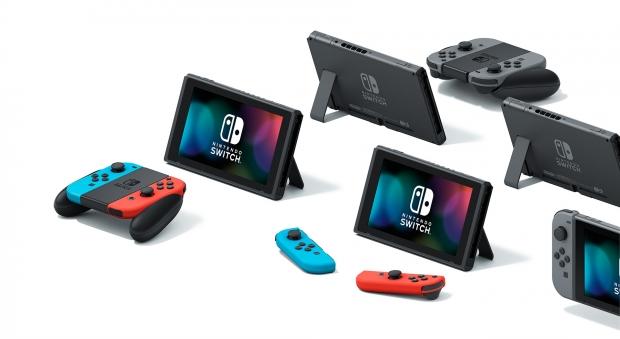 Wrap Up
Nothing has been confirmed so far so I'm not making any guarantees here. We don't know the exact RAM module codes, and until the Chinese poster uploads some clearer pics, we won't know for sure.
But everything I've reported here makes sense, and I have a feeling we could be onto something huge.
The Nintendo Switch will release on March 3, 2017 for $299. Check below for a massive catalog of everything we know about the system so far.
Everything we know about the Nintendo Switch: