Nintendo Switch and Wii U third party partners compared
Will the Nintendo Switch become the next Wii U? Let's take a look at the third-party partners and specs and make some predictions.
Published
13 minute read time
Nintendo has touted its third-party support for its new Switch console-and-handheld hybrid system, but they said the same thing about the Wii U, and devs eventually pulled out due to dismal console sales and underwhelming specs and power. Here we do a quick comparison of the third-party confirmations and take a look at the rumored Switch specs to gauge our games library expectations from the new platform.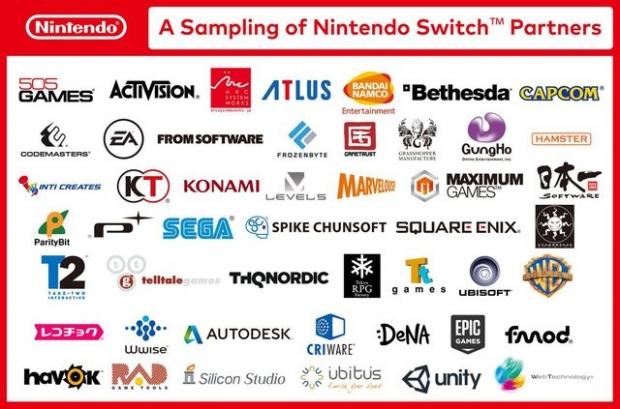 Forty-seven of the games industry's top third-party publishers and developers have already pledged support to Nintendo's new Switch platform, and Nintendo says that's only a sampling. During the Wii U's pre-release third-party confirmations, however, only 21 or so publishers and devs pledged support for the lackluster system--and that number eventually petered out dramatically over time. Could the same thing happen to the Switch?
The main reason developers stopped making games for the Wii U was the system's complexity and lower-end performance. It was a nightmare for devs, requiring a lot of extra work to scale their games on an underwhelming specced system. With the Switch, however, Nintendo enlisted leading graphics card-maker NVIDIA.
NVIDIA has a proven track record with its integrated Tegra chip, which powers its Shield TV and Shield Tablet hardware.
The Switch rocks a highly customized Tegra chip (possibly based on NVIDIA's new high-end 16nm Pascal graphics architecture) that incorporates both a CPU and GPU on the same chip, and essentially melds NVIDIA's two Shield products together, while providing HD gaming performance, power efficiency, optimum heat mitigation, flexibility for developers, and unique hardware scaling optimized for the Switch's dual-factor hardware (switching from handheld mode to docked console mode).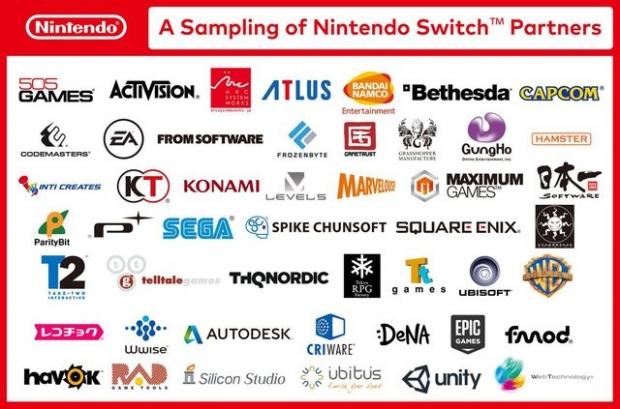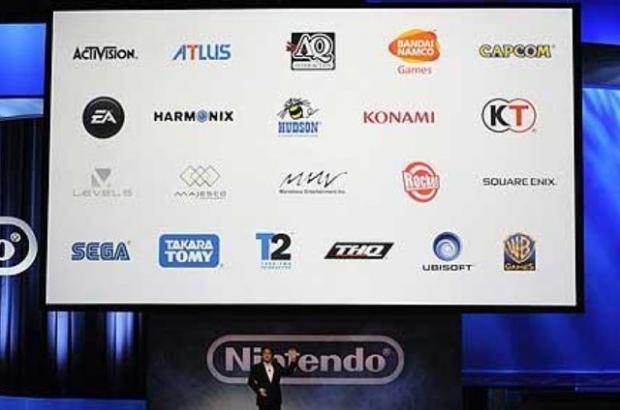 A sampling of Nintendo Switch third-party partners (left) compared to the Wii U's third-party partners (right)
Despite the pros that come with the NVIDIA Tegra, however, there are reports that indicate the Switch will have high performance disparities across its two modes; in short, the Switch's power will be effectively halved when it's taken on-the-go.
Based on Nintendo Switch patents we know that the system has varying processor performance depending on which mode it's being used in.
Read Also: Nintendo Switch GPU hits 302MHz on the go, full 768MHz while docked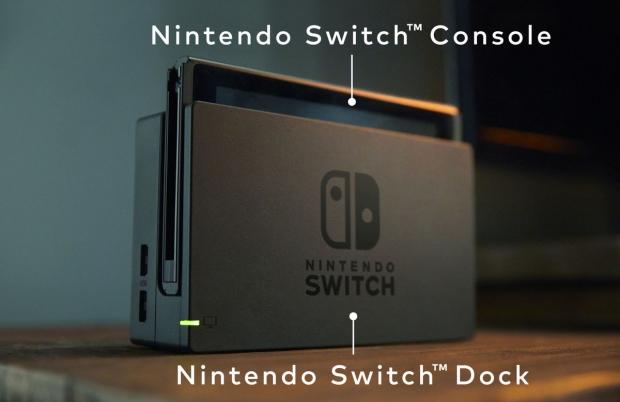 According to reports from Eurogamer, the Nintendo Switch's Tegra GPU downscales to just 302MHz while in handheld mode, with the CPU staying at a steady 1050MHz. When the Switch is docked in its cradle the GPU is unlocked and hits its full potential, clocking in at 768MHz, with the CPU still hitting 1050MHz. The Switch will hit full 1080p HD gaming while docked, and then drop to 720p on the tablet while taken on the go.
This varying performance is essential for handheld mode to ensure optimum heat mitigation and reduce battery drain. Also the Switch will apparently have a 6.2-inch 720p display, so the downclock would coincide with the resolution drop.
This performance disparity raised red flags in the community, who saw the Switch as a potential instance of history repeating itself. With just 302MHz GPU clock speeds, modern games may have some problems running on the Switch in handheld mode.
Expected Nintendo Switch specs and performance
(Note: most of this information has not been officially confirmed)
Console Mode
Chip type: highly-customized, revamped Tegra, possbily 20nm Maxwell or 16nm Pascal

Power: USB Type-C, charged docked

Video out: HDMI

GPU clock: 768MHz (max, could be variable based on game/app/program, won't always hit max perf)

CPU clock: 1020MHz (consistent perf)

System RAM: 4GB unified memory (unified VRAM and DRAM)

Resolution output: native 1080p switched over from handheld's 720p resolution

Unreal Engine 4 GFX display settings: High
Handheld Mode
Chip type: highly-customized, revamped Tegra, possbily 20nm Maxwell or 16nm Pascal

Power: USB Type-C, external charger

Video out: N/A

GPU clock: downclocked to 302MHz (maximum based on game/app/program, won't always hit max perf)

CPU clock: 1020MHz (consistent perf)

System RAM: 4GB unified memory (unified VRAM and DRAM)

Battery Life: ~3 Hours?

Resolution output: 720p resolution in 6.2-inch tablet handheld

Unreal Engine 4 GFX display settings: Medium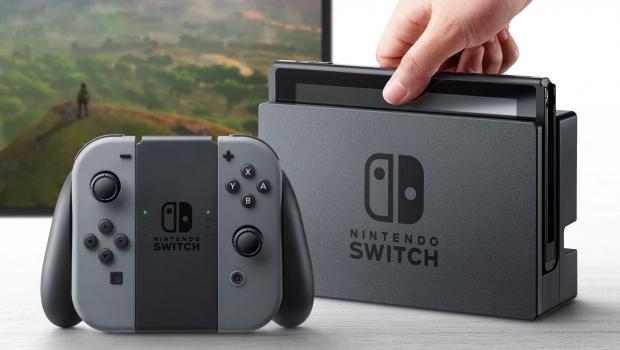 Nintendo Switch Info and Specs
Nintendo Switch handheld tablet uses non-removable, rechargable 3.7V Li-Ion battery

Both 2.4GHz and 5GHz 802.11ac MIMO Wi-Fi supported

No LTE/cellular internet support

USB Type-C confirmed

No Ethernet port in the Switch cradle/dock, requires USB-to-ethernet adapter, compatible with Wii's LAN adapter

Switch handheld supports MicroSD for expanded memory

Laptops can be hooked directly to the cradle

Detachable JoyPad controllers are connected via Bluetooth

Low-power Bluetooth, likely Bluetooth 4.0 +

AC Adapter output (from dock to handheld) DC 5 V - DC 15 V, 2.6 A - Switch has max power draw of 39W while charging on cradle, supports Type-C quick-charge*
AC Adapter input (from wall to dock) AC 100 - 240 V, 50 / 60 Hz, 1 A - standardized power, hinting the Switch may be region-free (the Wii U's adapter, however, is similarly rated and isn't region-free)
*Basic formula to convert volts to watts is Watts = Volts x Amps, so we plug in the Switch's 15V times the 2.6A to get 39W, meaning the Switch will draw a max of 39W while docked.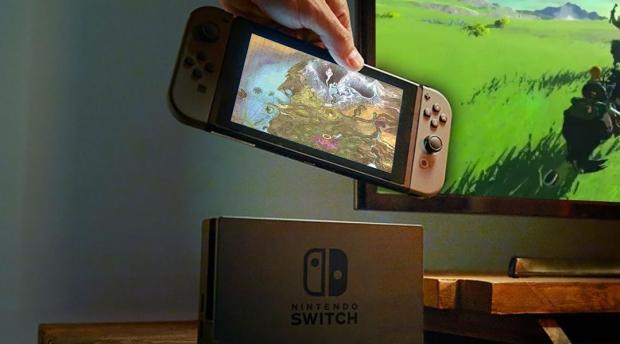 Despite these worries from the community, Nintendo President Tatsumi Kimishima has affirmed the Switch will launch with a "full software lineup" consisting of major first-party and third-party games. The Switch has flexible support for high-end graphics engines and APIs like Unreal Engine 4, Havok, Vulkan, OpenGL 4.5, and DICE's Frostbite 3 engine--among others.
Even NVIDIA's Jen-Hsun Huang hints the Nintendo Switch might be easy to develop and scale games onto, despite the performance disparities between the Switch's two form factors (handheld and docked console play).
Read Also: Nintendo Switch: Type-C quick charge, no LTE, 5GHz Wi-Fi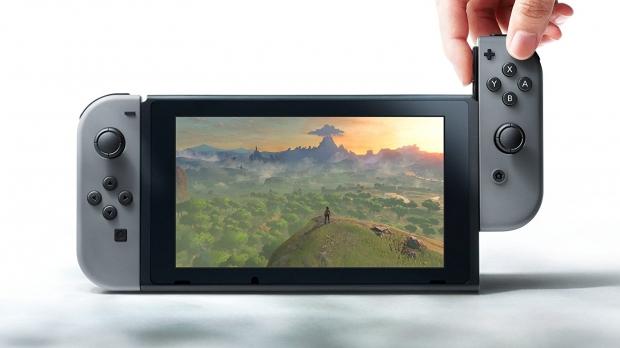 Ubisoft has confirmed Just Dance 2017 will be coming to the Switch, and Bethesda has confirmed support, with Skyrim being the most likely candidate to cross over. EA has said they will bring "one or two big games" to the Switch,
"In terms of Nintendo, in their announcement they announced that we'll be supporting with a game or two on that new platform. We haven't yet announced what game, but you should assume that it's one of our bigger games we've been involved with," EA CFO Blake Jorgensen said at a UBS tech show.
"We're excited for Nintendo, it's an interesting device. But I can't yet predict how broad it's going to be, and [if people will] be interested in a portable device alongside their regular portable device that they have."
We've also heard that a lot of Unreal Engine 4 games will cross over to the Switch, with major titles like Tekken 7, Kingdom Hearts III, Kingdom Hearts 2.8, Final Fantasy VII: Remake and Dragon Quest XI using UE4.
Nintendo Switch games library predictions
Launch Day
3D Mario (shown in the reveal trailer)

Mario Rabbids RPG (Nintendo overseeing to ensure day one availability)

Splatoon Port

Skyrim (Dale says "debated by others" but insisted by her own sources)

Just Dance 2017 ("100% locked for launch", adds Dale)
Nintendo Switch releases in first six months
Smart Port (Bayonetta and Cloud Amiibo same day)

Zelda: Breath of the Wild (summer launch)

Telltale Guardians of the Galaxy ("very near launch day, weekly eps leading to movie")

Mario Kart 8 port (with "minor additions")

Xenoblade X port (late summer)

Mario Maker port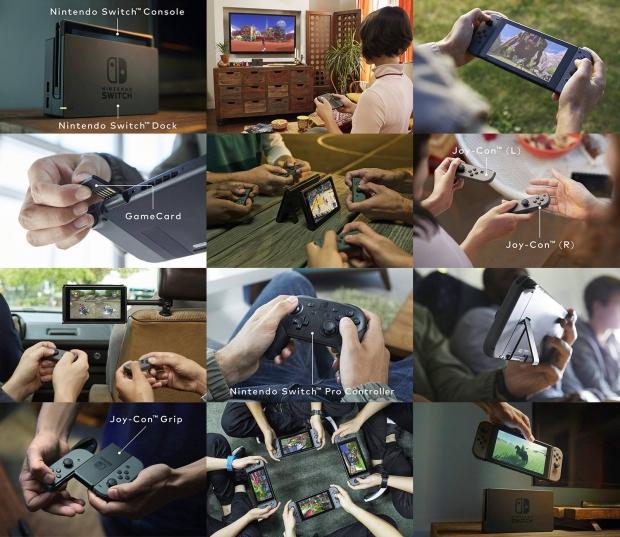 "Developers can design their games supporting a variety of play styles, which gives gamers the freedom to choose an experience that best suits them. Some of the publishers, developers and middleware partners announcing support for Nintendo Switch are as follows:"
Confirmed Nintendo Switch partners (sampling)
505 Games

LEVEL-5 Inc.

Activision Publishing, Inc.

Marvelous Inc.

ARC SYSTEM WORKS Co., Ltd.

Maximum Games, LLC

ATLUS CO., LTD.

Nippon Ichi Software, Inc.

Audiokinetic Inc.

Parity Bit Inc.

Autodesk, Inc.

PlatinumGames Inc.

BANDAI NAMCO Entertainment Inc.

RAD Game Tools, Inc.

Bethesda

RecoChoku Co., Ltd.

CAPCOM CO., LTD.

SEGA Games Co., Ltd.

Codemasters

Silicon Studio Corporation

CRI Middleware Co., Ltd.

Spike Chunsoft Co., Ltd.

DeNA Co., Ltd.

SQUARE ENIX CO., LTD.

Electronic Arts

Starbreeze Studios

Epic Games Inc.

Take-Two Interactive Software, Inc.

Firelight Technologies

Telltale Games

FromSoftware, Inc.

THQ Nordic

Frozenbyte

Tokyo RPG Factory Co., Ltd.

GameTrust

TT Games

GRASSHOPPER MANUFACTURE INC.

UBISOFT

Gungho Online Entertainment, Inc.

Ubitus Inc.

HAMSTER Corporation

Unity Technologies, Inc.

Havok

Warner Bros. Interactive Entertainment

NTI CREATES CO., LTD.

Web Technology Corp

KOEI TECMO GAMES CO., LTD.

Konami Digital Entertainment Co., Ltd.
At TweakTown we've extensively covered all Switch reports and news, and you can find a full catalog of our content here. You can also scroll down below for a bullet list of all the pertinent details.
The Nintendo Switch launches in March 2017, possibly at a $249 and $299 price point, with a major reveal including full specs, launch lineup and more being held on January 13-15, 2017. Check below for everything we know about the Nintendo Switch so far, including confirmed details, analyses, rumors, specs and more.
Everything we know about Nintendo Switch so far:
Related Tags