Nintendo Switch adverts go up, delay unlikely
Now that stores are putting up Nintendo Switch advert banners up, it looks like the system's March 2017 release is set in stone.
Published
10 minute read time
Although Nintendo has confirmed many times that its new Switch handheld hybrid system would launch in March 2017, some gamers still think it'll be delayed. But now retailers are starting to put out official Switch banners, indicating Nintendo has the launch set in stone.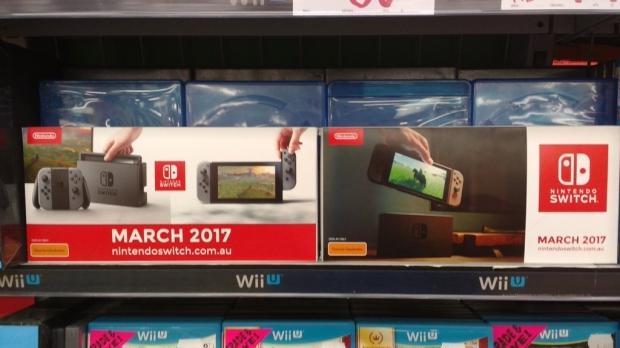 Australian retailer JB Hi-Fi has put up what appears to be the very first Nintendo Switch advertisement banner, clearly listing the March 2017 launch date. While we still don't know how much the Switch will cost--and we won't find that out until Nintendo's special January event--we've had reports that the Switch will come in a $249 basic bundle and a $299 deluxe bundle, with the more expensive SKU offering pack-in games like Splatoon.
If you're new to the Nintendo Switch, here's a quick rundown: the Switch itself is comprised of a 6.2-inch tablet-like device with a 720p display called the "Switch Console" and a dock called the "Switch Dock." The tablet can "switch" at any time across two different form factors: mobile and console play. The tablet is fringed by two detachable JoyPad controllers that can slide off and be used as two separate controllers on-the-go, or fastened to a JoyCon grip for a more traditional controller experience.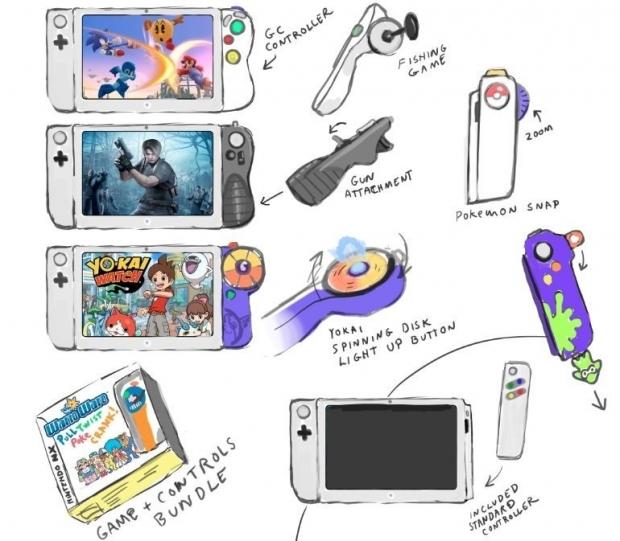 We also expect the Switch to have unique slide-on controllers that are designed to compliment specific games, and Nintendo President Tatsumi Kimishima corroborated these claims by saying the Switch will have an "array of different hardware add-ons and accessories."
Read Also: Nintendo Switch has 6-inch 720p display with 10-point capacitive multi-touch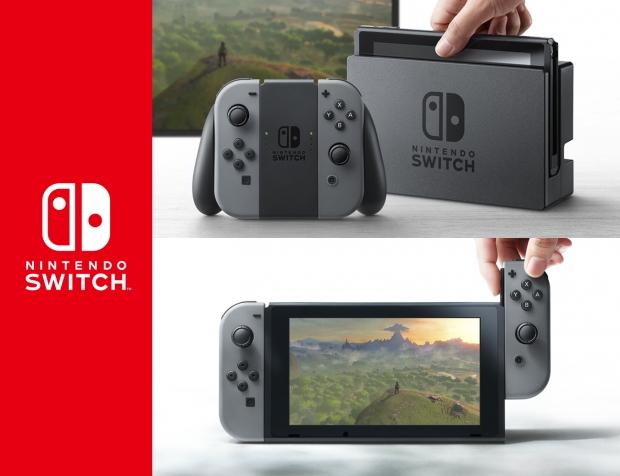 The Switch tablet be taken on-the-go to deliver 720p gaming, or docked for traditional console living room play with its games switched over to native 1080p.
The Switch features a heavily customized NVIDIA Tegra chip that scales across the two modes: the Tegra's GPU downclockins itself when the Switch is taken on the go to reduce battery drain, match the performance befit of the 720p screen, and reduce heat. When the Switch is docked, the Tegra's GPU is fully unlocked to hit full 1080p gaming.
Read Also: https://www.tweaktown.com/news/55534/nintendo-switch-portable-gpu-speeds-halved-302mhz/index.html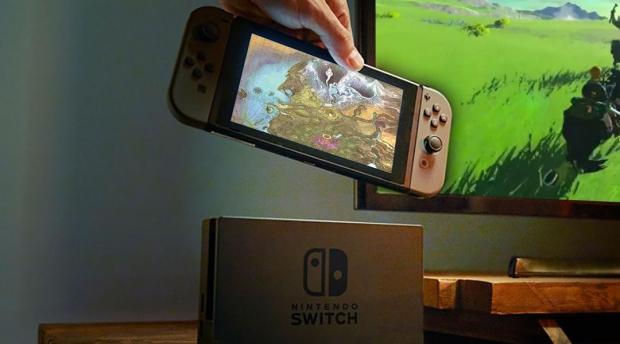 Expected Nintendo Switch specs and performance
(Note: most of this information has not been officially confirmed)
Console Mode
Chip type: highly-customized, revamped Tegra, possbily 20nm Maxwell or 16nm Pascal

Power: USB Type-C, charged docked

Video out: HDMI

GPU clock: 768MHz (max, could be variable based on game/app/program, won't always hit max perf)

CPU clock: 1020MHz (consistent perf)

System RAM: 4GB unified memory (unified VRAM and DRAM)

Resolution output: native 1080p switched over from handheld's 720p resolution

Unreal Engine 4 GFX display settings: High
Handheld Mode
Chip type: highly-customized, revamped Tegra, possbily 20nm Maxwell or 16nm Pascal

Power: USB Type-C, external charger

Video out: N/A

GPU clock: downclocked to 302MHz (maximum based on game/app/program, won't always hit max perf)

CPU clock: 1020MHz (consistent perf)

System RAM: 4GB unified memory (unified VRAM and DRAM)

Battery Life: ~3 Hours?

Resolution output: 720p resolution in 6.2-inch tablet handheld

Unreal Engine 4 GFX display settings: Medium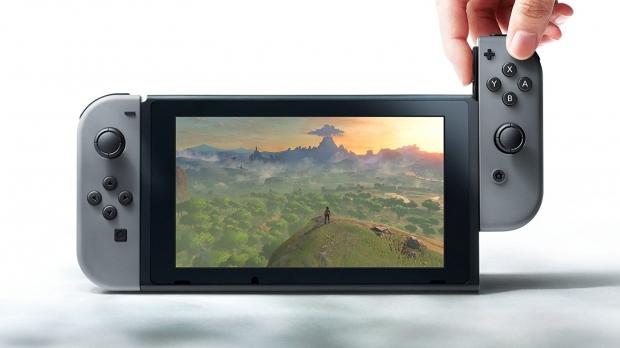 Here at TweakTown we've covered the Nintendo Switch quite a bit. You can find a massive catalog of the most pertinent details in an included bullet list at the bottom of this article, or by checking our huge Switch coverage index.
Our latest reports on the Switch's published FCC filings indicate the handheld-console duo won't have a removable battery, won't have LTE or cellular internet connectivity, supports 5GHz Wi-Fi, the confirmation of USB Type-C ports for power and quick-charging, and more.
Check the list below for all the info gleaned from the FCC filings:
Nintendo Switch handheld tablet uses non-removable, rechargable 3.7V Li-Ion battery

Both 2.4GHz and 5GHz 802.11ac MIMO Wi-Fi supported

No LTE/cellular internet support

USB Type-C confirmed

No Ethernet port in the Switch cradle/dock, requires USB-to-ethernet adapter, compatible with Wii's LAN adapter

Switch handheld supports MicroSD for expanded memory

Laptops can be hooked directly to the cradle

Detachable JoyPad controllers are connected via Bluetooth

Low-power Bluetooth, likely Bluetooth 4.0 +

AC Adapter output (from dock to handheld) DC 5 V - DC 15 V, 2.6 A - Switch has max power draw of 39W while charging on cradle, supports Type-C quick-charge*
AC Adapter input (from wall to dock) AC 100 - 240 V, 50 / 60 Hz, 1 A - standardized power, hinting the Switch may be region-free (the Wii U's adapter, however, is similarly rated and isn't region-free)
*Basic formula to convert volts to watts is Watts = Volts x Amps, so we plug in the Switch's 15V times the 2.6A to get 39W, meaning the Switch will draw a max of 39W while docked.
Read Also: Nintendo Switch to use Display Port Alternate Mode over USB Type-C for a host of additional benefits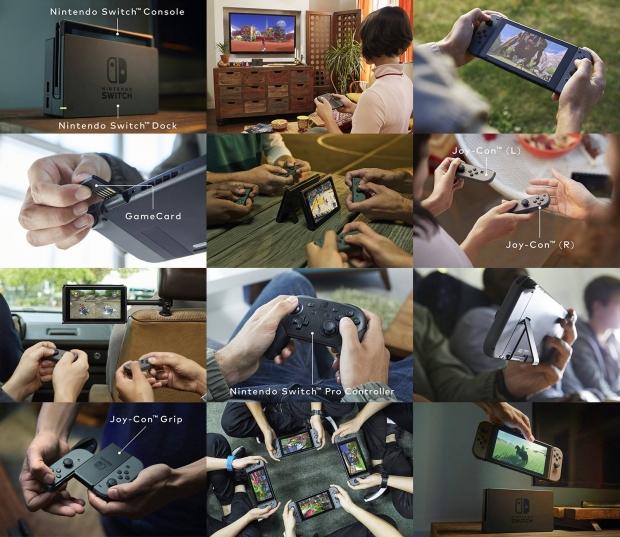 We expect Nintendo not to reveal full Switch info at a special event in January; these are in-depth technical specifications, and I think Nintendo will only reveal tech specs like the exact NVIDIA processor in the Switch, but not this kind of info.
The Nintendo Switch will release on March 2017, likely for a price point of $249 for a regular bundle, and $299 for a deluxe edition.
Check below for everything we know about the Nintendo Switch so far, including rumors, specs, reports, analyses and confirmed details.
Everything we know about Nintendo Switch so far:
Related Tags