Nintendo Switch may have extra power while docked
Nintendo's Switch console may perform better while docked than it does on-the-go.

Published Fri, Oct 21 2016 11:38 AM CDT
|
Updated Tue, Nov 3 2020 11:58 AM CST
Nintendo's new Switch console may perform better while docked for living room play than it does on the go.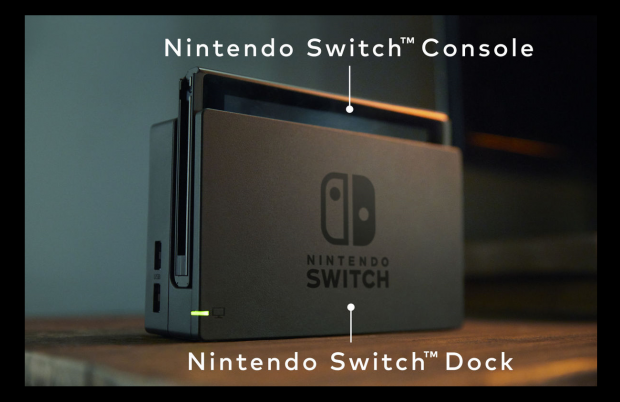 Based on Nintendo's response to IGN, we recently reported that Nintendo's new Switch console dock wouldn't boost GPU or CPU performance, but it looks like we might've been wrong: three separate sources, including unnamed Ubisoft and Nintendo sources, have told Let's Play Video Games Editor-in-Chief Laura Kate Dale that the Nintendo Switch dock will provide a processing boost to the main tablet console.
RE: dock, what I've heard is additional processing (lacking specifics atm) for when docked. However, would expect a few secs to switch.

— Laura Kate Dale (@LaurakBuzz) October 20, 2016
"This information again came from sources A (Nintendo), B (Ubisoft) and D (Manufacturing). None could confirm whether the dock is a PlayStation VR-style processing box which helps power higher resolution play when docked, or if docking the console simply allows the handheld to overclock and provides better performance that way. All sources claim the hardware has an easier time running docked compared to when out and about as a portable."
Given this data, we speculate that the Nintendo Switch may be underclocked and have its power dialed back when its taken out of the dock for portable gaming, which could translate to small performance drops in resolution and frame rate while gaming on-the-go.
This suggests the Switch doesn't provide full, seamless console-grade gaming on-the-go as we previously believed. The Switch's full power would then be unlocked when it's fastened back into the dock, providing the best quality gameplay experiences for the living room.
Evidence of this power discrepancy is further evidenced by Nintendo's insistence that the Switch is a "home gaming system first and foremost," with the mobile gaming functionality taking a backseat to docked living room play.
Nintendo's proclamation also lends credence to reports that Nintendo Switch's battery life only lasts for 3 hours.
It's also worth mentioning that it may not be the dock itself that provides the performance boost, as in the dock doesn't have any extra hardware--which is what I think Nintendo was saying. What we're saying now is that the Switch, when docked, would unlock a portion of its power that's usually reserved when its removed from the dock.
Here's what Nintendo told IGN:
"The Nintendo Switch Dock has been created so that it is extremely easy to seamlessly switch from playing games on a TV to transition into a portable mode," Nintendo told IGN. "The dock is not the main console unit of Nintendo Switch. The main unit of Nintendo Switch is the unit that has the LCD screen, which the two Joy-Con controllers can be attached to and detached from. The main function of the Nintendo Switch Dock is to provide an output to the TV, as well as charging and providing power to the system."
Although the Switch's preview video seemed to show the platform preserving console-quality gameplay in games like Skyrim when switching over to mobile mode, we can't fully analyze the performance without testing. Nintendo has said it won't be revealing any more details, specifications, or information about the Switch this year:
Nintendo: no more official announcement would come this year on 1) game titles 2) spec details, including region-lock status.— Takashi Mochizuki (@mochi_wsj) October 21, 2016
The Nintendo Switch will launch March 2017, but no pricing has been revealed so far.
Check below for everything we know about the Switch so far:
Everything we know about Nintendo Switch so far:
Related Tags