We have recently reported that Nintendo's new Switch hybrid system will have variable CPU and GPU speeds in its docked and on-the-go form-factor modes, but now we may have some exact clock speeds, revealing the GPU speeds will apparently take the biggest hit in portable mobile mode.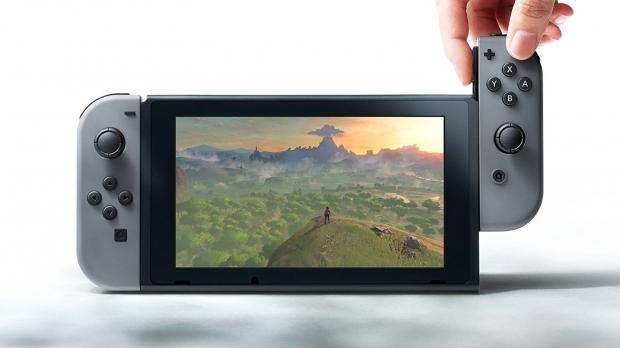 Although the Nintendo Switch is marketed as a swappable, dual-factor system that can seamlessly transform back and forth from a console into a handheld, it appears the system will be considerably more powerful when its docked for console play versus on-the-go. We reaffirmed this in our coverage of Nintendo's latest Switch patents, which clearly state the CPU and GPU would be scaled with variable performance across the Switch's two different form factors, with more perf being relegated to the Switch while it's docked to a power source.
Nintendo has said the Switch is a "home console first and foremost," and with Eurogamer's latest CPU and GPU clock speed reports, that statement rings with absolute truth.
According to Digital Foundry, the Nintendo Switch is similar to the performance of NVIDIA's Maxwell Tegra X1 chip found in Shield TV, but the performance is dramatically scaled down. The Switch's GPU performance--not the CPU--varies tremendously across docked and undocked play, whereas the CPU clock speeds stay consistent.
The Switch's GPU clock speeds reportedly only hit 768MHz while docked, and is scaled down by half to 302.7MHz while undocked. This mobile mode scaling is essential to provide ample battery life and reduce heat. The CPU, however, will stay at a consistent 1020MHz across both modes. The Switch's embedded memory controller can hit up to 1600MHz speeds, but the default speed is at 1331MHz.
If these CPU and GPU clock speeds are accurate, then it points to the Switch using a custom NVIDIA's second-generation Maxwell Tegra X1, likely based on the 20nm planar process--this is the opposite of what we've been told, which is the Switch would use a 16nm FinFET Pascal-based Tegra instead.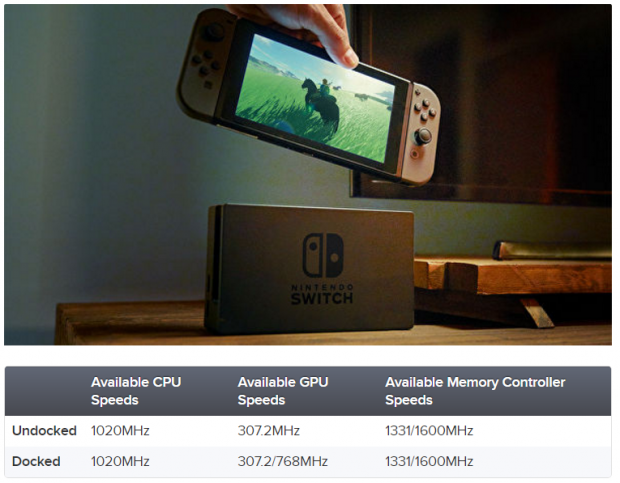 "The information in this table is the final specification for the combinations of performance configurations and performance modes that applications will be able to use at launch," read a statement in an internal dev packet sent out to Nintendo Switch devs.
NVIDIA's new Pascal Tegra "Parker" SoC sees a GPU boost by 50%, for up to 1500MHz of GPU clock speeds. The Switch, according to Digital Foundry's report, uses a sub-1GHz GPU clock speeds of 768MHz while the system is docked, fitting in with the GPU clock speeds of NVIDIA's Maxwell Tegra chip.
This is quite strange given NVIDIA has said the Switch's Tegra processor uses "the high-efficiency scalable processor includes an NVIDIA GPU based on the same architecture as the world's top-performing GeForce gaming graphics cards," hinting that the Switch would use the same GPU architecture found in the most powerful GeForce GTX cards--Pascal.
But also remember that the Switch's Tegra processor is extremely customized, encompassing more than "500 man-years of effort across every facet of creating a new gaming platform: algorithms, computer architecture, system design, system software, APIs, game engines and peripherals." So the Switch's hardware won't be an exact 1:1 copy of any existing processor on the market--just as Sony's PS4 Pro uses a highly customized Radeon Polaris GPU and can't be equated with a Polaris desktop video card.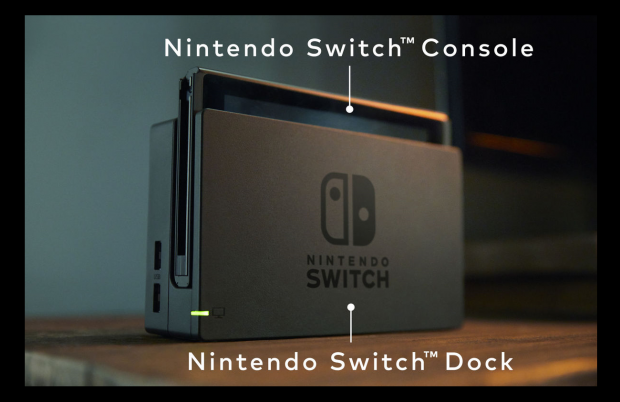 It's worth noting that Digital Foundry sources an apparent leaked Switch spec sheet that surfaced a few months ago, which was then corroborated by an apparent Switch dev.
Leaked Nintendo Switch Specs
(not confirmed, but corroborated)
CPU: Four ARM Cortex A57 cores, max 2GHz

GPU: 256 CUDA cores, maximum 1GHz

Architecture: NVIDIA second generation Maxwell

Texture: 16 pixels/cycle

Fill: 14.4 pixels/cycle

Memory: 4GB

Memory Bandwidth: 25.6GB/s

VRAM: shared

System memory: 32GB, max transfer rate: 400MB/s

USB: USB 2.0/3.0

Video output: 1080p60/4K30

Display: 6.2-inch IPS LCD, 1280x720 pixels, 10-point multi-touch support
The Nintendo Switch will release in March 2017, with special hands-on tours and big reveals planned for January 12-14.
Check below for everything we know about the Nintendo Switch so far:
Everything we know about Nintendo Switch so far: