The PlayStation 5's built-in boost mode is much, much more powerful than the PlayStation 4 Pro's. Sony says the boost is so dramatic that some older PS4 games simply can't handle it.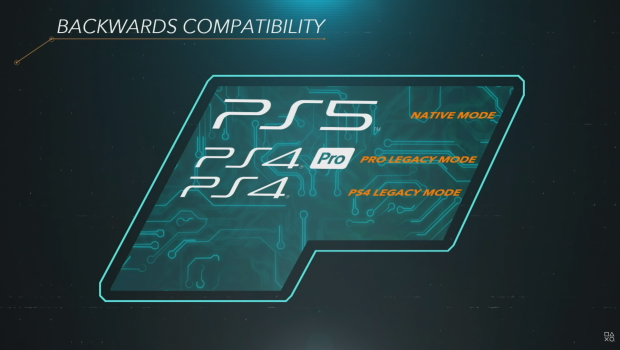 The PS5's backward compatibility is pretty lackluster in terms of supported games. Unlike the Xbox Series X, which can play OG Xbox, Xbox 360, and all Xbox One games at launch, the PlayStation 5 will only support 100 of the most popular PS4 games. But why? The PS5's native boost mode is the culprit. Here's how it works.
Like the Xbox Series X, the PlayStation 5 will natively boost any PS4 game you put into it. For example, Xbox Series X will auto-upgrade 2015's Gears of War 4 to native 4K resolution. Sony's PS5 will also boost PS4 games, but Sony hasn't detailed specifics. We could see all sorts of perf boosts like 120FPS, ray tracing, and more--imagine playing Bloodborne at 1080p 120FPs.
Sony did outline how PS5 backward compatibility works, though.
The PS5's new 10.3 TFLOP Navi GPU and 8-core Zen 2 CPU will automatically scale performance to emulate PS4 and PS4 Pro hardware via new Legacy Modes. But even in these legacy-optimized modes the games will be boosted quite a bit--so much that some games simply can't handle it.
Native Mode - Fully unlocks the Navi GPU at 2.23GHz for next-gen games
PS4 Pro Legacy Mode - Downscales the GPU to 911MHz, 218GB/sec bandwidth, and 64 ROPs to emulate the PS4 Pro
PS4 Legacy Mode - Drops the GPU to 800MHz with 176GB/sec bandwidth and 32 ROPs to emulate the base PS4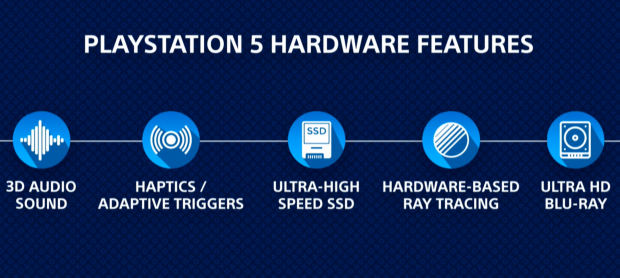 So basically developers have to work alongside Sony to get older games running on the PS5. That's why there's so few titles supported at launch, and why Sony asserts new games have to be added on a title-to-title basis.
"Running PS4 and PS4 Pro titles at boosted frequencies has also added complexity. The boost is truly massive this time around and some game code just can't handle it. Testing has to be done on a title-by-title basis," PlayStation 5 architect Mark Cerny said in a recent presentation.
With its new 2.23GHz Navi GPU, 3.5GHz Zen 2 CPU, ultra-fast customized 825GB SSD, and 16GB of unified GDDR6 RAM, the next-gen PS5 is simply so advanced that engineers have to tweak the game's code--or tweak how the SoC responds to older game code--to get certain games running on the platform.
Expect first-party PS4 games to look, feel and play absolutely amazingly on the next-gen PlayStation 5.
"Results are excellent though. We recently took a look at the top 100 PlayStation 4 titles as ranked by play time and we're expecting almost all of them to be playable at launch on PlayStation 5."
"Achieving this unification of functionality took years of efforts by AMD as any roadmap creates a potential divergence in logic. Backwards compatibility was handled masterfully by AMD. They treated it as a key need through the design process.
The PlayStation 5's SSD will be a big part of this new boost mode functionality, and we recently did a deep-dive on the system's remarkable new custom storage tech. Find that here.
The console will release in Holiday 2020, and it may cost $499.
Check below for more info on everything we know about the PlayStation 5 so far: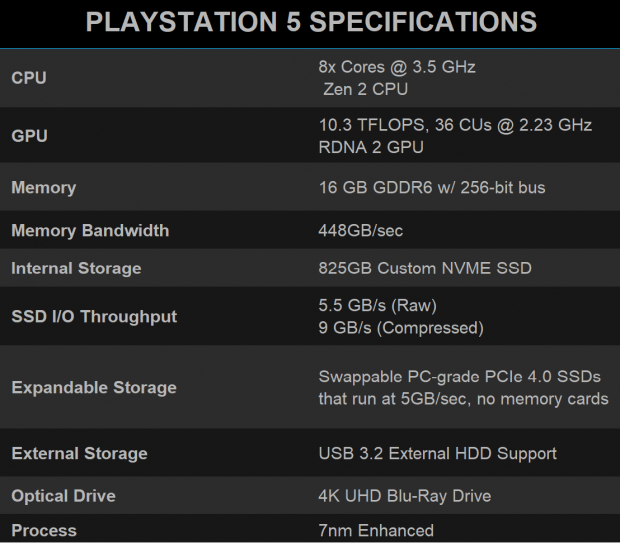 PlayStation 5 specs and details:
Custom SoC with second-gen Navi GPU, Zen 2 CPU

8-Core, 16-thread Zen 2 CPU at 3.5GHz

Navi 2X GPU with 36 CUs on RDNA 2 at 2.23GHz

Ultra-fast 825GB SSD with up to 9GB/sec speeds

Support for 4K 120 Hz TVs

Ray-tracing enabled

8K output support (for gaming)

Plays PS4 games, BC is on a title-to-title basis

Separate games that ship on BD-XL Blu-ray discs

New controller with extensive haptic and tactile feedback
PlayStation 5 Coverage: