PS5 won't play PS1, PS2 or PS3 discs, 100 PS4 games support at launch
PS5 will only play 100 of the most popular PS4 games at launch, and backward compatibility is achieved on a title-to-title basis.
Published Mar 19, 2020 11:56 AM CDT
|
Updated Tue, Nov 3 2020 11:44 AM CST
14 minute read time
The PlayStation 5's backward compatibility will be quite limited at launch. Sony confirms that roughly 100 of the most popular PS4 games will be backward compatible on the PS5 when it releases in Holiday 2020.
The PS5's backwards compatibility is a lot less expansive than we thought. Console architect Mark Cerny confirms the PS5 can only play PS4 games, and old PS1, PS2, and PS3 generation titles won't be supported natively via discs. Only ~100 of the most popular PS4 games will be playable on the PS5 on release, Cerny says, which is less than 1/40th of the system's overall library of games.
All backward compatible games on the PlayStation 5 must be added on a title-to-title basis, meaning developers and publishers will have to work closely with Sony to bring their games forward. Given the stakes involved in displacing the gaming libraries of 108 million PS4 owners, expect Sony and developers to take backwards compatibility seriously and grow the library over time.
Still, though, it's alarming that not even 100 of the platform's most played games will be playable at launch.
Cerny also confirmed PS5 will handle backwards compatibility on a chip logic level rather than the old method of cramming an entire previous console SoC into the new system.
PS5's Navi GPU has two legacy modes that emulate both the PS's and PS4 Pro's CPU and GPU clock speeds.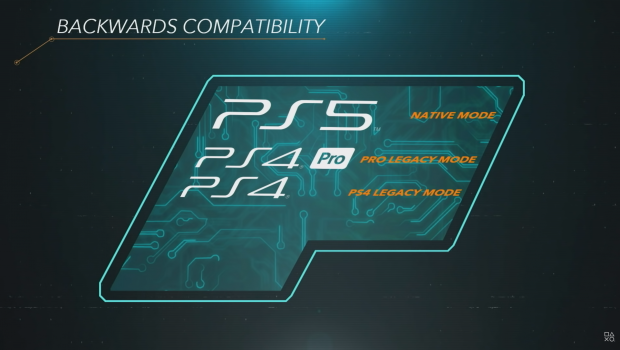 "The PlayStation 5 GPU is backwards compatible with the PlayStation 4. One way you can achieve backwards compatibility is to put the previous console's chipset in the new console, like we did with the PS3. But that's of course extremely expensive.
"A better way is to incorporate any differences in the previous console's logic into the new console's custom chips. Meaning that even as the technology evolves, the logic and the feature set that powers the PlayStation 4 and PlayStation 4 Pro titles rely on, is still available in backwards compatibility mode."
Essentially the PlayStation 5 will transform into a PlayStation 4 or PlayStation 4 Pro depending on which games are put in or loaded.
Native Mode - Fully unlocks the Navi GPU at 2.23GHz for next-gen games
PS4 Pro Legacy Mode - Downscales the GPU to 911MHz, 218GB/sec bandwidth, and 64 ROPs to emulate the PS4 Pro
PS4 Legacy Mode - Drops the GPU to 800MHz with 176GB/sec bandwidth and 32 ROPs to emulate the base PS4
"One advantage of this strategy is that once backwards compatibility is in the console, it's in. It's not as if a cost down [hardware omission] will remove backwards compatibility like it did on the PlayStation 3."
The console will release in Holiday 2020, and it may cost $499.
Check below for more info on everything we know about the PlayStation 5 so far: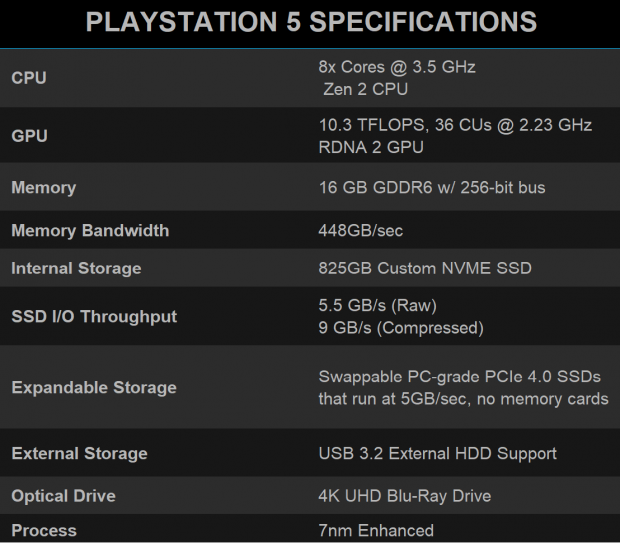 PlayStation 5 specs and details:
Custom SoC with second-gen Navi GPU, Zen 2 CPU

8-Core, 16-thread Zen 2 CPU at 3.5GHz

Navi 2X GPU with 36 CUs on RDNA 2 at 2.23GHz

Ultra-fast 825GB SSD with up to 9GB/sec speeds

Support for 4K 120 Hz TVs

Ray-tracing enabled

8K output support (for gaming)

Plays PS4 games, BC is on a title-to-title basis

Separate games that ship on BD-XL Blu-ray discs

New controller with extensive haptic and tactile feedback
PlayStation 5 Coverage:
Related Tags