PS5, Project Scarlett may use Samsung's 6th gen V-NAND NVMe SSDs
Both the PlayStation 5 and Project Scarlett next-gen consoles could use Samsung NVMe SSDs for storage.

Published Nov 25, 2019 12:54 PM CST
|
Updated Tue, Nov 3 2020 11:46 AM CST
Samsung today strongly hints that its low-latency, high-bandwidth NVMe SSDs will power the next generation of consoles.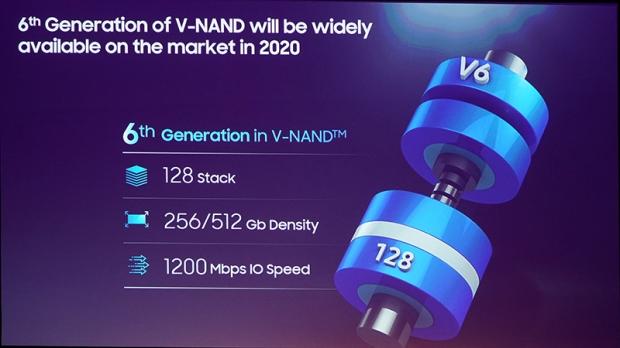 Both the PlayStation 5 and Project Scarlett next-gen consoles will use super-powered SSDs for fast loading times and optimized gameplay. We still don't know what the storage will look like--if it's custom hardware, software, or both--but it looks like Samsung is making the storage.
In a recent presentation, Samsung highlighted the evolution of its high-end memory chips and what's next on the horizon. It's possible both the PlayStation 5 and Project Scarlett could use a derivative of Samsung's new 6th generation V-NAND memory on an NVMe solution, but bear in mind this tech was also made for demanding enterprise workloads. Samsung's 6th gen V-NAND offers 1200 Mbps IO speeds and up to 512 Gb density per die, and it'll be out by 2020.
It's also possible the 6th gen tech is overkill for gaming and that the chips won't be ready in time for next-gen console mass production and manufacturing. Both the PS5 and Project Scarlett are due out by holiday 2020.
The presentation also highlights Samsung's new PM1733 SSDs, which can hit up to 6.4GB/sec reads and 3.8GB/sec write speeds over PCIe 4.0. Remember these drives were made specifically for datacenters, not video games consoles.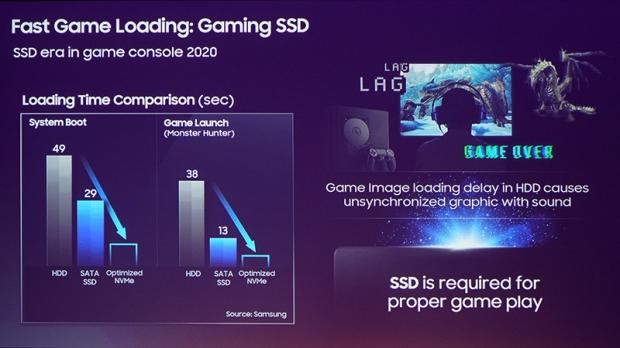 Reports say the PlayStation 5 will have a 2TB SSD, which probably means an older generation of Samsung NVMe SSDs. PCIe 4.0 might not be feasible due to higher costs, but it's possible both companies secured huge high-volume, multi-year deals at wholesale prices to reduce costs.
Whatever Sony and Microsoft use in their consoles, it'll be pretty specialized. And no, the PlayStation 5 won't use customized SSD cartridges for expandable memory--those patents were for Sony's Toio line of kids toys, not the PS5.
Microsoft says they've created a "new generation of SSD" that uses storage as a VRAM buffer for games. This could be done with highly specialized software--Microsoft is known for its extremely synergized SDKs and APIs--in tandem with specific hardware.
"We've created a new generation of SSD. We're actually using the SSD as virtual RAM. We're seeing more than 40x performance increases over the current generation," Microsoft said in the Project Scarlett E3 2019 reveal video.
"The combination of the SoC and the solid state drive are really what gives you a totally new experience. Now we can take all of that power and apply all of that back into the scene, and generate more life into that world and bring it to the gamer in a seamless way."
PlayStation 5 architect Mark Cerny also commented on the system's internal storage. Cerny says the PS5's ultra-fast SSD is paramount for achieving the seamless and immersive vision for the console, and that the PS5's internal SSD will have a highly customized software stack.
"An ultra-high-speed SSD is the key to our next generation. Our vision is to make loading screens a thing of the past, enabling creators to build new and unique gameplay experiences," Cerny said.
"The raw read speed is important, but so are the details of the I/O mechanisms and the software stack that we put on top of them."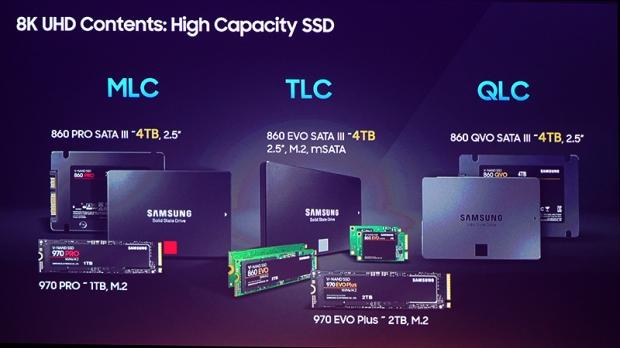 We're currently working on an article speculating on the storage solution found in the PlayStation 5 and Project Scarlett consoles, so keep an eye out for that.
Sony is expected to reveal the PS5 in a special event in February 2020. The console will release in Holiday 2020, and it may cost $499.
Check below for more info:
PlayStation 5 specs and details:
Custom SoC with second-gen Navi GPU, Zen 2 8-core, 16 thread CPU

Navi, Zen SoC uses new AMD RDNA 2.0 architecture

Sources: December 2020 release date

Ultra-fast SSD

Support for 4K 120 Hz TVs

Ray-tracing enabled

8K graphics support (probably video, not gaming)

Plays all PS4 games

Separate games that ship on BD-XL Blu-ray discs

New controller with extensive haptic and tactile feedback
Project Scarlett is due out by Holiday 2020. No pricing has been announced.
Check below for confirmed specs and details, and a huge content listing of everything we've heard about Project Scarlett so far:
Project Scarlett confirmed details:
8-core, 16-thread Zen 2 CPU

Navi GPU

Highly customized 7nm SoC from AMD

GDDR6 memory

4x as powerful as the Xbox One X's 6TFLOPs of perf

Can deliver up to 40x more performance than Xbox One in specific use cases

Adaptive sync supported

Super-fast SSD that can be used as VRAM

Supports 8K resolution (likely media playback)

120FPS gaming

Variable refresh rate

Raytracing confirmed with dedicated raytracing cores

Backward compatible with Xbox, Xbox 360, and Xbox One games

Compatible with Xbox One accessories
Project Scarlett coverage:
Related Tags