Latest reports indicate Nintendo's new Switch console-and-handheld hybrid will have dramatically varying performance across its two different modes: mobile handheld and docked console play. Despite this obvious GPU performance disparity, Nintendo can still deliver on its promise that the Switch can hit "console quality gaming while on-the-go."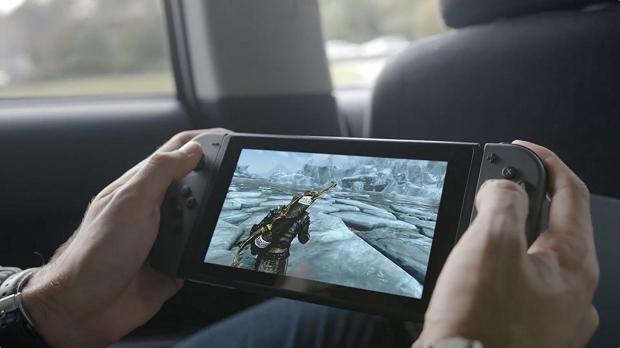 New Switch patents revealed that the system will scale its GPU and CPU power while in handheld mode, and only hit its full clock speed perf while docked and tethered to a steady power source.
Up until now we didn't know what those GPU and CPU clock speeds would be: as it turns out, the Switch halves its GPU speeds to just 302.7MHz while in portable mode, and only hits 768MHz while docked. This GPU drop is to improve battery life and thermals. We also know that the Switch's 6.2-inch tablet will be 720p instead of the full 1080p rendered when the Switch is docked. With that kind of dramatic disparity, how can Nintendo possibly create the illusion of truly seamless switching?
Interestingly enough, developers can choose to keep the same performance across both modes so users don't really notice a difference. This means docked mode won't always provide better gaming, and it's up to developers to scale/adjust performance.
So in essence, this is how developers could make the games play exactly the same across both mobile and console play: the games could be locked at just 302.7MHz of GPU speeds while docked, syncing and matching the perf of the game in console mode (despite the obvious resolution bump).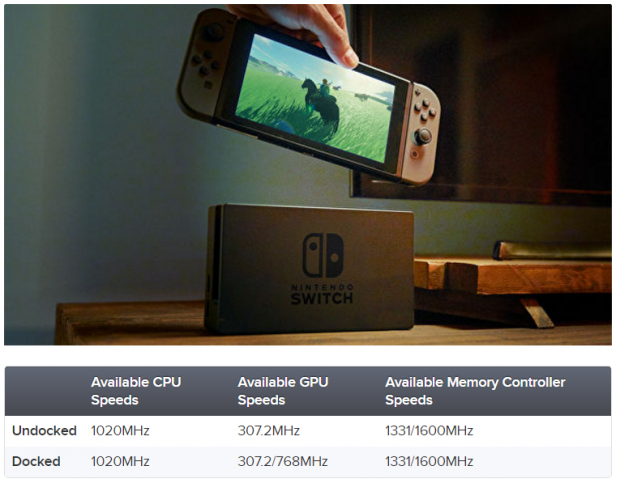 This coincides neatly with our past coverage that the Switch's GPU and CPU performance/clock speeds can be variably adjusted by games, apps and programs.
It'll be interesting to see how developers utilize this little trick, and whether or not gamers will be able to tell the difference. Remember that the Switch's seamless swapping of form factors is its main selling point, but despite this, Nintendo has affirmed the Switch is a "home console first and foremost."
The Nintendo Switch will launch in March 2017, and Nintendo plans to hold a major reveal event to showcase specs, launch games, and more on January 12-14.
Check below for everything we know about the Nintendo Switch so far, including specs, analysis, and much more.
Everything we know about Nintendo Switch so far: