Despite Sony's assurances that its new PlayStation 4 Pro runs cool, the fact that the new 4K-ready console uses AMD's new Polaris graphics architecture that's both energy and thermal efficient, and the fact that the PS4 Pro's SoC is built on a 16nm FinFET node process for even more efficiency, the console seems to be getting pretty hot. How hot? Hot enough to fry an egg?
I've been covering the PS4 Pro for a while now, but have decided against picking one up since my 2013 launch PS4 is running fine--even if Sony wants to pretend the console doesn't exist any more. In all of our reports, one of the most consistent bits of info is that the PS4 Pro is much more powerful and efficient than the PS4. We know it rocks a highly customized 4.2 TFLOP AMD Polaris-based GPU that sits below an RX 470 in power, and Sony even affirms the PS4 Pro runs super cool and only gets to 35C while gaming, but many gamers are saying that the system actually runs pretty hot--especially if you're playing in 4K.
"I wanna mention that this thing runs hot. Which is something crazy...we had it running several hours today and it was really hot," Cinemassacre's Ryan Schott said in a recent PS4 Pro evaluation video on AVGN's channel.
"It was really hot," Cinemassacre's Mike Matei added, jokingly saying: "You could crack an egg on that thing."
If you're not familiar with Cinemassacre or Mike or Ryan, think Angry Video Game Nerd. These guys have been doing more up-to-date coverage of new games and consoles, and have absolutely no reason to lie: they're not being paid off by any companies or corporations, so they don't have to hold their tongues or anything like that.
So basically what this means is that the PlayStation 4 Pro does get hot--quite hot, especially since Mike actually owns a normal PS4 and he's saying that the Pro is pretty steamy.
Read Also: PS4 Pro's native 4K games trigger FPS drop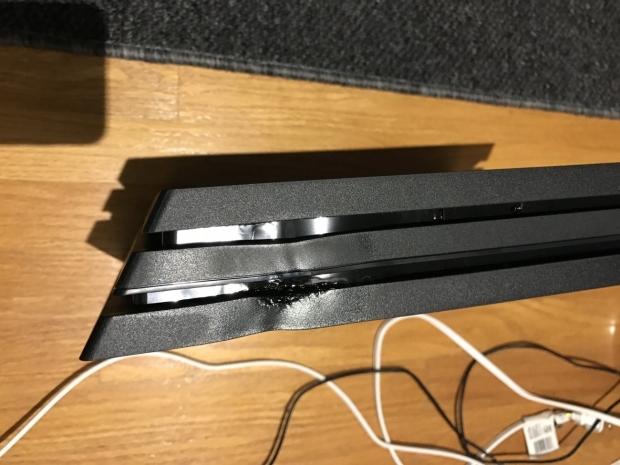 This is particularly interesting considering the reports that the PS4 Pro melted its casing due to extreme heat.
Click here for our analysis on the PS4 Pro's "meltgate" issue.
HeatStreet followed up with enMTW , the owner of the extremely hot PS4 Pro, who revealed that he hadn't even used the console for an extended period of time--no days-long 4K gaming sessions, just normal use.
"This was my second day of having the system. I had used it a bit the prior day to download my saves, install [The Last of Us] and little else. I was playing the [Final Fantasy] Judgement Disc when I heard unusual fan noise, which I promptly ignored.

"A little bit later I smelled plastic. That is when I noticed the system was, for lack of a better word, melting. The areas I photographed were hot, the bottom of the system in the deformed area was wet/soft, etc."
Honestly, now I want to pick up a PS4 Pro just to see if it gets hot or not...but that's a $400 investment that could end up backfiring. My old 28nm APU PS4, however, is still chugging along, even with its apparent "heat issues."
Apart from the apparent heat issues, the PS4 Pro actually lacks a 4K UHD Blu-ray player, something I've talked about in length in the past.

If that wasn't enough, we've had reports that native 4K games cause FPS drops on the PS4 Pro thanks to the hardware not being powerful enough to push native 4K at a consistent frame rate--Sony has even said most of the games run at upscaled 4K on the PS4 Pro, not native.
Secondly, we've had reports that playing games on the PS4 Pro in 1080p with super-sampled graphics can cause noticable lag.
Finally, we've uncovered proof that the PS4 Pro's outdated Jaguar CPU is actually holding the console back--we had originally predicted the CPU would somewhat bottleneck the GPU, especially if the Polaris GPU wasn't downgraded/scaled enough to compensate for the lower-end CPU.
Will Sony talk about this sometime in the future, or will it just be one of those things that gets swept under the rug while terms like 4K and HDR are bandied about? Maybe, maybe not. It'll be interesting to see, that's for sure.
Sony's PlayStation 4 Pro console is now available for $399. Check below for a huge list of everything we know about the console so far, including specs and more.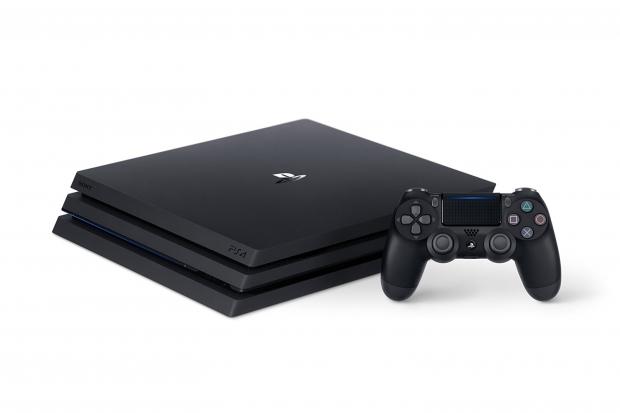 Original PS4 Specs
CPU: 8 Jaguar Cores at 1.6GHz
GPU: AMD GCN, 18 CUs at 800MHz (equivalent to Radeon HD 7850)
Memory: 8 GB GDDR5, 176 GB/s
PS4 Pro Specs
CPU: 8 Jaguar Cores at 2.1GHz
GPU: 4.20 TFLOPs Polaris GPU
Memory: 8 GB GDDR5, 218 GB/s
PS4 Pro: What we know so far:
Double GPU power over existing PS4 models (roughly 2x AMD Radeon HD 7850)

AMD Polaris GPU support

14nm FinFET SoC likely

CPU with boosted clock rate

Higher memory bandwidth

No 4K UHD Blu-ray player

Launches November 10 for $399

4K resolution upscaling

HDR support

Higher frame rates, improved in-game performance across the board

Plays all existing PS4 games, but not every PS4 game will leverage the new hardware for improved performance

1TB hard drive
Read more about Sony's PS4 Pro: