PS4 Pro max temps only hit 35C
Thanks to AMD's new 14nm Polaris architecture, the PS4 Pro is a lot cooler and more power efficient than the original PS4 console.

Published Fri, Nov 11 2016 7:24 AM CST
|
Updated Tue, Nov 3 2020 11:57 AM CST
Sony's new 4K-ready PlayStation 4 Pro is a massive improvement over the original PS4 in terms of heat and power efficiency, with the system only generating a max temp of 35C under load.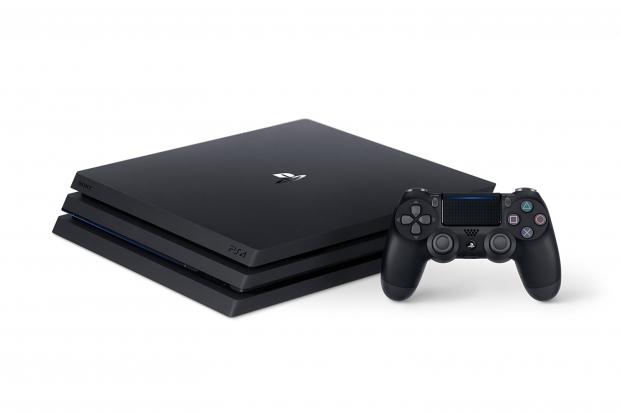 Anyone who owns an original launch PS4 knows the system gets hot. We're talking heat that's sometimes in excess of 70C, to the point where you want to turn the console off after 2-3 hours. With temps like these, the PS4 APU's thermal paste starts to crack, potentially leading to overheating and console failure.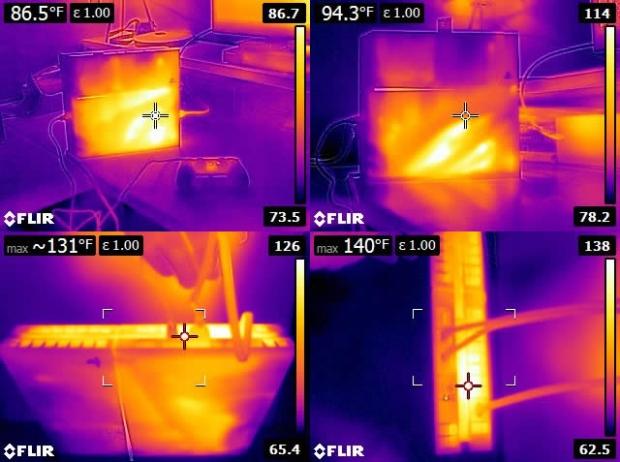 The original PS4 gets rather hot while gaming, as seen in these FLIR images.
Armed with a highly-customized 14nm GPU based on AMD's power efficient Polaris architecture, the PS4 Pro alleviates this issue and runs half as cool as the original PS4, hitting max temps of just 35C while gaming.
In fact, the PS4 Pro is actually cooler than the custom water-cooled PS4 designed by Linus Tech Tips; the PS4 Pro hits 35C whereas the water-cooled system hits 52C.
Even the new $299 PS4 Slim, which has now replaced the original PS4, runs at just 35C to rub even more salt in the wound of the 40 million existing PS4 owners.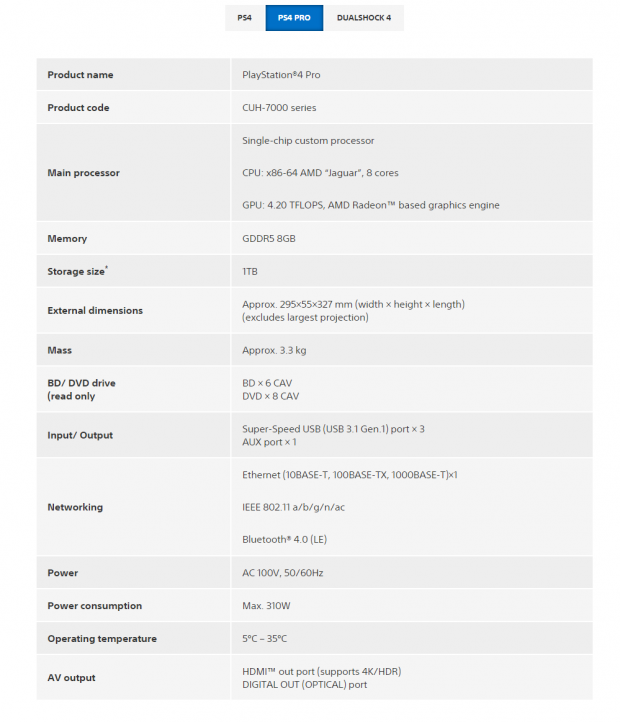 While this is great news for PS4 Pro buyers, original console-owners like myself can't help but feel betrayed by Sony.
The new PS4 Slim is basically everything the PS4 should've been, and the Pro affords 1080p 60FPS native gameplay support as well as upscaled 4K 30FPS, native 4K gaming, and even super-sampled graphics that create the illusion of better res on 1080p HDTVs.
Original PS4 Specs

CPU: 8 Jaguar Cores at 1.6GHz
GPU: AMD GCN, 18 CUs at 800MHz (equivalent to Radeon HD 7850)
Memory: 8 GB GDDR5, 176 GB/s

PS4 Pro Specs

CPU: 8 Jaguar Cores at 2.1GHz
GPU: 4.20 TFLOPs Polaris GPU
Memory: 8 GB GDDR5, 218 GB/s
But it's not all good, and the PS4 Pro definitely has it's limitations.
For example, the console uses a woefully outdated Jaguar CPU in order to easily maintain backward compatibility with all existing PS4 games. The bad thing about going with this CPU is that it could potentially bottleneck the system's more powerful sub Radeon RX 470-grade GPU, leading to drops in performance.
We've already seen examples of bottlenecking and frame-rate hitching when the PS4 Pro plays certain games at native 4K.
Although the system can technically hit native 4K gaming, Sony affirms that most games will be upscaled to 4K. This isn't a coincidence, and there's a very specific reason why most games aren't native 4K: the console can't handle that resolution.
So when games like Skyrim: Special Edition are played in native 4K on the PS4 Pro, gamers encounter noticeable frame rate stutters and performance hiccups. In fact, Skyrim on a regular PS4 actually has better FPS than running in native 4K on a PS4 Pro.
Read Also: PS4 Pro's outdated hardware could bottleneck performance
"Sony emphasizes that games running on PS4 Pro must have frame-rates that are better than or equal to the game running on the standard PS4 console. However, that's not the case with Skyrim, where the increase in resolution can lead to a visible drop in performance in scenes where the GPU is pushed more heavily," Digital Foundry's David Bierton reports.

"For example, scenes that feature use of alpha-heavy effects cause frame-rates to deviate from the desired 30fps target. In like-for-like situations, the PS4 Pro game sees a 2-3fps deficit, resulting in more noticeable stutter compared to the title running on the standard PS4 console.

"The base PS4 performance isn't impacted to the same degree, with only a few 1-3fps drops cropping up on occasion across a general run of play."
Read Also: Here's every PS4 Pro upgraded game so far
The PlayStation Pro is now available for $399, and comes with a 1TB hard drive. Check below for a massive list of everything we know about the console so far.
PS4 Pro: What we know so far:
Double GPU power over existing PS4 models (roughly 2x AMD Radeon HD 7850)

AMD Polaris GPU support

16nm FinFET APU likely

CPU with boosted clock rate

Higher memory bandwidth

No 4K UHD Blu-ray player

Launches November 10 for $399

4K resolution upscaling

HDR support

Higher frame rates, improved in-game performance across the board

Plays all existing PS4 games, but not every PS4 game will leverage the new hardware for improved performance

1TB hard drive
Read more about Sony's PS4 Pro:
Related Tags