PS4 Pro reportedly melts its casing due to extreme heat
One gamer's PS4 Pro reportedly got so hot it melted part of the console's chassis.

Published Mon, Nov 14 2016 2:20 PM CST
|
Updated Tue, Nov 3 2020 11:57 AM CST
Although Sony has promised its new 4K-ready PlayStation 4 Pro runs super cool and hits max temps of 35C, one gamer reports that the console got so hot that it burned part of the system's outside plastic chassis.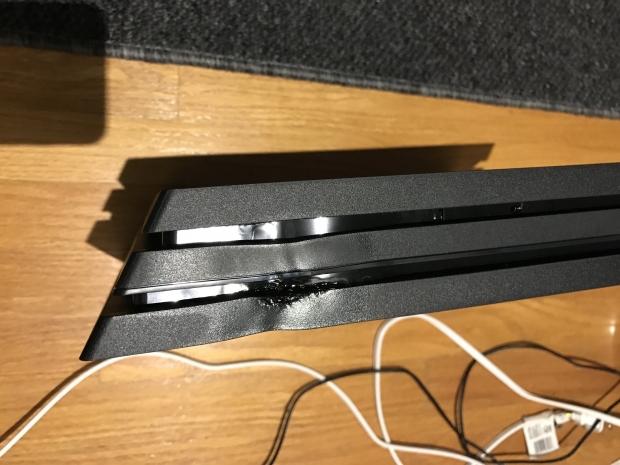 Twitter user @enMTW has kicked off #meltgate for Sony's new PS4 Pro, claiming that the system's heat mitigation malfunctioned and melted part of the console's casing. We can't verify if this is true or not, and it could simply be a hoax made with a simple torch lighter, but we looked a bit closer to see how this could've possibly happened.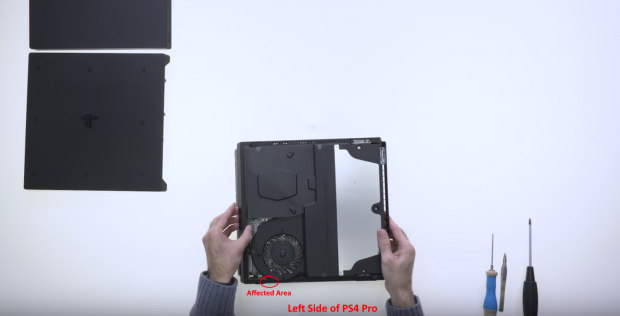 Upon comparing the meltgate images with multiple teardown images, we see that the melted area on the chassis' left side corresponds with the system's fan placement. This side is also where the PS4 Pro's vertical attachment slides in, meaning a portion of the system's ventilation will be somewhat obstructed while mounted on the stand.
The left side of the PS4 bulbs slightly outward just like the PS4 to accommodate the fan's circular shape, and the melting has occurred on this bump between the first and second layers.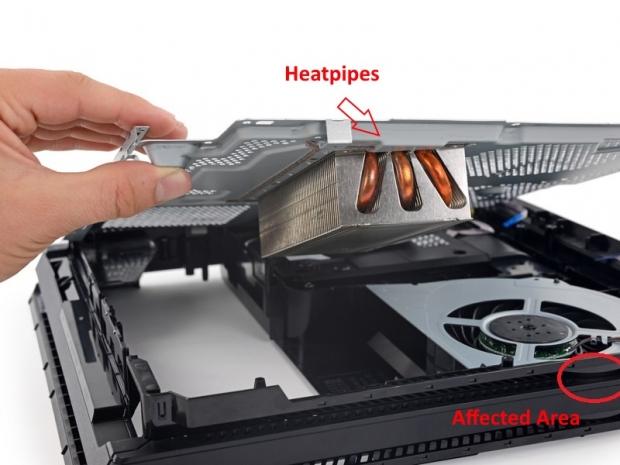 The PS4 Pro's heat pipes, which are responsible for absorbing the heat generated while gaming, are also on the left side, but they're further back than the affected area. The power supply unit, which rocks up to 310W of power, is nestled across both the left and right sides of the console.
However, Sony has affirmed the PS4 Pro has super low temperatures, and only hits about 35C while under load. These low temps were achieved thanks to AMD's new power-efficient Polaris-grade architecture, and we now believe the PS4 Pro's customized SoC is built on the 16nm FinFET architecture instead of 14nm.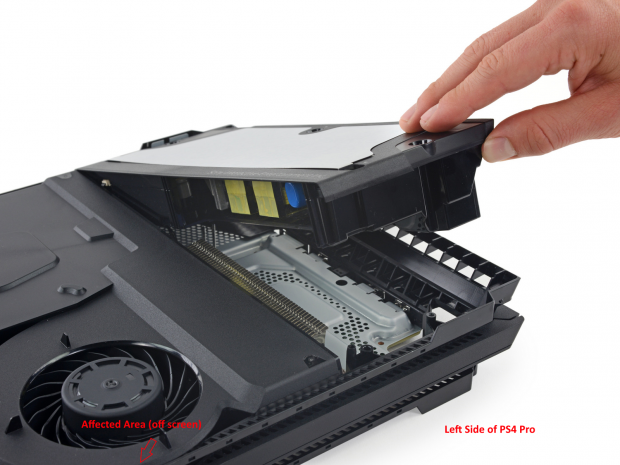 As we don't have a PS4 Pro on our hands, nor adequate tools to measure temps or even a FLIR camera, we can't really gauge the PS4 Pro's actual temps. I'd imagine that the console exceeds its 35C range when playing native 4K games with HDR enabled like Skyrim: Special Edition.
When asked which games he played when his PS4 Pro melted, enMTW said The Last of Us: Remastered, which plays in native 4K, and Final Fantasy XV's Judgement Disc.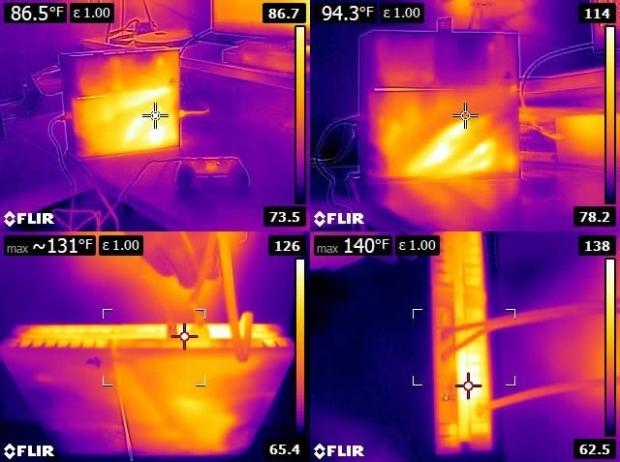 Even the original PS4 didn't melt when it hit temps of around 70C, but many users reported various malfunctions due to higher temps including system failure and cracking thermal paste. It doesn't help that the PS4 gets so hot it apparently melts crayons.
But the PS4 used a woefully outdated 28nm APU that's not nearly as power efficient as the PS4 Pro.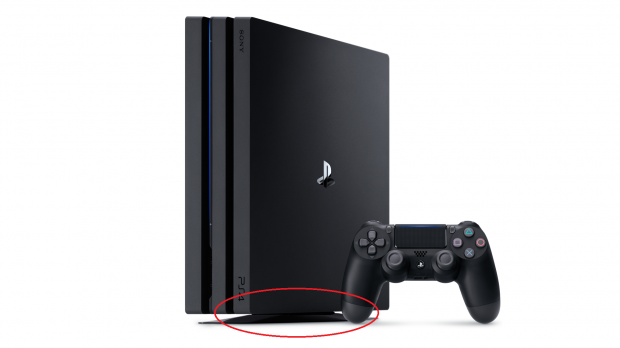 We can't answer whether or not the PS4 Pro melting issue is genuine simply because we need more information. We don't know what material the PS4 Pro is made out of, so we can't determine its exact or approximate melting point.
If this melted PS4 Pro is authentic, then it's likely a systematic problem with a number of symptoms, including multiple instances of faulty hardware. I'd expect that the fan itself would be completely broken and not spin up, causing heat to compound.
We also don't know if the gamer used the PS4 Pro's vertical stand or not, as that could compound the heat when the fan isn't operating.
Original PS4 Specs
CPU: 8 Jaguar Cores at 1.6GHz
GPU: AMD GCN, 18 CUs at 800MHz (equivalent to Radeon HD 7850)
Memory: 8 GB GDDR5, 176 GB/s
PS4 Pro Specs
CPU: 8 Jaguar Cores at 2.1GHz
GPU: 4.20 TFLOPs Polaris GPU
Memory: 8 GB GDDR5, 218 GB/s
Hopefully if it is a hoax, the user will fess up, and maybe Sony will even drop an official statement on the matter.
As if this weren't enough, some PS4 Pro owners are having trouble getting a signal on their 4K UHD televisions. Gamers are hooking their systems up to their new fancy 4K TVs and getting a blank, dead signal--not the pristine 4K HDR visuals that Sony promised.
It looks as if PS4 Pro games use different instances of HDR, and aren't exactly regulated, causing some incompatibilities with certain 4K TVs. It's also believed that a failed HDCP 2.2 handshake is the culprit.
Sony's new PS4 Pro is currently available for $499, and check below for everything we know about the console so far.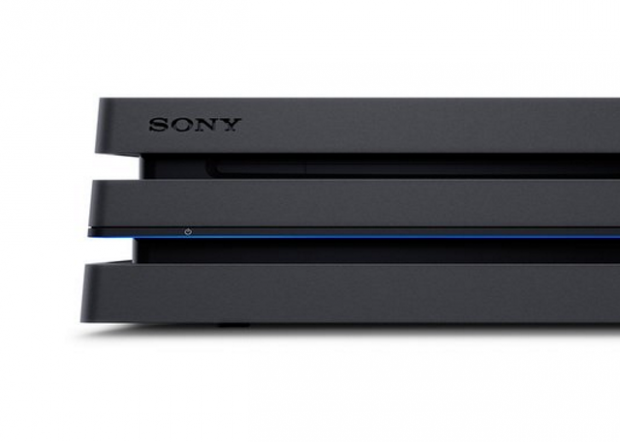 PS4 Pro: What we know so far:
Double GPU power over existing PS4 models (roughly 2x AMD Radeon HD 7850)

AMD Polaris GPU support

14nm FinFET SoC likely

CPU with boosted clock rate

Higher memory bandwidth

No 4K UHD Blu-ray player

Launches November 10 for $399

4K resolution upscaling

HDR support

Higher frame rates, improved in-game performance across the board

Plays all existing PS4 games, but not every PS4 game will leverage the new hardware for improved performance

1TB hard drive
Read more about Sony's PS4 Pro:
Related Tags