The specifications for Sony's new high-end PlayStation 4 Pro (codenamed "Neo") console have been revealed, confirming that the fresh system packs double the GPU power as the original PS4.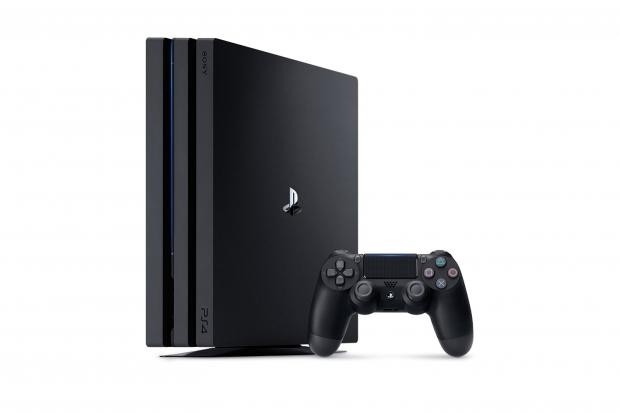 Sony revealed its new $399 PS4 Pro console today as part of the PlayStation Meeting event, showing off the new "hardcore" iterative system that provides a bevvy of performance boosts for PlayStation 4 games. According to an official press release, the PS4 Pro is considerably heavier (~10 lbs) and draws more power than original consoles, leveraging an AMD Radeon-based GPU clocked at 4.20 TFLOPs of power (roughly double that off PS4's original 1.84 TFLOPS) and an overclocked 8-core AMD Jaguar CPU based on x86-64 architecture. The PS4 Pro's single-chip processor is likely based on the efficient 16nm FinFET node, matching the same node of the new PS4 Slim refresh.
Since it belts out a lot more performance, the PS4 Pro consumes up to 310W in power compared to the original console's 250W draw, but the new console uses the same AC 100V 50/60Hz power supply as the base model. Sadly there's no specific frequency for the overclocked Jaguar CPU, but unverified leaks pinpoint the PS4 Pro's processor at 2.1GHz, up from the original PS4's 1.66GHz CPU speeds. Sony has also confirmed that the new 4K-ready PS4 has increased memory bandwidth in its unified 8GB of GDDR5 system memory. Although it supports 4K upscaling, the new console won't support 4K UHD Blu-ray discs.
Check below for the full spec sheet: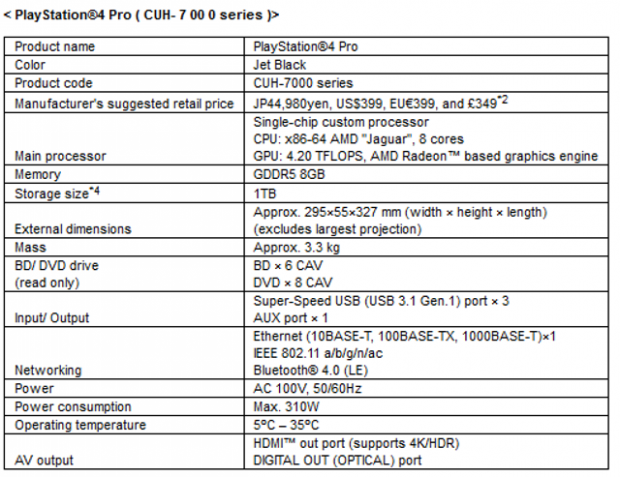 The new PS4 Pro will play all existing PS4 games, but all games require Forward Compatibility software updates in order to leverage the console's new hardware. Forward Compatibility upgrades will vary on a game-by-game basis, and developers will be able to choose how each game is optimized, offering performance enhancements like 4K upscaled resolution, frame rate boosts, lighting/environment/weather effects, and more.
"A number of games you already own may have been patched to support PS Pro," Cerny said. "We have over a dozen of our first-party studios working to patch in Forward Compatibility, and third-party developers adding support soon."
"Every PS4 game title, including those already available and those launching in the future, will run on all PS4 including PS4 Pro. Furthermore, all the PS4 system employs the same user interface and shares the same online community for multiplayer gaming and network services."
Check below for everything we know about the PS4 Pro so far:
PS4 Pro: What we know so far:
Double GPU power over existing PS4 models (roughly 2x AMD Radeon HD 7850)

CPU with boosted clock rate

Higher memory bandwidth

No 4K UHD Blu-ray player

Launches November 10 for $399

4K resolution upscaling

HDR support

Higher frame rates, improved in-game performance across the board

Plays all existing PS4 games, but not every PS4 game will leverage the new hardware for improved performance

1TB hard drive