Setting the Stage, Starting With the ATI Radeon 7000 in 2001
Last month AMD flew out a select number of press and analysts to Sonoma, California to discuss quite a few things. The first of which was RTG Visual Technologies roadmap, where we found out that Radeon GPUs throughout 2016 and beyond will include support for DisplayPort 1.3 - which has support for 4K @ 120Hz, and even 3440x1440 @ 195Hz.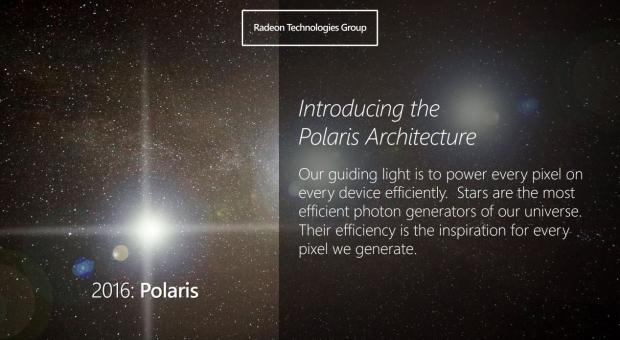 Our follow up piece on the RTG Technology Summit in Sonoma included AMD's work on the GPUOpen initiative, which aims to make developing games easier, especially when it comes to Linux.
But this was all setting the stage for the big reveal, AMD's new GPU architecture; Polaris. Before we tell you about AMD's next-gen GPU architecture, the company reminded us about two cards that started this journey; the ATI Radeon 7000 and the Radeon 9700.
15 Years is a Long Time in GPU Development
Can you believe it has been 15 years since ATI released the Radeon 7000? The Radeon 7000 was based on the RV100 chip, baked onto the 180nm node. Yeah, 180nm - and we're sitting pretty with 28nm right now, with Polaris shrinking that down to 14nm. The Radeon 7000 had a 64-bit memory interface, with the GPU taking up just 97mm2. The ATI Radeon 7000 featured 30 million transistors, 1 x pixel shader, no vertex shaders, 3 TMUs and 1 x ROP. The ATI Radeon 7000 had support for DirectX 7 at the time, too.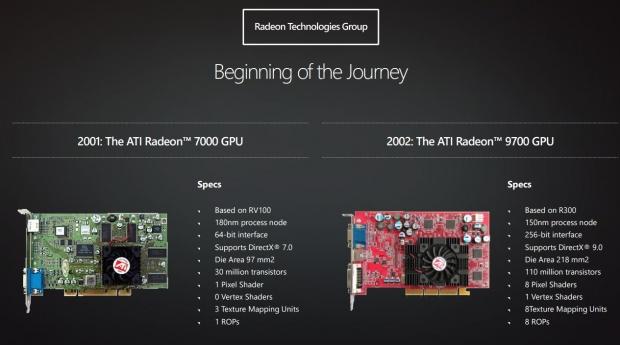 Next up was a video card I remember fondly, the ATI Radeon 9700. The Radeon 9700 was a video card that began knocking NVIDIA around with its GeForce 4 Ti cards at the time, especially when it came to the Radeon 9700 Pro. The Radeon 9700 was built on the 150nm process, had 128MB of DDR RAM on a 256-bit memory interface, with the 128GB of RAM clocked at 620MHz (325MHz DDR).
The Radeon 9700 offered something that was unique at the time - a super-fast card with excellent image quality. Anti-aliasing and anisotropic filtering became features you could actually use, without completely suffering in the performance department, too. It featured support for DX9, had 110 million transistors (up from the 30 million on the Radeon 7000), 8 x pixel shaders, a single vertex shaders, 8 x TMUs and 8 x ROPs.
Introducing the Polaris Architecture
Polaris Architecture - 'GPUs are more than just Graphics IP'
AMD introduced the new Polaris architecture, surprising us as they had shifted from the rumored names that had been floating around throughout the entire of 2015. We heard about Arctic Islands and all of that, but AMD landed on Polaris, with AMD explaining "Our guiding light is to power every pixel on every device efficiently. Stars are the most efficient photon generators of our universe. Their efficiency is the inspiration for every pixel we generate".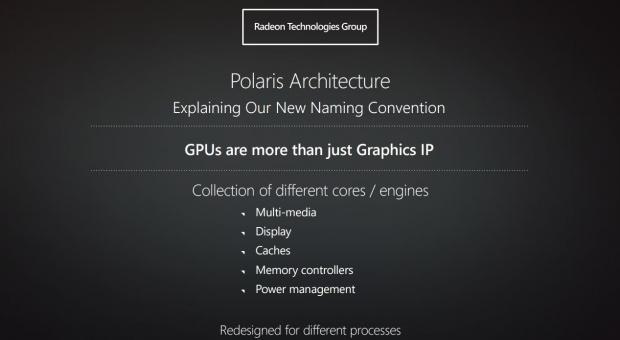 The new Polaris architecture is a collection of different cores and engines, with AMD splitting this up into multimedia, display, caches, memory controllers and power management. All of these parts of the architecture have been redesigned for the new 14nm process, something we'll talk about soon.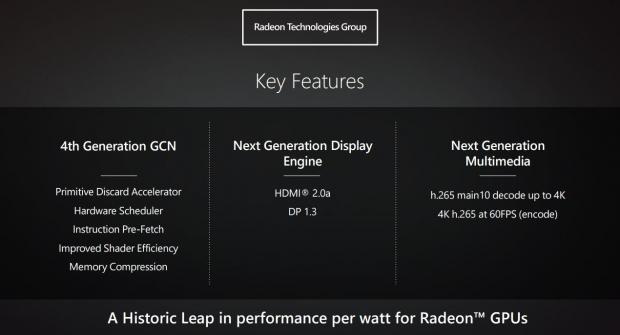 AMD's new Polaris architecture has a few different key features, the first of which is that it features the 4th-generation GCN architecture. The refreshed GCN has a primitive discard accelerator, hardware scheduler, instruction pre-fetch, improved shader efficiency, and memory compression.
On top of that, we have HDMI 2.0a and DisplayPort 1.3 support, as well as support for H.265 Main10 decoding at up to 4K, and 4K H.265 at 60FPS (encode) support.
The Shrink Down to 14nm FinFET
From 90nm to 14nm in 11 years
Rewinding the clock back to 2005, we were excited with the 90nm node, and within the year, we had reached 80nm. In 2007, we saw considerable jumps to 65nm, and then quickly to 55nm. Two years later, we had reached 40nm in 2009, but it was 2011 where 28nm was reached - and where we've been, ever since.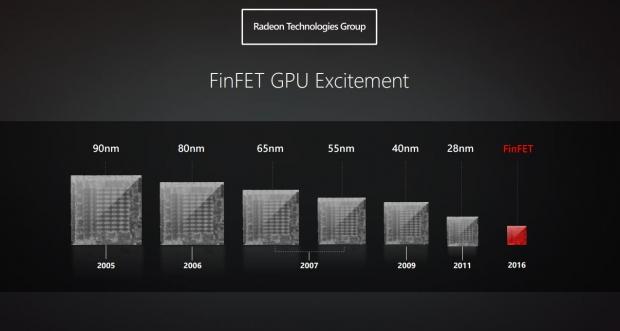 All of the GPU technology we've seen in the last five years has been done on the 28nm process, right up to the current Radeon R9 Fury X. Even with its High-Bandwidth Memory (HBM), the Fury X was built on the 28nm process. We knew that 14nm and 16nm were coming, and here we are - Polaris is built on the 14nm FinFET process, and it will deliver some huge improvements.
Polaris - Designed for FinFET
This is where the Polaris architecture steps in, as AMD has designed it for the 14nm FinFET process.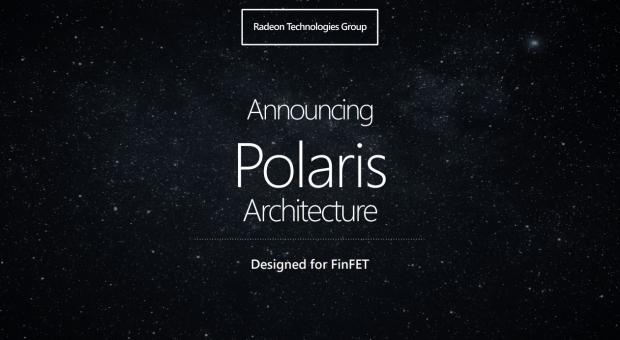 AMD can now reduce the power consumption of a Polaris-based GPU, noting that the transistors per area have doubled effectively every two years, adding that "as we approached the sub-nanometer range, static leakage per area was also doubling". But AMD said that various techniques had been used to help this leakage.
RTG said that "multi voltage islands, back bias or advanced circuits for clock gating help reduce leakage in idle/sleep states", adding that it "doesn't help active states" and that it "can hurt performance".
FinFET Enables the Drive to 16nm and Beyond
The shift from Planar FET to FinFET is going to be huge for next-gen GPUs, with RTG detailing FinFET during the RTG Technology Summit.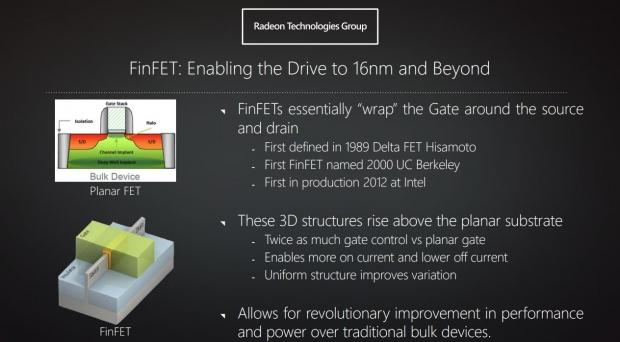 As you can see, FinFETs were first designed all the way back in 1989, and then established in 2000. The first production rolled out in 2012 by Intel and has been in development ever since.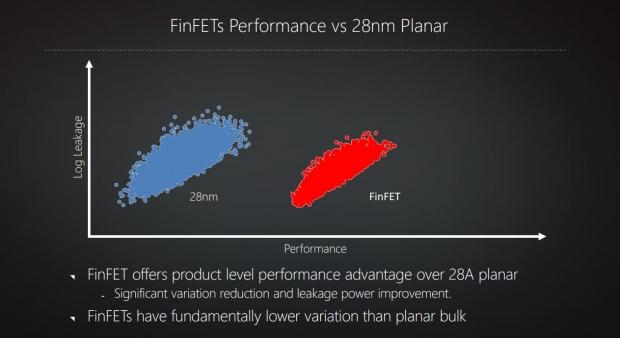 One of the big benefits of FinFET is that it offers product level performance advantages over the 28A planar, with "significant variation reduction and leakage power improvement". AMD adds that "FinFETs have fundamentally lower variation than planar bulk".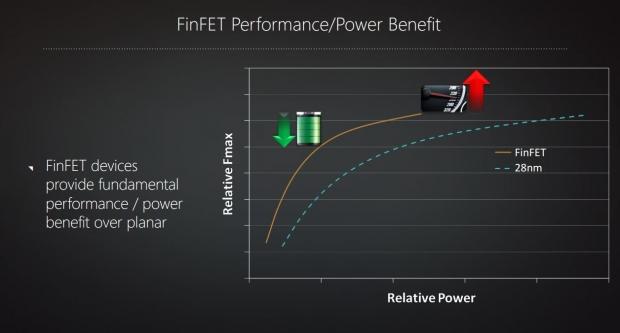 When it comes to performance improvements, the new 14nm FinFET process will allow for added performance while using less power than the previous 28nm node.
FinFET Enables New Kinds of Products
The GPU Designed for Small Form Factors
Summarizing up the new FinFET process, it will help AMD "drive to lower power consumption", and "enables performance per/watt innovation". Not only that, but FinFET enables new kinds of products, including thin and light gaming notebooks, SFF desktops, and discrete cards with fewer power connectors.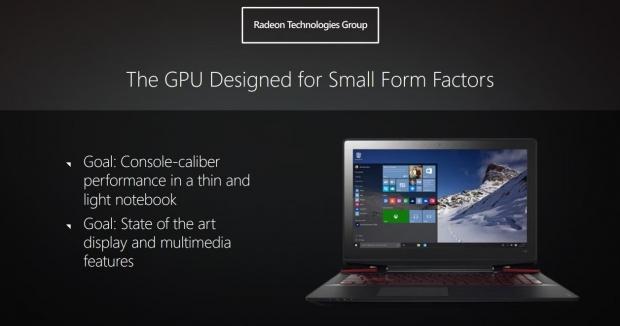 While we didn't see a physical card from AMD, we did see the new 14nm GPU on its own in the hands of Radeon Technologies Group CTO Raja Koduri. RTG did say that the current Polaris-based card they were testing had one goal: "console-caliber performance in a thin and light notebook", as well as "state of the art display and multimedia features".
Polaris is a 'Historic Leap in Performance Per Watt for Radeon GPUs'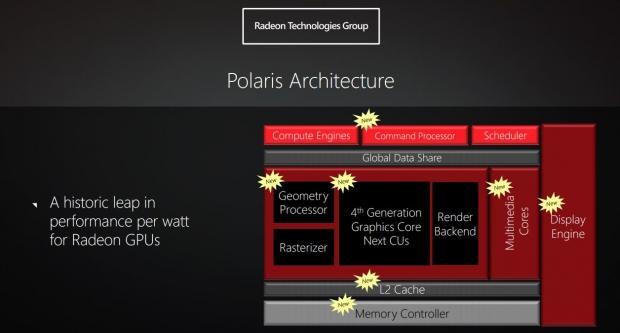 This is one of the most exciting things to come from AMD, as they want to drive the performance per watt of Radeon GPUs to new levels. AMD said that the Polaris architecture is a "historic leap in performance per watt for Radeon GPUs", and that has seen "significant" performance per watt improvements on early GPU samples and early software compared to the previous generation.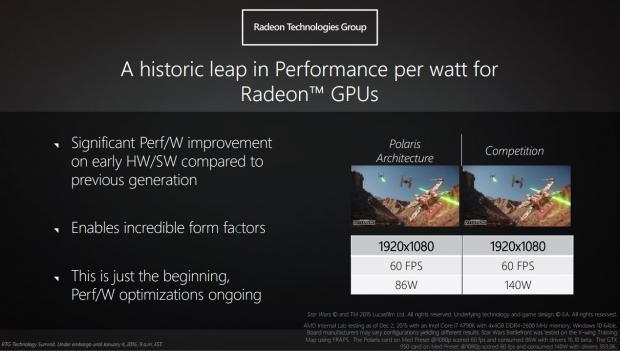 This advancement has led AMD to see Polaris enabling "incredible form factors", teasing that "this is just the beginning" with performance per watt optimizations to continue.
AMD had a desktop PC powered by a new Polaris-based card running Star Wars Battlefront at 1080p 60FPS, with an NVIDIA GeForce GTX 950 in the other machine. The Polaris-based offering was consuming just 86W of power while the GTX 950 was consuming 140W - and the GTX 950 is a very power efficient card, I might add.
No other benchmarks were run, but if this is what Polaris is capable of this early on, 2016 is definitely going to be the most exciting year for GPU technology, ever.
Final Thoughts on Polaris, and the Future of Radeon GPUs
Wrapping Things up with Polaris
Overall, I was impressed with what AMD discussed at RTG Technology Summit and the Polaris architecture as a whole. Going into the event, I expected to see the dual Fiji card in the form of the Radeon R9 Fury X2 but was disappointed that it wasn't on show. I thought we'd see the next-gen flagship GPU or, at least, a tease, but Polaris filled these gaps.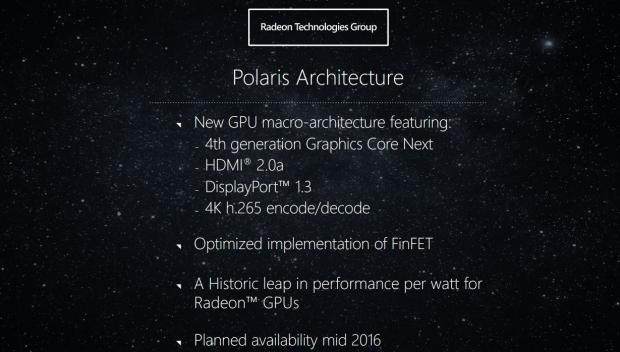 The most important market to dominate is the mid-range and mainstream markets, and any Polaris-based offering is going to do this. Offering gaming at 1080p 60FPS using less than 90W is a big deal, and I think AMD could nail a new mid-range offering at the $150-$200 mark that could see NVIDIA shaking - but that brings up another issue - we know NVIDIA is working on something equal. NVIDIA is working on the Pascal architecture, which should bring very similar performance per watt benefits, and it'll see NVIDIA use HBM for the first time. Where AMD was the first to use HBM1 on the Radeon R9 Fury X, NVIDIA will take its turn in 2016.
Polaris is going to introduce a lot of new things, starting with the 4th-generation GCN architecture, and new display technology including HDMI 2.0a and DP1.3. Not only that, but we're going to see it baked onto the 14nm FinFET process that is going to see AMD most likely reveal a video card unlike anything we've seen before. I think we're going to see something that can be powered by only the PCIe socket, which is going to be quite a change in what we're used to.
AMD has promised a "historical leap in performance per watt for Radeon GPUs", and this is something that they have "planned availability" for mid 2016.
Where's the Enthusiast Version of Polaris?
This is the question I don't know the answer to, but I think AMD will have an entire event dedicated to their new GPUs sometime in 2016. I think AMD could be smart by nailing resolution + frame rates in their marketing, with the first Polaris offering we've written about today nailing the 1080p 60FPS mark.
We could see a 1440p 60FPS, 1440p 144FPS, 4K 60FPS and 4K 120FPS style release - with a VR release somewhere in between. It would be interesting to see AMD being able to offer this, and push their marketing at resolutions and frame rates. This could mean consumers would know by looking at a new 2016 Radeon offering, that it's capable of offering 1080p 60FPS or 4K 60FPS - directly from the box.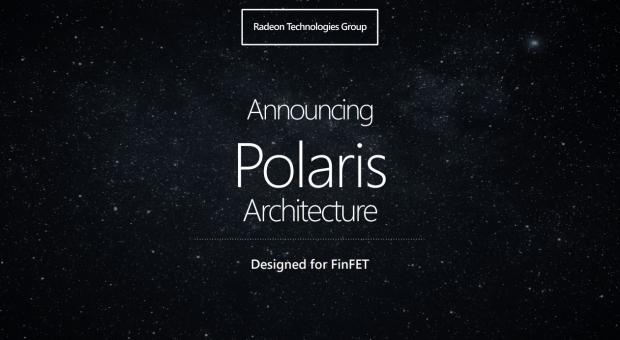 But what about the performance? Personally, I'm expecting a giant leap from the Fury X on the Polaris-equivalent Fury X product. Let's say it's called the Fury X II or Fury XX (what do you think of Fury XX?) then I expect 50% performance on top of the Fury X. I want to see AMD's single-GPU flagship card capable of driving 4K 60FPS in every single game on the market, at less than 200W, and priced at less than $649.
The next-gen GPUs are going to blow people away, and it's not just going to be the enthusiast offerings, either. As you can see, AMD is aiming at the mainstream market with 1080p 60FPS at less than 90W, so we should expect the $200-$300 cards, as well as the $300+ cards to kick some serious ass. This is going to be thanks to a trio of technologies, features and APIs.
First, HBM2 will offer up to 1TB/sec of memory bandwidth - a huge 1024GB/sec, up from the 512GB/sec offered by the HBM1-based Radeon R9 Fury X. For comparison, the NVIDIA GeForce GTX 980 Ti offers 336GB/sec of memory bandwidth over its 384-bit memory bus, using GDDR5. Then we have the Polaris and Pascal architectures, will which boast new features and technologies - and then finally, the shrink to 14nm/16nm processes.
These shifts in the GPU market are going to be wide and felt everywhere, as it'll affect everything from the low-end offerings, right up to the enthusiast GPUs and the professional markets. From here on out, it's going to be the most exciting time to be an enthusiast, especially if you're into GPUs, display technology, and VR/AR headsets.