A new report says the PlayStation 5 will cost $600 when it releases on December 4, 2020, and the higher-end 4TB Pro version will cost $1,000. This is incredibly fake on so many levels.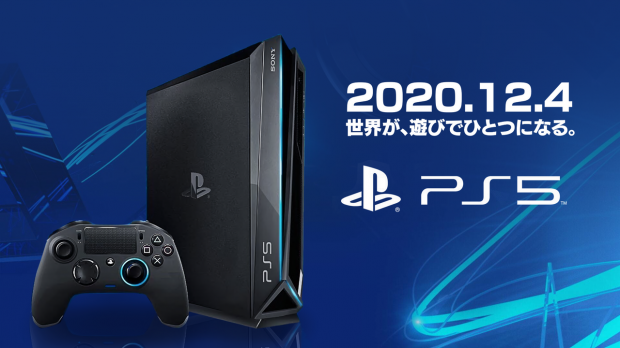 It should be pretty obvious the latest PS5 info from Japanese games site Gamers Gate is 100% false clickbait. Sony even called it a "hoax". But just in case any sites pick it up and try to run with it, let's break down all the ways the info is fake.
The site says it got a hold of an official leaked advertisement for the PS5, with pricing, release date, and design of the system. The "final PS5 design" is simply a weird mock-up render that's accompanied by a Nacon PS4 controller. That's not a DualShock 5. Here's what the DualShock 5 should look like.
Not only that, but the site puts an astronomical price on the PS5 console. There's two versions according to the "leak": a base model for over $600, and a Premium model for over $1,000. That's absolutely insane. The huge version comes with a 4TB SSD, which won't ever happen with modern consoles. It's simply too much money.
Here's what the report says:
"The price starts from 69,800 yen (excluding tax). The standard model PS5 Standard is equipped with a 1TB SSD and has basic functions. The top model PS5 Premium has a 4TB SSD and a separate GPU for ray tracing , so the graphics performance is higher than the standard," reads the outlandish blog.
We really don't have to comment on the last part, do we? It's just ridiculous.
Sony has officially confirmed the "leak" is erroneous and no new information on the PlayStation 5 has been revealed.
Sony is expected to reveal the PS5 in a special event in February 2020. The console will release in Holiday 2020, and it may cost $499.
Check below for more info:
PlayStation 5 specs and details:
Custom SoC with second-gen Navi GPU, Zen 2 8-core, 16 thread CPU

Navi, Zen SoC uses new AMD RDNA 2.0 architecture

Ultra-fast SSD

Support for 4K 120 Hz TVs

Ray-tracing enabled

8K graphics support (probably video, not gaming)

Plays all PS4 games

Separate games that ship on BD-XL Blu-ray discs

New controller with extensive haptic and tactile feedback
PlayStation 5 Coverage: