For anyone in the cryptocurrency world, the last few days have been horrible with a couple of major dips in virtually all cryptocurrencies.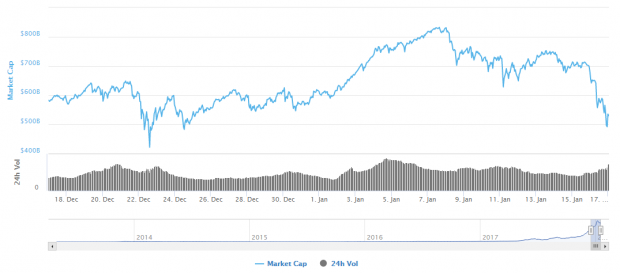 The entire cryptocurrency market cap reached over $800 billion on January 7, and has been on the decline since.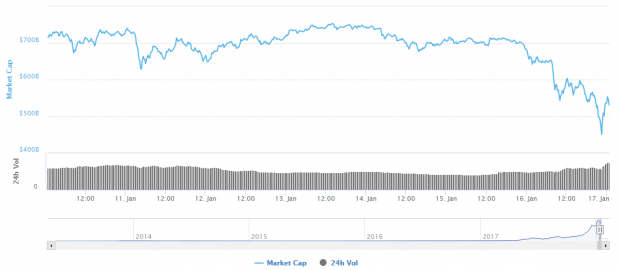 But the last 7 days have been horrible, where it dipped into the $700 billion area and then has really dived off a cliff in the last 24 hours into the sub-$500 billion mark, stabilizing (for now) at $530 billion.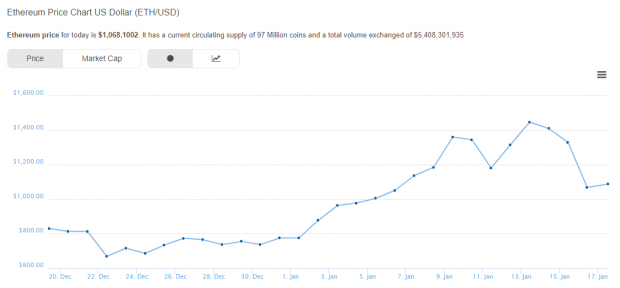 Bitcoin had reached an all-time high of $19,800 back in mid-December, and then down to $12,600 or so on December 31, BTC rallied back up to $17,000 on January 7, and then it has been rocky ever since. BTC is now dipping its toes in the $11K zone, with some crypto experts and traders saying we could see support for BTC in the $8K region.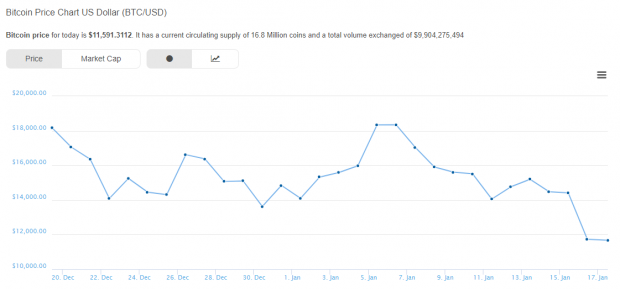 Ethereum on the other hand peaked on January 13 at $1440, with ETH now swimming around in the $1000-or-so pool.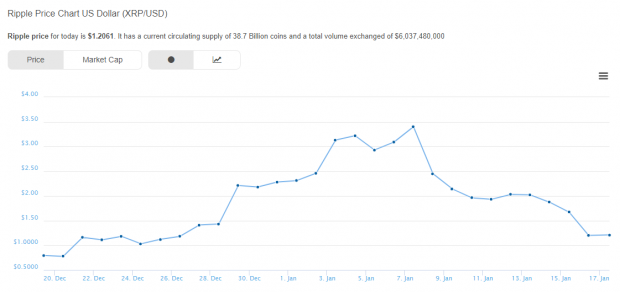 Ripple reached a pretty big peak of just under $3.50 on January 7, before it has fallen down past the support at $2, and now is edging the sink at $1.21, at least at the time of writing.
Where to from here? I don't think we can go down another 20-30%, but it could happen, before a slow rebound effect hopefully takes place.
More Crypto News/Content:
NVIDIA Tesla V100: $8000 card is the BEST to mine Ethereum
Ripple (XRP) sets a new all-time record price of $3.17
Ethereum closes in on $1000, momentum isn't stopping
Ethereum reaches new record all-time high price of $870
Ripple (XRP) value blows up, bypasses Ethereum's market cap
Crypto expert kidnapped, had to pay $1 million BTC ransom
UnikoinGold is now available on Bittrex
Bitcoin could be worth $0, according to Morgan Stanley
Facebook Messenger malware mines Monero on users' PCs
Using 'blockchain' in new name, company shares rise 500%
MiningSky 8-GPU Mining Rig V1 Review
French dominatrix pimps clients out in 'Crypto Slave Farm'
North Korea hijacking cryptocurrency industry workers
Analyst: Bitcoin on its way to $400,000 - will happen soon