NVIDIA Tesla V100: $8000 card is the BEST to mine Ethereum
NVIDIA's crazy high-end Tesla V100 costs $8000, is the best single cryptocurrency mining card in the world.
Published
2 minutes & 58 seconds read time
NVIDIA has one of the best single graphics cards on the market with the Tesla V100, a card that costs a whopping $8000 and isn't for gamers or even most people on the market. It's a card destined for workstations and servers, for AI and deep learning workloads - and strictly not for mining.
That however doesn't stop people from testing out these graphics cards for mining, with BuriedONE Cryptomining putting NVIDIA's Tesla V100 to work on various crypto mining adventures, with Ethereum mining hitting a 94MH/s. Considering that an overclocked TITAN Xp can achieve somewhere around 40-42MH/s and an overclocked Radeon RX Vega 64 can do anywhere between 38-42MH/s, this is a huge achievement for the Tesla V100.
NVIDIA's super-fast Tesla V100 rocks 16GB of HBM2 that has memory bandwidth of a truly next level 900GB/sec, up from the 547GB/sec available on the TITAN Xp, which costs $1200 in comparison. AMD trails behind with 483GB/sec of bandwidth with its 8GB of HBM2 on the Radeon RX Vega 64.
If you watch the entire video, they go through a bunch of different cryptocurrencies and show you how good the $8000 card is at mining various crypto.
As for BuriedONE Cryptomining, I'll be keeping a close eye on their Tesla V100 adventures as they're soon to be testing 8 x Tesla V100s... yeah, 8 of them. Insanity. I love it.
More Crypto News/Content:
Ripple (XRP) sets a new all-time record price of $3.17
Ethereum closes in on $1000, momentum isn't stopping
Ethereum reaches new record all-time high price of $870
Ripple (XRP) value blows up, bypasses Ethereum's market cap
Crypto expert kidnapped, had to pay $1 million BTC ransom
UnikoinGold is now available on Bittrex
Bitcoin could be worth $0, according to Morgan Stanley
Facebook Messenger malware mines Monero on users' PCs
Using 'blockchain' in new name, company shares rise 500%
MiningSky 8-GPU Mining Rig V1 Review
French dominatrix pimps clients out in 'Crypto Slave Farm'
North Korea hijacking cryptocurrency industry workers
Analyst: Bitcoin on its way to $400,000 - will happen soon
You can now mine cryptocurrency with your BODY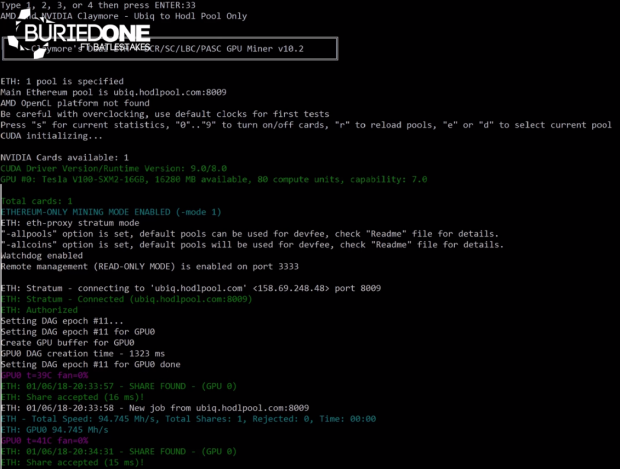 Related Tags