Ethereum closes in on $1000, momentum isn't stopping
Ethereum reaches a new record high price, breaching $950 on the way to $1000.

Published Wed, Jan 3 2018 6:33 PM CST
|
Updated Tue, Nov 3 2020 11:53 AM CST
Just as I was going to sleep last night (around 10 hours ago now), the price of Ethereum was quite steady at $880-$900 or so, but it has reached a new high of $974. This is after it reached its record high price of $870 just a few days ago.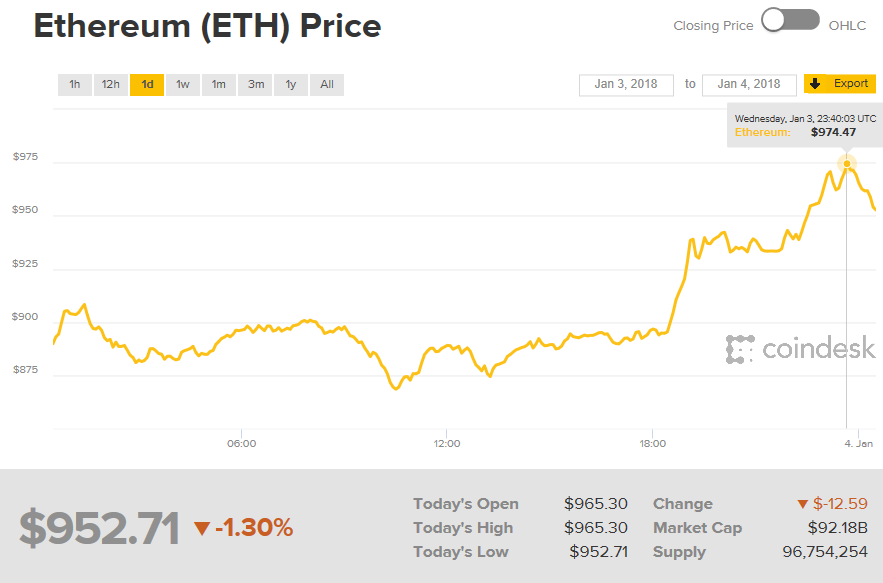 Ethereum's market cap is now a huge $92 billion (at the price of $965, at the time of writing) with 96 million ETH in the world right now. My 1.4GH/s Ethereum mining farm is still going well, and even better with these record high prices, while most of the alt coins are enjoying a sea of green in the last 24 hours.
Ethereum reaches new record all-time high price of $870
Ripple (XRP) value blows up, bypasses Ethereum's market cap
Crypto expert kidnapped, had to pay $1 million BTC ransom
UnikoinGold is now available on Bittrex
Bitcoin could be worth $0, according to Morgan Stanley
Facebook Messenger malware mines Monero on users' PCs
Using 'blockchain' in new name, company shares rise 500%
MiningSky 8-GPU Mining Rig V1 Review
French dominatrix pimps clients out in 'Crypto Slave Farm'
North Korea hijacking cryptocurrency industry workers
Analyst: Bitcoin on its way to $400,000 - will happen soon
Related Tags