PlayStation 5 SSD speeds hit 9GB/sec with custom 12-channel controller
With custom designed storage and lots of clever tricks, Sony hits an insane 9GB/sec max throughput on the PS5's next-gen SSD.

Published Wed, Mar 18 2020 2:08 PM CDT
|
Updated Tue, Nov 3 2020 11:44 AM CST
Sony's next-gen PlayStation 5 can deliver up to 9GB/sec speeds on its powerful new PCIe 4.0 SSD, making it roughly 100x faster than the PS4's current hard drives.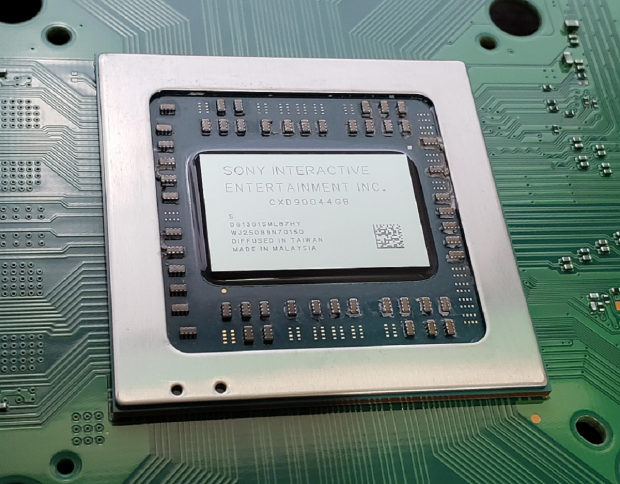 If the Xbox Series X is a lion, then the PS5 is a cheetah--this console's SSD tech is lightning-fast. Sony's next-gen console has a custom PCIe 4.0 SSD that can push compressed data at up to 9GB/sec, or almost twice as fast as the Xbox Series X's max compressed data throughput of 4.8GB/sec. This means the system will be able to access compressed data that's downloaded or from a disc much, much faster. Blu-ray disc game installs will be blindingly fast.
Once the data is decompressed, the system can process it at 5.5GB/sec, which also roughly twice as fast as the Xbox Series X's 2.4GB/sec decompressed data I/O throughput. PS5 architect Mark Cerny confirms the PS5 can load 2GBs of data in just 0.27 seconds. The system will utilize decompressed data for real-time processing and loading, like assets that're fed into 10.3TFLOP 2.23GHz Navi GPU for rendering. This puts the PS5 on par with today's most demanding enthusiast-grade consumer PC storage.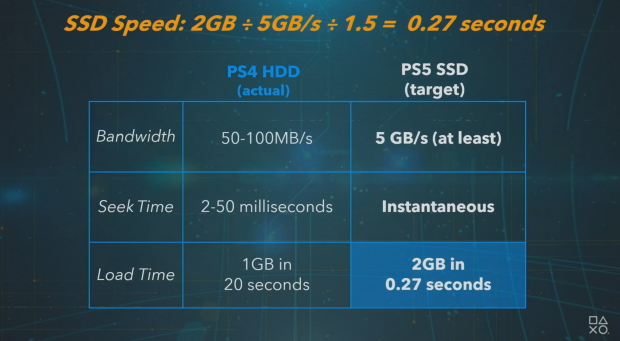 Read Also: PlayStation 5 specs confirmed by Sony: 10TFLOPs Navi RDNA 2 2.23GHz GPU, 3.5GH Zen 2 CPU
"We're talking two orders of magnitude faster, meaning very roughly 100 times faster. Which means at 5GB/sec on the SSD that the game boots in a second. There are no load screens. The game just fades down and loads a half-dozen gigabytes, and fades up again. Same for a reload. You immediately get back into the game after you do. And fast-travel becomes so fast that in a blink of an eye you're present," Cerny said.
The only real downside is the 825GB of space included on the SSD, versus the Xbox Series X's 1TB. Cerny says this was as conscious decision to reduce overall cost.
This speed threshold will change virtually every aspect of how games are played on the system. Scenes will be rendered faster because there's reduced duplication of assets. Gamers will no longer be "stuck" by the limitations of a map, meaning in-game worlds can be much, much bigger (imagine TESVI on next-gen). Seek times are absolutely abolished. Games will boot in the blink of an eye.
Here's a few of Sony's goals with the SSD:
Boots in a second

No load screens

Ultra high-speed streaming

De-duplicate game data

No long patch installs
The system's internal storage has been customized from the ground up to eliminate loading times and revolutionize how data is managed on consoles. The PS5's SSD uses a custom 12-channel memory controller.
The real game-changer with the SSD tech is that seeks are now instantaneous. We'll be going over what this means and how exactly it revolutionizes console gaming as we know it in another article, so keep an eye out for that.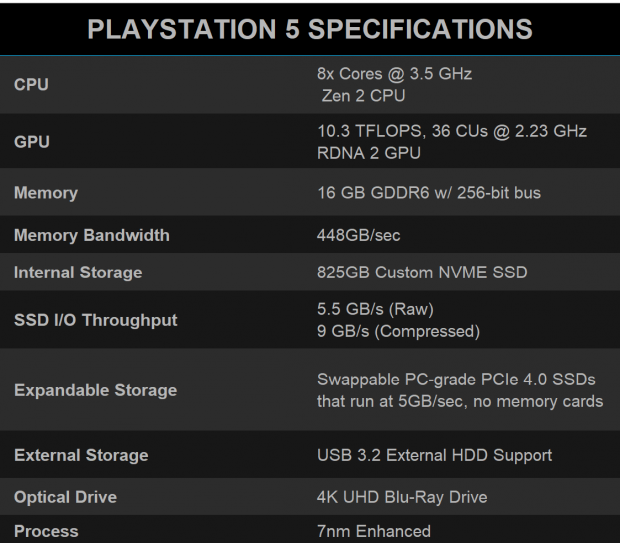 The console will release in Holiday 2020, and it may cost $499.
Check below for more info on everything we know about the PlayStation 5 so far:
PlayStation 5 specs and details:
Custom SoC with second-gen Navi GPU, Zen 2 CPU

8-Core, 16-thread Zen 2 CPU at 3.5GHz

Navi GPU with 36 CUs on RDNA 2, 2.23GHz

Navi, Zen SoC uses new AMD RDNA 2.0 architecture

Ultra-fast 825GB SSD with up to 9GB/sec speeds

Support for 4K 120 Hz TVs

Ray-tracing enabled

8K output support (for gaming)

Plays PS4 games, BC is on a title-to-title basis

Separate games that ship on BD-XL Blu-ray discs

New controller with extensive haptic and tactile feedback
PlayStation 5 Coverage:
Related Tags