Microsoft has provided game developers with Xbox One X GPU benchmarks for nine different games, and that information has since been published to give players an idea of what the new 4K console "beast" can do.
Eurogamer's Richard Leadbetter got a hold of the Xbox One X GPU benchmarks list and has compiled a ton of data, insights, and explanations in a jam-packed article. The nine benchmarked games are anonymous, but Leadbetter has a few guesses on what they could be.
The data is based on GPU frame time captures from PIX, Microsoft's Performance Inspector for Xbox which captures game profiles that allow for developer-side optimizations. PIX samples are captured from games running on original Xbox One consoles to make a performance profile. The profile is then passed through the Xbox One X's Scorpio Engine to "port" the game to 4K resolution in the most basic way possible. Remember that the Xbox One X will natively boost performance of all Xbox One games by default without tapping any of the new hardware, similar to the PS4 Pro's Boost Mode. Leadbetter affirms the GPU benchmarks via PIX didn't tap additional console hardware features, and the data exists outside of gameplay so "30 or 60FPS caps are irrelevant."
The real purpose of these benchmarks are to give users an idea of the power developers have to work with when optimizing their game on the platform. The PIX profiles show render time, frame rate, and GPU load at 30FPS while running at 4K on the Xbox One X and 1080p on the Xbox One.
Read Also: Over 40 Xbox One games will get Xbox One X enhancements

Title A = ReCore?
Title B = Forza Motorsport 7?
Title C = Gears of War 4?
Title G = Halo Wars 2?
Title H = Star Wars Battlefront?
Forza Motorsport 7 is by far and large the Xbox One X's premiere flagship game. Not only does Forza 7 run at full native 4K on the system, but it is able to hit "rock solid" 60FPS at native 4K with 70% GPU used.
While the benchmarked games are anonymous, Eurogamer is pretty sure Title B is Forza 7.
Here are the benchmarks of Forza 7's PIX profile with the Xbox One X's 4K port vs the base Xbox One game in 1080p.

As you can see, the PIX profile shows that Forza 7 is optimized to run better on the Xbox One X in 4K with a quicker render time and less GPU usage at 30FPS. Games that are optimized on Microsoft's new XDK will run better on the Xbox One X because they're natively built for the console, versus older Xbox One games that were built for the 2013 launch model.
Here are the nine games' PIX profiles compared via frame rates: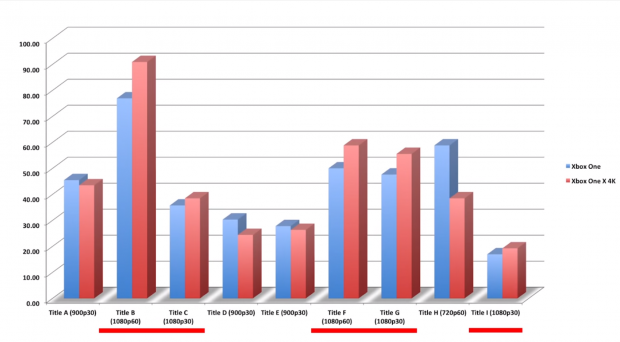 Frame rates of Xbox One X ports at 4K versus Xbox One games at 1080. Higher is better.
And here are the performance boosts that games built on the new XDK enjoy over games running older Xbox One code: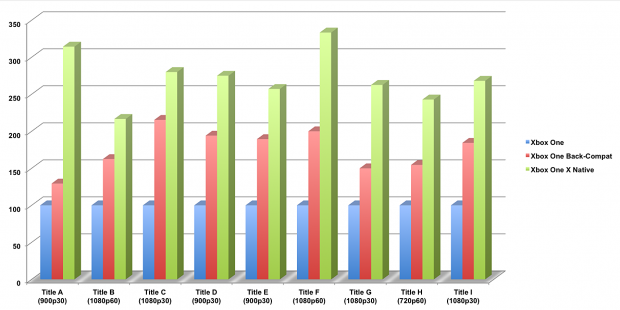 Eurogamer's Richard Leadbetter: "A percentage increase comparison showing base Xbox One performance (blue at 100 per cent), followed by back-compat (red) and native Xbox One X code compiled under the latest XDK (green). Older titles can be recompiled to get a big performance boost."
There's loads more information over at Digital Foundry's official write up, so be sure to check it out.
Microsoft's Xbox One X console releases November 7, 2017 for $499. Check below for more information on the console:
Xbox One X confirmed specs
SoC: Highly customized 360mm² AMD System-on-Chip built on 16nm FinFET
GPU: Polaris-derived GPU with 40 Compute Units at 1172MHz, 6TFLOPs of Compute Performance
CPU: Custom x86 "Jaguar Evolved" 8-core CPU at 2.3GHz, 4MB L2 cache
Memory: 12GB GDDR5 memory with 326GB/s bandwidth (12x 6.8GHz modules on a 384-bit bus)
Storage: 1TB 2.5-inch HDD
Media: 4K UHD Blu-ray player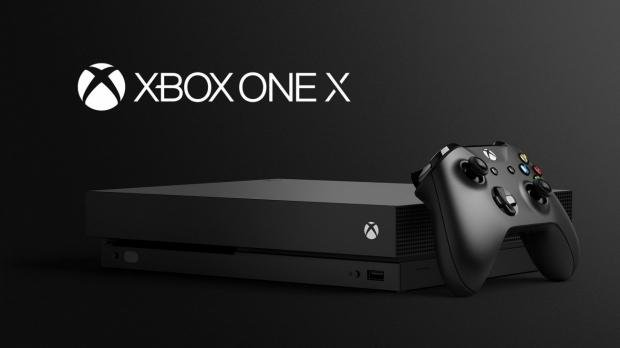 Xbox One X coverage index