At TweakTown, we originally guessed AMD's new 8-core Ryzen CPUs would arrive in Microsoft's new 4K-ready Project Scorpio console. But the company turned heads by revealing Project Scorpio used a highly customized 2.73GHz Jaguar-based CPU instead, leading many gamers to believe the system would be bottlenecked by its beefier 1172MHz 6TFLOPs Polaris GPU, similar to the PS4 Pro. Now Microsoft reveals why it chose to build its own customized CPU instead of go with AMD's new tech.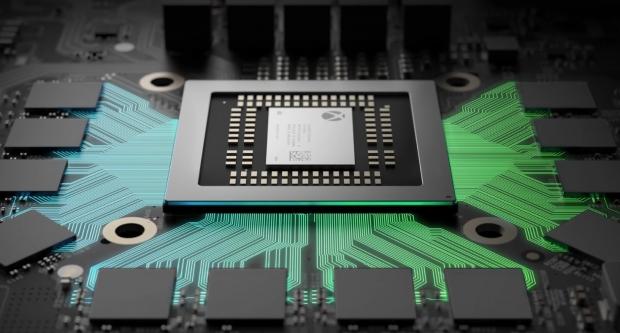 Microsoft spent lots and lots of time making Project Scorpio: years of work running simulations, tweaking hardware, and hundreds of other optimizations went into this console. So much effort and time was spent customizing and optimizing the console that its main components simply can't be found anywhere else. That's really the most impressive thing about Project Scorpio, that it's capable of amazing perf like native 4K 60FPS+ due to its intimate hardware and software synergy, which sees no wasted resources and every component working together in an intertwined harmony. This is by design: Project Scorpio represents the culmination of everything Microsoft has ever learned about consoles, and is the union of scaled, high-performance technology with a kind of hard-earned wisdom.
Essentially, Microsoft didn't need to use AMD's Ryzen CPU tech to hit its performance targets: the highly customized and scaled "Jaguar evolved" CPU is specifically designed to compliment the super-customized Polaris-derived GPU on the Scorpio Engine's SoC silicon. In fact, calling Scorpio's CPU "Jaguar" is a misnomer: AMD's Jaguar microarchitecture is simply the foundation of the CPU, and the final result is so different that Microsoft apparently doesn't even call it a "Jaguar CPU" (the same misnomer is present in the system's "Polaris" GPU). There's other factors why Ryzen wasn't used: price and timing. Scorpio is a years-old project that likely began shortly after the Xbox One shipped, and Ryzen just wasn't ready when Microsoft began its testing and planning. And, of course, Ryzen is much more expensive.
"On the CPU side of things, we could still meet our design goals with the custom changes we made. At the end of the day we are still a consumer product. We want to hit the price-points where consumers want to purchase this. It's about balancing the two," Kevin Gammill, Group Program Manager of the Xbox Core Platform, told Eurogamer's Digital Foundry.
Read Also: Project Scorpio specs revealed in full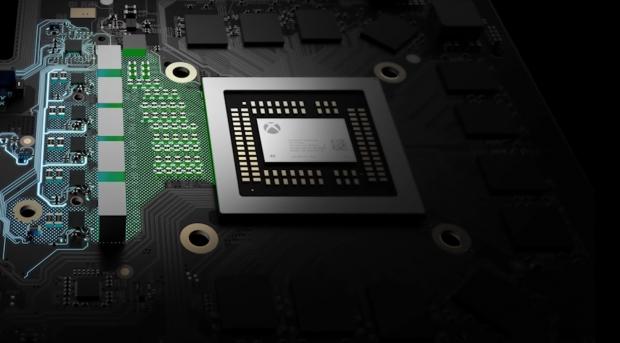 Read Also: Project Scorpio has Vega GPU architecture in its design
Remember that Project Scoprio's components are synergized in such a way that the CPU and GPU can shift power around, freeing up system resources. One of the biggest benefits of Project Scorpio's design is how the D3D12 (DirectX 12) API is built right into the GPU's command processor. This allows the CPU to offload work to the GPU to free up a significant portion of the Scorpio Engine's CPU power, especially in games that use DirectX 12. In fact, the built-in D3D12 engine should cut down CPU workload by half in DX12 games, and the extra CPU power can be used for a multitude of optimizations.
This efficient and custom synergy is the building block of Scorpio's success, and putting in an AMD Ryzen CPU would surely interrupt the balance and raise the cost. That's not to say Ryzen wouldn't be a huge advantage, especially since Ryzen and Polaris are designed to compliment one another, but the system has been specifically optimized to leverage the hardware and software in its ecosystem.
The console will constantly re-allocate resources such as RAM, CPU processes and GPU features and use them to boost in-game performance. The hardware is in a delicate conjunction that allows incredible next-gen level console performance like native 4K 60FPS in Forza 6: Apex PC Ultra settings with 88% GPU usage.
Microsoft has found creative new ways to use its know-how and research to make a finely-tuned machine that uses not-so-expensive components rather than brute-forcing powerful, premium-cost components together.
While its great to hear Xbox execs talk about lowering the cost of the machine, we still expect Project Scorpio to be priced at a premium. That being said, I don't think it'll be $700 like some analysts say, nor $399: I think the sweet spot is $499.
Project Scorpio will release Holiday 2017, and will be revealed at E3 2017. Check below for a huge content index to see everything we know about Project Scorpio so far.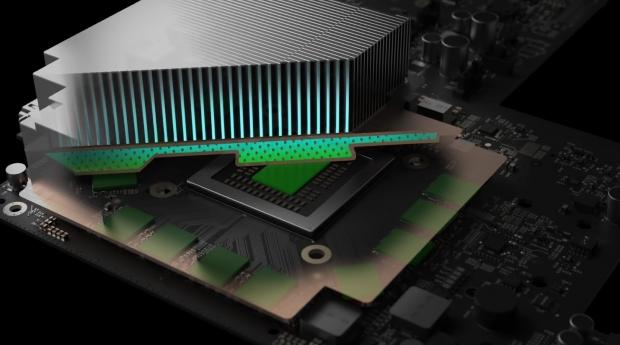 Project Scorpio confirmed specs
SoC: Highly customized 360mm² AMD System-on-Chip built on 16nm FinFET
GPU: Polaris-derived GPU with 40 Compute Units at 1172MHz, 6TFLOPs of Compute Performance
CPU: Custom x86 "Jaguar Evolved" 8-core CPU at 2.73GHz, 4MB L2 cache
Memory: 12GB GDDR5 memory with 326GB/s bandwidth (12x 6.8GHz modules on a 384-bit bus)
Storage: 1TB 2.5-inch HDD
Media: 4K UHD Blu-ray player
Project Scorpio coverage index