Project Scorpio could be a sleek compact powerhouse
Microsoft's new 'monster' 4K console doesn't have to be monstrous in size; it could be svelte like the Xbox One S.

Published Fri, Apr 7 2017 4:36 PM CDT
|
Updated Tue, Nov 3 2020 11:56 AM CST
Since Project Scorpio can hit 4K 60FPS in games like Forza 6 and even 4K 60FPS Ultra with DirectX 12 optimizations, the console clearly shares little with its Xbox One S sibling in terms of raw power. But Project Scorpio may actually share something else in common with its svelte predecessor: size.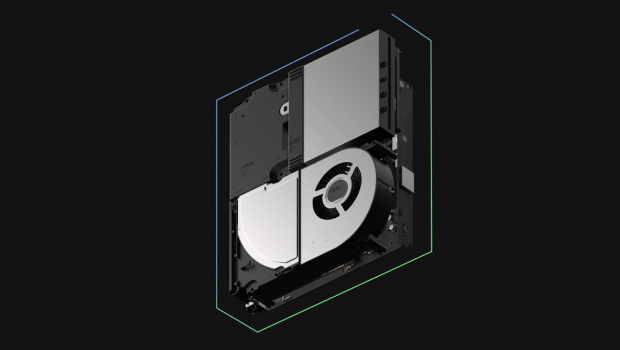 We've exhaustively covered Project Scorpio's internals and capabilities, so let's talk about its shape and form for a bit. Now Microsoft's officially released hardware diagram shows that Project Scorpio's components fit together like a glove. The power supply, 4K UHD Blu-ray disc drive, and vapor chamber cooling assembly all snugly conform to the motherboard that houses the system's extremely intelligent 16nm Scorpio Engine SoC silicon. The components themselves are arranged in a kind aesthetic harmony, not unlike the way the console's flexible software pipeline brain is synergized to its brawny 6TLOP GPU muscle.
Based on what I've seen so far, I think Project Scorpio will actually be quite compact and sleek like the Xbox One S. The system is obviously made to stand up vertically--the arrangement shows as much, but we also know the console only has a back vent--and the overall style should underline that form factor. The promo shots give us clues of a blue, green and black color scheme...so that could be interesting too.
I personally would like to see an onyx-on-lime-green color combination, with a few LED light strips lighting up lime green, or perhaps even the Xbox One logo lighting up with the same color.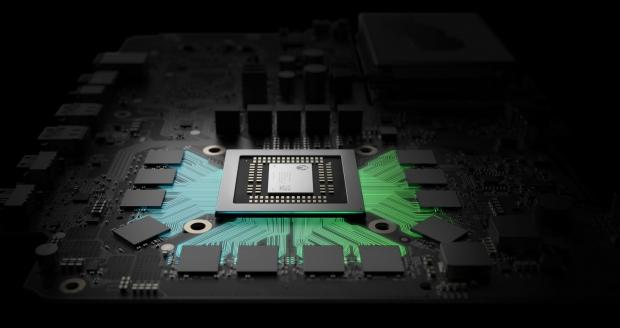 The Xbox One S' shape is quite aesthetically pleasing, but Microsoft needs Project Scorpio to speak for itself; it can't look too similar to any previous system. It should be striking, but also exemplify the main tenants of the console itself: efficiency, power, brains, harmony, synergy.
And the name? I still think it'll be called Xbox One Ultra.
If you want more in-depth technical info, don't worry, we'll return to the spec-scouting soon. But for now I just thought it'd be nice to take a little break and look on the outside of Scorpio's theoretical box and give its guts a little bit of rest.
Check below for all of our technical Project Scorpio coverage.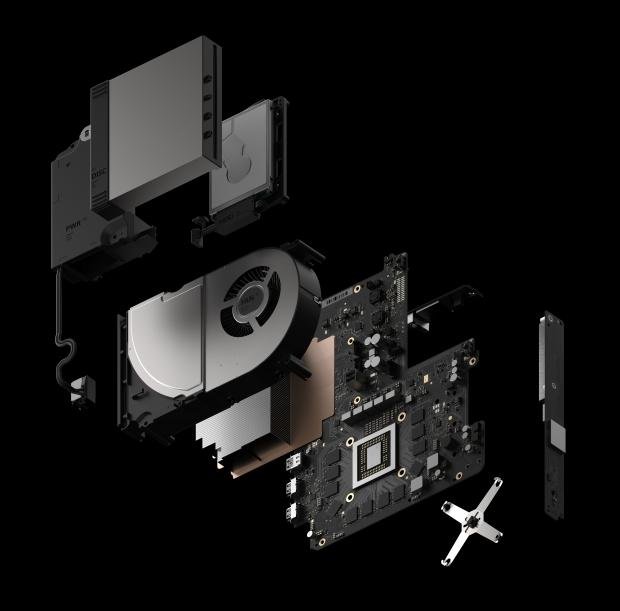 Project Scorpio confirmed specs
SoC: Highly customized 360mm² AMD System-on-Chip built on 16nm FinFET
GPU: Polaris-derived GPU with 40 Compute Units at 1172MHz, 6TFLOPs of Compute Performance
CPU: Custom x86 "Jaguar Evolved" 8-core CPU at 2.3GHz, 4MB L2 cache
Memory: 12GB GDDR5 memory with 326GB/s bandwidth (12x 6.8GHz modules on a 384-bit bus)
Storage: 1TB 2.5-inch HDD
Media: 4K UHD Blu-ray player
Related Tags