Now that Microsoft has confirmed it's new 4K-ready Project Scorpio console can indeed hit native 4K 60FPS at Ultra preset, there's been lots of speculation on how much the system will cost. Leading game analysts toss out their predictions, and we weigh each price point to see what makes sense.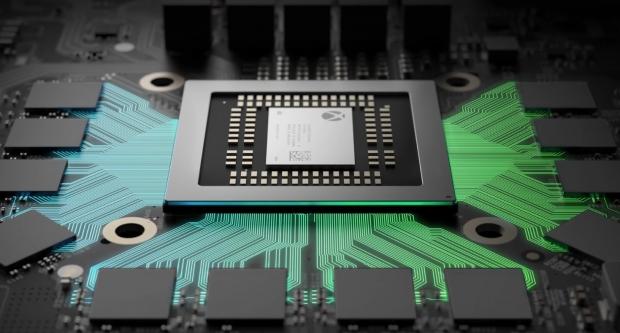 First we have the outlandish $700 price prediction from IDC's Lewis Ward, who predicts Scorpio must ship at $700 for Microsoft to make any money.
"I estimate the basic hardware will cost around $650, so if Microsoft wants any kind of margin at all, Scorpio will have to retail for $700 or more," Lewis told Games Industry.biz. The analyst justifies his prediction by pointing at Alienware's VR-ready Aurora PC, which sports an RX 480 GPU and Intel i5-7400, which somehow equates Project Scorpio's specs. "If you look at the Alienware Aurora, which is a solid VR-ready PC, that currently costs about $1,000. I think Scorpio will come in below that, but how much below is unknowable at this point."
Let's start with this one.
First of all, the Alienware Aurora PC uses discrete hardware designed for a PC platform. Every component is separated and can be swapped out. Of course we can't equate highly customized consoles with dedicated desktops given the nature of the massive advantage discrete hardware has over custom console-grade components.
But Microsoft has done something unprecedented with Scorpio's Jaguar CPU and Polaris-derived GPU by customizing the hardware on a silicon level to essentially make it their own. They've taken AMD's Jaguar microprocessor and Radeon Polaris graphics technology and tweaked both into a supercharged form capable of achieving native 4K gaming at 60FPS. The 16nm SoC has the console's powerful and efficient Scorpio Engine serving as the heart of the system itself.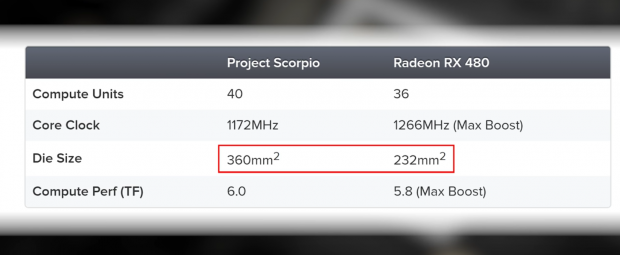 Now Project Scorpio's 6TFLOP GPU is derived from AMD's Polaris architecture, and has been directly compared to AMD's Radeon RX 480 and for good reason: Scorpio's customized GPU has quite similar perf to the RX 480 in terms of specs.
Scorpio's GPU has more Compute Units, at 40 CU, and has a smidgen more TFLOP power, but the RX 480 has a higher core clock at 1266MHz versus Scorpio's 1172MHz. And, of course, the Scorpio's GPU is 16nm FinFET versus the RX 480's 14nm FinFET, but both are still Polaris. But remember, we can't exactly compare like for like here considering one component is a dedicated desktop-grade video card, and the other is a super-customized chip designed to work in its own self-contained environment.
Comparing Scorpio's CPU to the CPU inside of the $1000 Alienware Aurora is even trickier. But in terms of specs, the console features an extremely customized 8-Core CPU "Jaguar evolved" x86 CPU at 2.3GHz of frequency. The Aurora's 14nm Intel i5 7400 CPU has 4-cores and 4 threads at 3.00GHz frequency and 6MB cache versus Scorpio's 4MB L2 cache.
And the Core i5-7400 has a max TurboBoost frequency of 3.50GHz.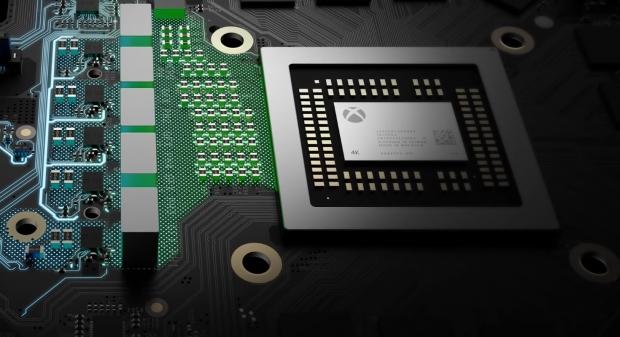 It just doesn't add up
So where am I going with all of this?
The analyst's reasoning behind a $700 price point is based on the components used in Scorpio, and he uses an Alienware Aurora PC with specific internals as a basis for pricing. But the components just don't match up, not really, and they never will because one is a dedicated desktop and the other is a console machine that requires highly scaled hardware.
Microsoft has essentially taken the kind of components found in a PS4 Pro and customized them in such a way that's never been done before in a console, creating an extremely efficient and synergized platform whose parts are all harmonized on a software and hardware level.
Realistically speaking, there's no real way a Polaris GPU and Jaguar CPU should be able to support native 4K 60FPS, but Microsoft has achieved it by unifiying enhanced hardware and software in an intelligent, flexible design.
Scorpio has been customized on the silicon level, but the robust software pipeline is the yin to the console hardware's yang; the system ensures that games don't waste any power and only use the resources they need. The system marries efficiency, flexibility, scalability and raw power in such a way that facilitates surprising, almost magical results.
As Digital Foundry's Richard Leadbetter says, Scorpio achieves this harmony with something called the Hovis Method.
"It turns out efficiency in the Scorpio design isn't just baked in at the silicon level--it's there throughout the entire box. Microsoft has implemented what it's dubbed the Hovis method, named after the guy who came up with the concept. The Hovis method means this: every single Scorpio engine processor that comes off the production line has its own power characteristics...because every piece of silicon is ever so slightly different. Rather than apply the usual one-size-fits-all power delivery system, every Scorpio motherboard is balanced with its specific processor. This helps keep heat down and ensures peak efficiency."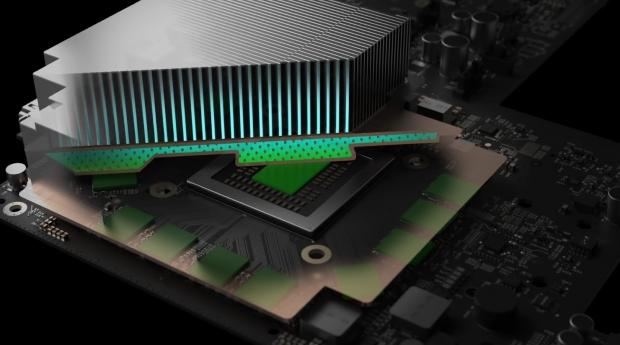 Polaris GPU, Jaguar CPU + customization = lower cost
So how does this tie into the console's cost?
Since Scorpio uses a Jaguar CPU and Polaris-grade GPU, the system could be quite cheaper than my original $599 prediction. Since Scorpio has a nice memory bump to 12GB GDDR5 RAM alongside a vapor chamber cooling assembly, I still don't think it'll cost $399, as Webdush Securities analyst Michael Pachter predicts.
But it certainly could cost a lot less than $700.
"The price will matter, and if it is over $400, it might be a tough comparison to the PS4 Pro," Pachter told GamesIndustry.biz. "If it is $400 or less, they should start to gain some share... 4K TV owners who are gamers will gravitate to a 4K console. That will become a more meaningful niche this holiday, as 4K TVs are pretty consistently priced under $1000."
Yes, Microsoft will have some trouble convincing gamers to gravitate away from PlayStation's dominance. However, Scorpio does something that PS4 Pro can't: native 4K 60FPS and more dynamic VR and AR experiences. Scorpio also guarantees that every original Xbox One game will run better out of the box.
Scorpio also guarantees super-sampling for all Xbox One games in 1080p, and further tightens dynamic resolution trade offs in titles like Halo 5 and Doom.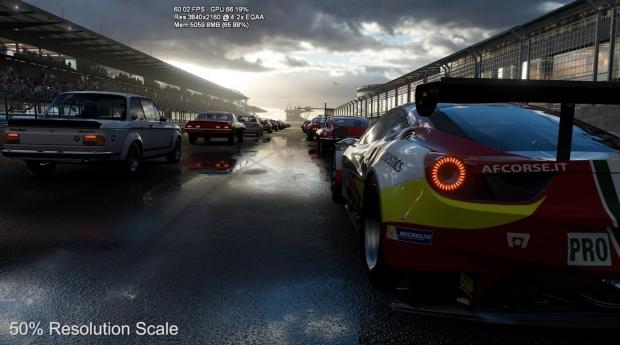 Despite the beefier specs, Scorpio represents a power play on Microsoft's part, a move that could pull more developers into its unified console-PC slipstream and afford more exclusive content. Devs that use DirectX 12 in their games will be attracted to the DX12 API built into Scorpio's GPU, which alleviates CPU workloads by half in DX12 games like Battlefront, Battlefield 1, Gears of War 4, etc. That extra CPU power can then be used to further optimize the game in various ways.
Plus Scorpio gives devs access to 3GB of extra GDDR5 RAM--a total of 8GB of Scorpio's total 12GB of memory--to do with as they please; this extra memory can be used in a multitude of different ways, even serving as an IO cache to boost loading times in 1080p Xbox One games.
But is Pachter's $400 estimate accurate?
I don't think so. I think Microsoft does want to compete with PS4 Pro, no question, but it just seems too cheap for all that work. And I believe the Xbox One S still stands as a contender against PS4 Pro. Scorpio is probably one of the most intricately planned console ever made, and Microsoft pulled lots of hardware tricks to get the system in its current shape. It definitely represents a step beyond PS4 Pro, and the price tag should be adjusted accordingly.
I've already outlined why I think Project Scorpio won't be $399 here, so be sure to check out all my thoughts on the subject.
"Scorpio will be a premium console. It will cost more than S, obviously, this is how we are building it up," Microsoft's Phil Spencer said. "We have not announced the pricing yet, but want to make sure that the investment we are making in the product of Scorpio goes hand in hand with the requirement of high-end consumer and that means a higher price."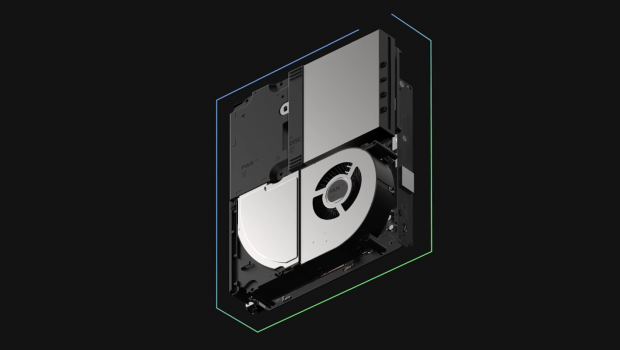 Project Scorpio's cost: my predictions
So how much should Project Scorpio cost?
I pin the 1TB "Xbox One Ultra" at $459 - $499. Of course that name is just speculation from me. Scorpio's official branding hasn't yet been revealed.
I hope this bit of coverage has helped you gauge your expectations of Project Scorpio in terms of power, value, and of course, price. Sometimes I see predictions that kind of blow me away, and I felt the need to address this with an article.
Project Scorpio will release Holiday 2017 and Microsoft is set to reveal the system at their E3 2017 showcase.
Check below for a full list of Project Scorpio coverage.
Project Scorpio confirmed specs
SoC: Highly customized 360mm² AMD System-on-Chip built on 16nm FinFET
GPU: Polaris-derived GPU with 40 Compute Units at 1172MHz, 6TFLOPs of Compute Performance
CPU: Custom x86 "Jaguar Evolved" 8-core CPU at 2.3GHz, 4MB L2 cache
Memory: 12GB GDDR5 memory with 326GB/s bandwidth (12x 6.8GHz modules on a 384-bit bus)
Storage: 1TB 2.5-inch HDD
Media: 4K UHD Blu-ray player