Earlier we reported that Microsoft's 4K-ready Project Scorpio console features a customized hard drive with 50% more throughput in order to speedily load native 4K textures and assets. Thinking on this a bit I came to an interesting question: if Scorpio's hard drive is so customized, can we swap the stock HDD out with bigger 2.5-inch hard drives?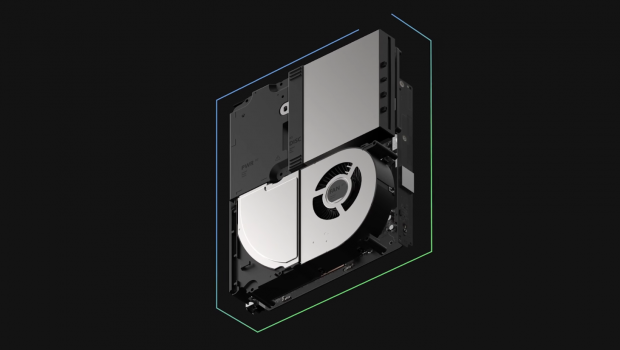 Games are getting bigger and bigger, and 1TB might be enough for 1080p titles, but is that enough for Project Scorpio's native 4K textures? Now bear in mind we don't know how massive Project Scorpio's 4K asset and texture packs are for specific games--Xbox One games will need to download 4K asset patches and updates in order to play in native 4K on Project Scorpio--and depending on the type of compression used for these assets, the console's 1TB drive could fill up fast.
So this brings us to a simple question: can you swap out Project Scorpio's customized hard drive in favor of another laptop HDD? Let's take a look at the evidence.
Albert Penello, Microsoft's senior marketing director of Project Scorpio, had this to say about the console's customized hard drive.
"We have a hard drive in Scorpio that provides about 50% more throughput than the existing Xbox. And that's because we didn't want load times to be terrible when you're loading these big 4K textures," Microsoft senior director of console marketing Albert Penello said in a recent Major Nelson podcast.
"So we did a lot of work on a custom hard drive on the console."
Read Also: Project Scorpio will play all Xbox One games better
Depending how customized this hard drive actually is, I'm wondering if Project Scorpio's internal storage is meant to be permanent. It all depends on what kind of performance you'll get with other drives.
Now I'm thinking that you can swap in a similarly-specced 2.5-inch hard drive that meets certain RPMs and the like and you'll be fine. Our readers have speculated that Project Scorpio's customized drive could just be a hybrid drive, and I tend to agree with this assessment.
Hybrid drives, or SSHDs, essentially deliver higher HDD capacities with SSD speeds by combining both platters and high-speed NAND flash memory into the drive itself. The high-speed flash memory is used to store the most often-used data, where the less frequently used data is stored in bulk on the traditional platter drive.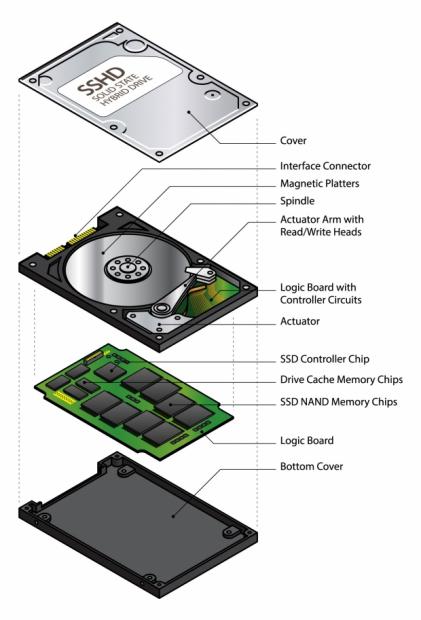 Hybrid storage products monitor the data being read from the hard drive, and cache the most frequently accessed bits to the high-speed NAND flash memory. The data stored on the NAND will change over time, but once the most frequently accessed bits of data are stored on the flash memory, they will be served from the flash, resulting in SSD-like performance for your most-used files.
"SSHD design allows for minimal writes to the NAND while simultaneously reducing wear and tear on the HDD portion of the drive by reading frequently from the flash. When combined, HDD and SSD technologies actually complement each other. The HDD handles most writes while reads come mainly from the NAND," ebuyer explains.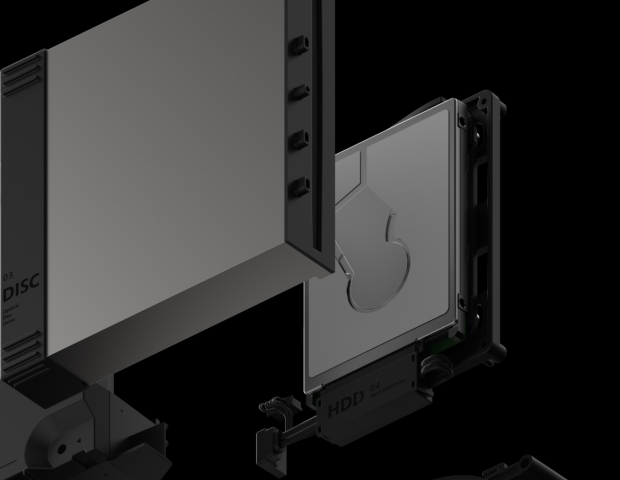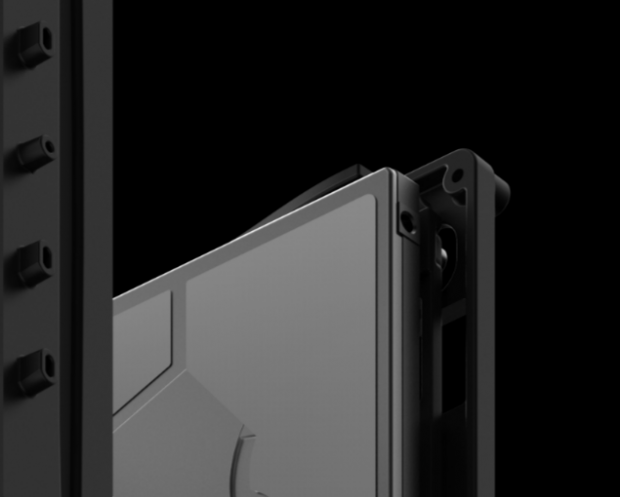 The console's diagram pic shows the HDD appears to sit on a secondary tray of sorts, and there looks like a little lip you can pull to slide the drive out. Project Scorpio's customized hard drive sits below the 4K UHD Blu-ray player in the diagram, but based on what we see, it should be able to slide out.
Then again, there's a chance it can't slide out.
Read Also: DirectX 12 games will have advantage in Project Scorpio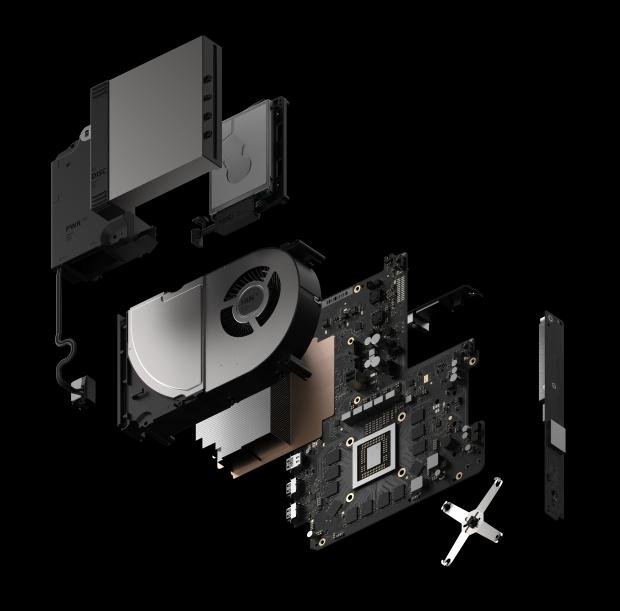 But it all begs to question just how much tweaking Microsoft did to the system's hard drive.
If Scorpio's hard drive can be changed, and you were to slap in a lower-specced, non-SSHD 2.5-inch hard drive into it, that would assuredly make loading much more slower in 1080p Xbox One games and especially games with 4K textures. It'd be interesting to know what kind of performance or loading hit--if any--the system would take with specific drives inserted.
If you can't swap it out with existing hard drives, I expect Microsoft could sell their own exclusive "Scorpio-enhanced" 2.5-inch HDDs to be used specifically for the console. These Scorpio-enhanced hard drives could come in 2TB, 3TB and even 4TB capacities.
Or users could just grab laptop-sized SSHDs--if they work, of course.
Bear in mind this is 100% conjecture on my part. Microsoft has neither confirmed or denied that Project Scorpio's hard drives can be swapped, and has not specifically revealed what kind of storage tech Scorpio uses.
It'll be interesting to see what Microsoft has to say in this topic in the coming months, especially during the console's showcase at E3 2017 in June.
Project Scorpio is expected to launch in Holiday 2017, and check below for everything we know about the console so far.
Read Also: Project Scorpio devs have access to 8GB GDDR5 RAM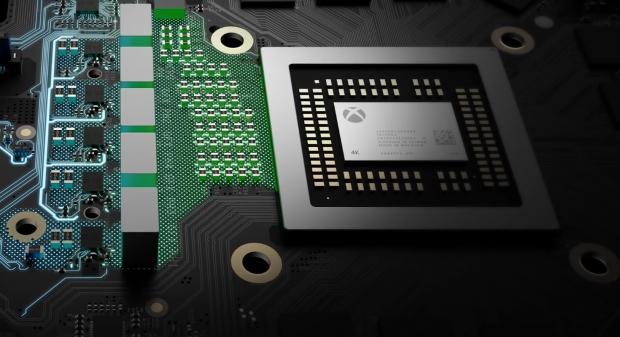 Project Scorpio confirmed specs
SoC: Highly customized 360mm² AMD System-on-Chip built on 16nm FinFET
GPU: Polaris-derived GPU with 40 Compute Units at 1172MHz, 6TFLOPs of Compute Performance
CPU: Custom x86 "Jaguar Evolved" 8-core CPU at 2.3GHz, 4MB L2 cache
Memory: 12GB GDDR5 memory with 326GB/s bandwidth (12x 6.8GHz modules on a 384-bit bus)
Storage: 1TB 2.5-inch HDD
Media: 4K UHD Blu-ray player
Check out all of our technical Project Scorpio coverage here: