Project Scorpio could challenge GTX 1070 and Fury X GPUs
'From what I've seen so far, there's evidence that Scorpio's true 4K performance could challenge to the likes of NVIDIA's GTX 1070 and AMD's Fury X'

Published Thu, Apr 6 2017 2:33 PM CDT
|
Updated Tue, Nov 3 2020 11:56 AM CST
Eurogamer's Digital Foundry is quite impressed with Microsoft's new 4K-ready Project Scorpio console, and to be honest, so am I. Microsoft has found an incredible synergy between all facets of the console, binding everything together on a software and hardware level in an extremely efficient harmony. But Digital Foundry makes a bold statement about the system, claiming that Project Scorpio could challenge video cards like NVIDIA's GeForce GTX 1070 and AMD's Fury-X GPUs.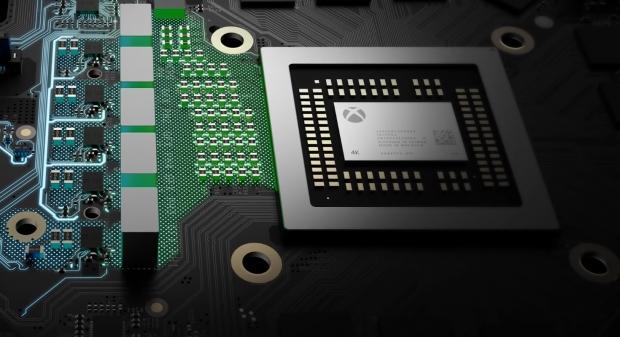 Project Scorpio does indeed have raw power, but it's not spread out at any one point. The system's 6TFLOPs GPU is highly customized and mostly derived from AMD's Polaris architecture, not its enthusiast-grade Vega GPU technology. If we looked at the GPU alone there'd be high doubts the system could maintain the native 4K performance Microsoft promised; but that's only part of the equation. Project Scorpio's power doesn't lie in its parts, but the dynamic fusion that sees all components come together with a strong, centralized software base using Windows 10 UWP framework. Project Scorpio has been customized on the silicon level, but it also has an extremely potent and flexible software pipeline that ensures games don't waste any power, and only use the resources they need. Essentially Microsoft has completely re-written the rules in which consoles are not only made, but how they maintain in-game performance. Remember Project Scorpio is a Windows 10 machine, and uses the massive scalability and flexibility of the platform.
Project Scorpio's customization and efficiency is so impressive that Digital Foundry's Richard Leadbetter reckons the system could take-on higher GPU hardware like a GeForce GTX 1070 or AMD Fury X, both of which handle 4K decently.
"From what I've seen so far, there is some evidence that Scorpio's true 4K performance could pose a challenge to the likes of NVIDIA's GTX 1070 and AMD's Fury X-class hardware," Leadbetter writes in the exclusive Scorpio reveal.
"I've seen Microsoft's new console running a Forza Motorsport 6-level experience locked to 4K60 on the equivalent to PC's ultra settings - cranking up the quality presets to obscene levels was one of the first things developer Turn 10 did when confronted with the sheer amount of headroom it had left after a straight Xbox One port."
Read Also: Project Scorpio specs confirmed: evolved Jaguar CPU, 6TFLOP Polaris GPU, 12GB GDDR5 memory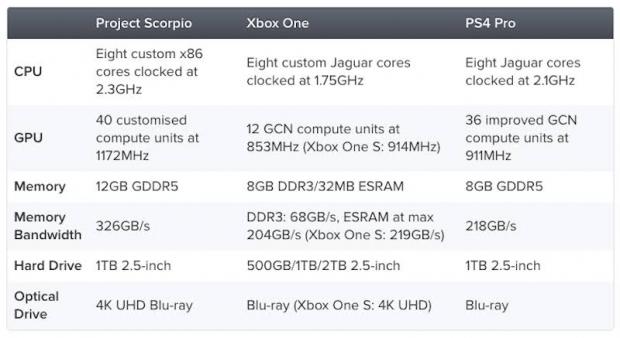 To compare Project Scorpio's in-game 4K performance with current PC video card's performance, Digital Foundry tested out three NVIDIA Pascal cards including a GTX 1060, GTX 1070 and GTX 1080 running Forza 6 Apex in 4K. The results were pretty surprising.
"Out of interest, we tested Forza 6 Apex with similar settings at 4K on GTX 1060, 1070 and 1080. Frames were dropped on GTX 1060 (and a lot of them when wet weather conditions kicked in), while GTX 1070 held firm with only the most intense wet weather conditions causing performance dips. Only GTX 1080 held completely solid in all test cases.
"It's only one data point, and the extent to which the code is comparable at all is debatable, but it certainly doesn't harm Scorpio's credentials: Forza 6 Apex received plenty of praise for the quality of its PC port."
Leadbetter goes on to underline just what makes Project Scorpio so impressive--it's not just the raw hardware, but how Microsoft uses its scaled internal magic to make amazing things happen and produce perf that really shouldn't be possible with said hardware.
"Microsoft has defied current-gen constraints and redefined the way consoles are built in order to push clock-speeds up closer to desktop GPU counterparts."
Read Also: Project Scorpio hits 4K 60FPS in Forza 6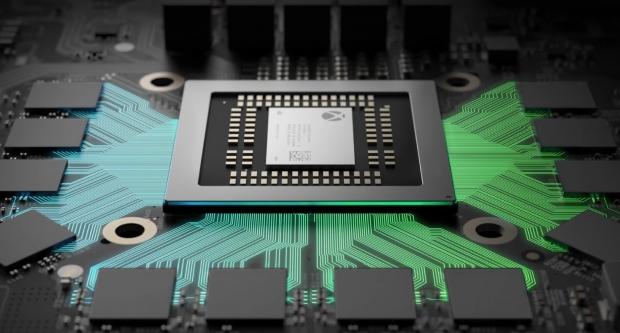 Microsoft told Eurogamer's tech reporter that Project Scorpio's 6 TFLOPs of compute power can be stretched beyond a desktop video card with the same power.
"The bottom line is that Scorpio's six teraflops will almost certainly go a lot further than an equivalent PC part. I asked Microsoft about this specifically, and they raise a number of good arguments that make the case strongly. Firstly, that their shader compiler is far more efficient than PC equivalents (think of shaders as native GPU code)," Leadbetter said.
Project Scorpio's games will be specifically optimized with baked-in software tools such as the the Scorpio Engine's API as well as Microsoft's new PIX feature.
"Secondly, addressing the hardware directly via their API and with access to console-specific GPU extensions again adds to the advantage of a fixed platform box. And finally, they point to their optimization software - PIX (Performance Inspector for Xbox) - as a tool that provides the path to console-specific optimizations that PC simply cannot get."
Read Also: Project Scorpio rocks high-end vapor chamber cooler
Remember that Project Scorpio isn't exactly finished just yet. The console's hardware has been locked in, but the current Xbox Development Kits are reportedly only running at about 80% peak performance, and I'd like to know if the demo Leadbetter was shown was running on a fully-evolved Scorpio or a 80% XDK.
If Project Scorpio can maintain 4K 60FPS in older Xbox One games like Forza 6 at just 80% peak performance, imagine what it could do at 100%.
Project Scorpio will be released Holiday 2017, and Microsoft will unveil the system at its E3 2017 showcase in June.
Related Tags