Project Scorpio: Jaguar CPU, Polaris GPU, 12GB memory
'I can confirm 6TFLOPs has been delivered, no more, no less.'

Published Thu, Apr 6 2017 8:43 AM CDT
|
Updated Tue, Nov 3 2020 11:56 AM CST
Digital Foundry today confirmed specifications of Microsoft's "monster" Project Scorpio console. The system doesn't feature a Ryzen CPU, but no specifics were given on the exact Radeon GPU architectures the system will use.
Digital Foundry's Richard Leadbetter hypes up Project Scorpio's raw power, despite the fact the system uses an 8-core Jaguar CPU that's been "evolved" to target latency and synergy with the system's highly customized GPU. The GPU itself does indeed hit 6TFLOPs of power, and has 40 compute units at 1172MHz, giving the system an 11% increase in Radeon hardware and a 27% boost in frequency, totaling for a 47% compute advantage.
Project Scorpio specs
GPU: 16nm Polaris-derived GPU 40 Compute Units at 1172MHz
Memory: 12GB GDDR5 memory
CPU: 8-core "evolved" Jaguar CPU at 2.3GHz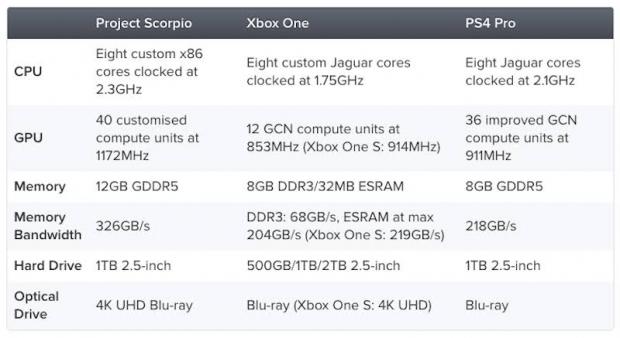 The GPU has features derived from AMD's Polaris technology, which in PC terms is basically the Radeon RX 480. Project Scorpio's GPU is 4.6 times more powerful than the Xbox One's. This GPU has 36 Compute Units versus the Scorpio's 40. But the dedicated RX 480 video card has 1266MHz, which is 94MHz faster than Scorpio's GPU. So I couldn't really believe Microsoft has squeezed that much frequency out of a console part.
"The GPU is a beast. It's very, very fast," Leadbetter said.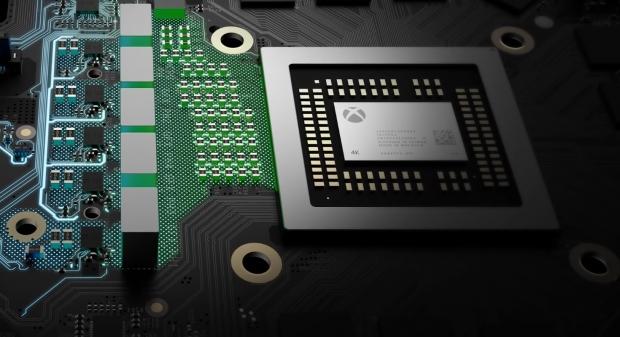 "It turns out efficiency in the Scorpio design isn't just baked in at the silicon level--it's there throughout the entire box. Microsoft has implemented what it's dubbed the Hovis method, named after the guy who came up with the concept. The Hovis method means this: every single Scorpio engine processor that comes off the production line has its own power characteristics...because every piece of silicon is ever so slightly different. Rather than apply the usual one-size-fits-all power delivery system, every Scorpio motherboard is balanced with its specific processor. This helps keep heat down and ensures peak efficiency."
However, Project Scorpio's biggest advantage might be its software. Devs can now optimize software and games to eliminate engine and game-specific bottlenecks, and Leadbetter says that Microsoft may have 60 targeted custom optimizations in the GPU pipeline.
"This is unprecedented," Leadbetter says. "Hardware usually defines software. This time the Microsoft team could approach things from the other direction, optimizing the silicon based on the way the game engines and game developers actually are creating their games."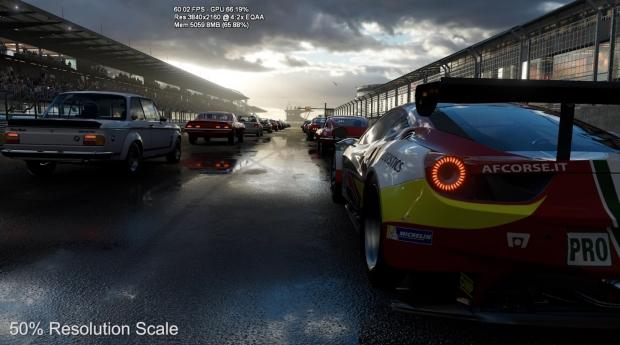 So can Project Scorpio actually do native 4K?
Yes. Using Microsoft's toolset and Project Scorpio's customized power, an Xbox One game like Forza 6 can hit 4K 60FPS "effortlessly," and only using 66% of the console's GPU hardware.
Project Scorpio will also feature a 1TB 2.5-inch hard drive and a UHD Blu-ray drive for 4K playback. It also has an integrated power supply, and the input/output ports match the Xbox One S--no Kinect port, HDMI passthrough is featured.
Project Scorpio will release holiday 2017, but no official pricing or official naming scheme has been revealed...but we do have an idea of how Microsoft really will hit the performance they promised.
Related Tags