Project Scorpio specs revealed in full
Project Scorpio's full specifications have been revealed ahead of the console's official unveiling.

Published Wed, Apr 12 2017 3:32 PM CDT
|
Updated Tue, Nov 3 2020 11:55 AM CST
Now that Project Scorpio's development kit has been revealed, Microsoft has rolled out the 4K-ready console's finalized hardware specs for comparison, showing the system's full list of internal components.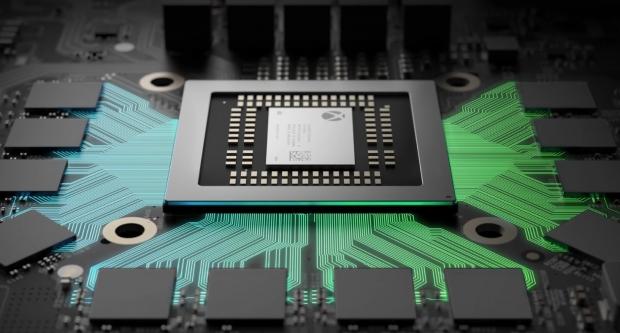 If you've read our previous Project Scorpio coverage, most of these specifications won't be a surprise to you. We've known for a bit now that Project Scorpio features a highly customized 8-core Jaguar CPU with 2.3GHz alongside a similarly customized 6TFLOP Polaris-grade GPU with 1172MHz and 40 Compute Units, alongside the system's rather beefy 12GB of unified GDDR5 memory. But what about the other specs? We've got you covered.
We've already been extremely impressed with Scorpio's custom Jaguar CPU and Polaris GPU hardware being able to hit native 4K 60FPS in Forza 6 at Ultra PC settings, but the system has a few more surprises in store. For example, Scorpio's internal power supply unit is only 25 more watts than the original Xbox One, pulling 245W versus the stock 2013 Xbox One's 220W of power. The spec list also confirms FreeSync support, and 3840 x 2160p resolution capped at a max refresh rate of 60Hz with HDMI Variable Refresh Rate tech support via HDMI 2.1.
Check below for the full list of Project Scorpio system specs.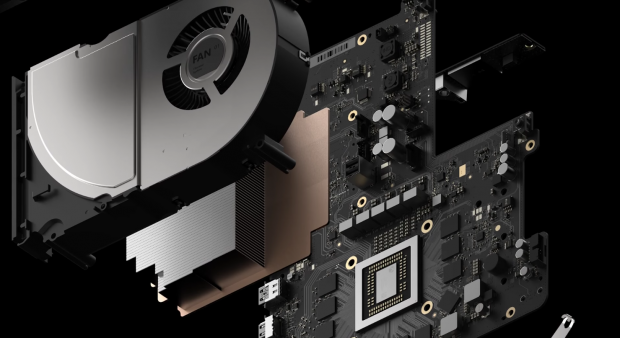 Project Scorpio confirmed specs
SoC: Highly customized 360mm² AMD System-on-Chip built on 16nm FinFET
GPU: Custom Polaris-derived GPU with 40 Compute Units at 1172MHz, 6TFLOPs of Compute Performance
CPU: Custom x86 "Jaguar Evolved" 8-core CPU at 2.3GHz, 4MB L2 cache
Memory: 12GB GDDR5 memory with 326GB/s bandwidth (12x 6.8GHz modules on a 384-bit bus)
Flash: 8GB
Internal Storage: Customized 1TB HDD
Optical Drive: 4K UHD Blu-ray
PSU: 245W, Internal
Cooling: Custom vapor-chamber cooler with centrifugal fan
HDMI resolution and frame rate: 2160p @ 60Hz, AMD FreeSync, HDMI Variable Refresh Rate (HDMI 2.1)
HDR10 Support: Yes
Content Protection: HDCP 2.2
Video CODECs: HEVC/H.265, VP9, AVC/H.264, MPEG-2, MPEG-4 Part 2, VC1/WMv9
HDMI audio, encoded: Dolby Digital 5.1, DTS 5.1, PCM 2.0,5.1 and 7.1, Dolby TrueHD w/ Atmos (games)
HDMI audio, passthru: Dolby TrueHD (opt. Atmos), DD+ (opt. Atmos), DTS=HR/MA (opt. DTS:X)
S/PDIF audio, encoded: Dolby Digital 5.1, DTS 5.1, PCM 2.0
CODECS decoded: AAC, MP3, MPEG1, WMV
As for the exact dimensions of the console, I've predicted that Project Scorpio could be a sleek, svelte and surprisingly compact system that resembles the Xbox One S. The chassis itself could be minimized thanks to the console's highly-efficient synergy, which ensures no resources--or hardware--is wasted.
One thing to remember about Project Scorpio is it's not just about raw specs or the GPU and CPU power. The system represents a total re-thinking in how consoles are made, exemplifying a kind of state-of-the-art synergy between its components and a flexible, potent, and ultra-efficient software pipeline. To understand Scorpio, you really have to look at the whole picture, not just its specs. It's a strange thing to investigate, especially given the system's capabilities: I mean a console outfitted with a Jaguar CPU and Polaris GPU shouldn't be able to hit native 4K 60FPS, but it's indeed possible and Turn10 has done it.
Scorpio has been customized on the silicon level, but the robust software pipeline is the yin to the console hardware's yang; the system ensures that games don't waste any power and only use the resources they need. The system marries efficiency, flexibility, scalability and raw power in such a way that facilitates surprising, almost magical results.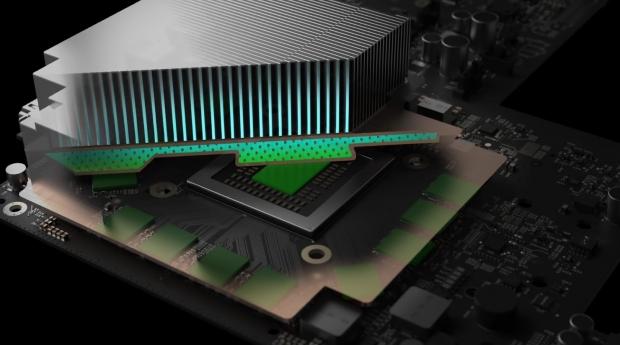 As Digital Foundry's Richard Leadbetter says, Scorpio achieves this harmony with something called the Hovis Method.
"It turns out efficiency in the Scorpio design isn't just baked in at the silicon level--it's there throughout the entire box. Microsoft has implemented what it's dubbed the Hovis method, named after the guy who came up with the concept. The Hovis method means this: every single Scorpio engine processor that comes off the production line has its own power characteristics...because every piece of silicon is ever so slightly different. Rather than apply the usual one-size-fits-all power delivery system, every Scorpio motherboard is balanced with its specific processor. This helps keep heat down and ensures peak efficiency."
The actual performance is what speaks volumes here, not the specs on paper. It certainly seems like wizardry or sorcery to some, and rightly so, because it definitely seems like magic, but we've done our best to break it down in our huge array of Scorpio coverage.
We recommend checking out the content and make up your own mind. I'd love to see Project Scorpio in action to verify the coverage, but for right now, we'll have to go on the assessments from Digital Foundry and key Microsoft developers.
But Project Scorpio seems like the real deal, and we can't wait to see more.
Project Scorpio is slated to release Holiday 2017, and will be unveiled and Microsoft's E3 2017 showcase in June.
Be sure to check our massive list of Project Scorpio coverage below for more info on the system itself.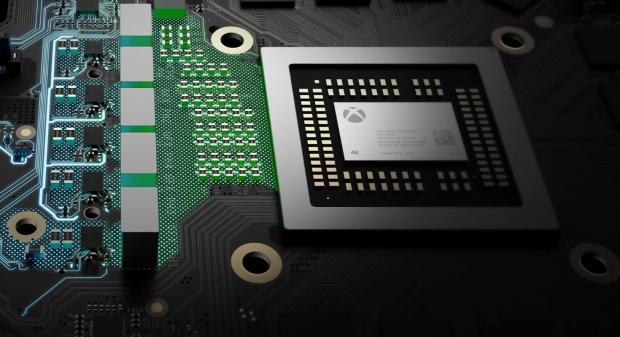 Project Scorpio coverage index
Related Tags