Jedi: Fallen Order may have monetized multiplayer
Given EA's and Disney's business models, Jedi: Fallen Order should be monetized with live services.

Published Wed, Apr 10 2019 11:00 PM CDT
|
Updated Tue, Nov 3 2020 6:57 PM CST
Introduction
Respawn's big new action-adventure Star Wars game has always excited me. Back in 2016, Respawn said the game would deliver "larger-than-life action" and pay respect to the Star Wars canon. But there's one thing that had me worried: EA. And it still worries me.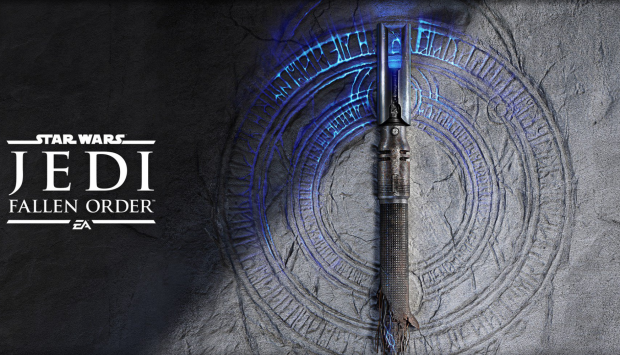 Note: Let me preface this by saying this article is more of a prediction than anything. Jedi: Fallen Order could be single-player only without any multiplayer component, but we don't think it's likely. Here's a few reasons why.
Respawn has a huge weight on its shoulders with Jedi: Fallen Order. Not only is the studio up to bat for one of the biggest, and most notoriously turbulent games franchises in existence, but it's expected to restore balance to the disrupted Star Wars games timeline. Following the cancellation of Visceral Games' ambitious "Star Wars Uncharted" project, Battlefront II has been picking up the slack with elongated live service content. But Battlefront II is getting a bit long in the tooth and that responsibility could soon pass to Respawn's new game.
Before we talk about the rationale of a multiplayer mode, let's talk about how Jedi: Fallen Order has been billed. I've seen many sites say the game is singleplayer-only, but I can't seem to find confirmation directly from Respawn or EA themselves.
There's just a snippet from the official Star Wars website that says Jedi: Fallen Order is a "single-player, action-adventure title that tells a new story set shortly after the events of Star Wars: Revenge of the Sith."
Respawn has indeed reinforced the idea in how it describes the game. Fallen Order will have great emphasis on storylines, characters, and lore, and Respawn even enlisted Fallout: New Vegas writer Chris Avellone to help pen the project.
But the Star Wars website doesn't explicitly say singleplayer-only, just singleplayer. That could mean it's singleplayer-driven and not exclusively singleplayer. Or maybe it's old news and Jedi: Fallen Order has morphed over time. Remember, games often change dramatically while in development, and just because no one's reporting on it doesn't mean it doesn't happen.
EA also purchased Respawn Entertainment mid-way through Jedi: Fallen Order's development phases...so if EA mandates it, Respawn has to do it.
Predictions: Online lightsaber duels with cosmetic mTX
It's possible Jedi: Fallen Order could have an optional online mode to compliment the singleplayer experience. The difference here is that multiplayer would be kind of tacked-on, which is the reverse of how games are designed these days (look at Battlefront II, for example).
I'm thinking Jedi: Fallen Order's multiplayer would be like Jedi Academy and let players battle in lightsaber duels across multiple locales featured in the game. It would be monetized, of course, likely in a cosmetic structure similar to Apex Legends or Battlefront II. Players could earn or buy special lightsaber skins, outfits, and even colorful effects for Force powers.
I'm betting the component will be additive rather than something like Battlefront that's designed from the ground up as an addictive live game. There's also the possibility the multiplayer could tie into the story somehow, ie like Mass Effect 3 without its regulations, or maybe some sort of PVE horde mode.
Respawn has a lot of different routes it could take here, but monetization should be entirely cosmetic. Players should earn credits while playing, and be able to buy a premium currency--lets call them Force Gems--that can be used to buy stylized flair for their Jedi knights. We could even see some Sith come into play as well.
Now let's get on to the business models that underline my prediction.
How EA operates: Why most of its games are online
Although EA makes a ton of different games, one thing remains constant: live services. All of EA's biggest games are designed to make money over time outside of game sales. This could be post-launch DLC (which Jedi: Fallen Order should also have), subscriptions like its EA and Origin Access services, and of course microtransactions.
It's to the point where if EA is making a AAA game, we should expect some sort of online component with microtransactions. Despite the massive Battlefront II loot box controversy, EA hasn't really budged from this strategy. Sure it's gone from monetizing randomized lootboxes to cosmetic skins as in Apex Legends and Anthem, but ultimately the end goal is still the same: make recurring revenues over time by monetizing engagement that's fostered by online play.
Jedi: Fallen Order shouldn't be exempt from this focus. In fact, given EA's current disrupted earnings, we could see the publisher double-down even harder on monetization.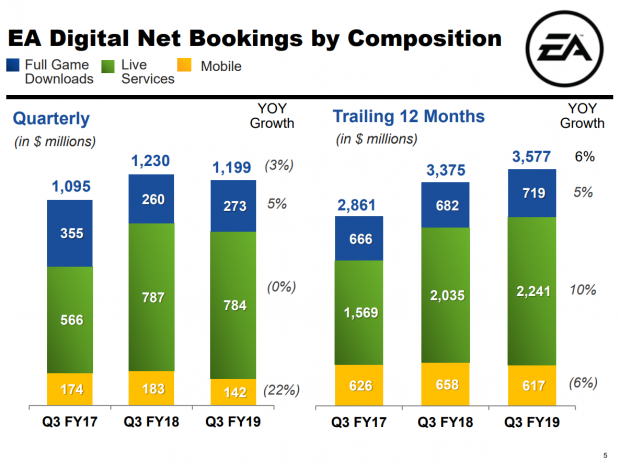 EA makes billions every year from live services, primarily from FIFA Ultimate Team and its biggest AAA games.
Back in 2017, the company said live services are more meaningful than full game sales. One path sees EA making a set amount of cash from sales, the other sees earnings evolving years past games' launches.
EA's live services are so potent they consistently make double or sometimes even triple than full game sales every quarter. In Q3'19, a quarter that EA described as "hard", the company earned over $780 million from live services and raked in $2.2 billion over the last 12 months.
So any time EA shells out lots of cash to make a big game we should expect monetization to follow. It's ingrained with the publisher's DNA and has been part of its core business tactics for years now.
This is doubly true for action games.
EA has doubled-down on action games for years now because they fold more neatly into the live service wrapper. Action games are more accessible, and play nicely with online modes, and therefore can not only sell more copies but also rake in more cash via microtransactions. We've seen this happen with Mass Effect: Andromeda's casualization from an RPG into an action game, and BioWare's new IP Anthem, which was built from the ground up as a weird "genre-melded" experiment with artificially elongated mechanics, tedious grinding, and monetization to boot.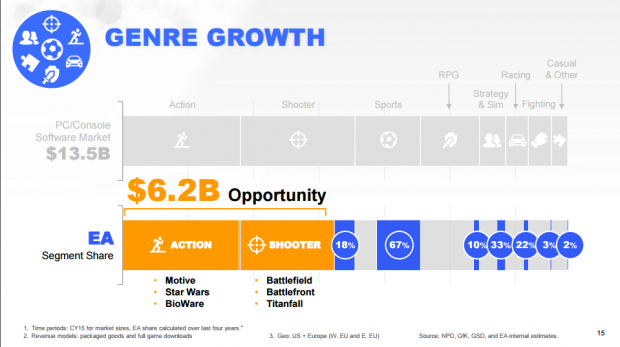 A slide from EA's 2016 investors presentation, which shows the action genre as a vehicle for live service earnings growth. Since then, most of EA's biggest games have pivoted to action.
Jedi: Fallen Order's launch comes at an interesting time for EA.
Following its Q3 revenue misses--the same period it made $800 million from microtransactions, it missed its earnings targets by over $100 million--the publisher said it has to "make hard choices about investments."
This could lead to more cancellations, like how Visceral Games was shut down and its Star Wars game was cancelled, or more games morphed into action-based games with live mechanics. All of these things would be done to recoup potential losses.
EA recently formed a new internal Creative Council to help greenlight, guide, and plan out new projects and their services. It also recently fired 350 non-game dev employees.
The ramifications of the publisher's revenue misses will carry forward until next year, it says, which could mean a harder focus on what works. And what works for EA has always been monetization. Based on how EA operates, I was able to predict Anthem would have microtransactions, and that Battlefront II would be monetized with lootboxes. This trend should continue onward until live services continue making EA billions every year.
Disney approves of EA's Star Wars games
EA signed an exclusive decade-long deal with Disney to make Star Wars games. Over the last six years, EA has shipped two major games: Battlefronts I and II. Both have sold quite well, and helped propel EA's live services consistently quarter-after-quarter.
Everyone thinks Disney is outrageously mad about this sparse lineup, but the House of Mickey Mouse is actually quite enthralled. After all, these games are money-making machines that belt out cash over time.
Disney is actually happy with EA's games, and still has no plans to make its own Star Wars titles. Disney's Bob Iger says its relationship with EA is quite healthy and that licensing deals will continue for the foreseeable future.
"We've had good relationships with some of those we're licensing to, notably EA and the relationship on the Star Wars properties. And we're probably going to continue - we're going to continue to stay in that side of the business and put our capital elsewhere," Iger said in a recent earnings call to investors.
"We're good at making movies and television shows and theme park attractions and cruise ships and the like, and we've just never managed to demonstrate much scale on the publishing side of games."
We bet live service revenues are a big reason why Disney approves of EA's strategies.
Jedi: Fallen Order will be different than Battlefront, though
Jedi: Fallen Order won't be like Battlefront I or II, nor will it be like Anthem.
In my predictions, Respawn's project will be singleplayer first, and then multiplayer second. The game won't be designed specifically for live services. We shouldn't see any kind of crazy grinding, elongated tedious crafting or gathering, or co-op. The core focus will be singleplayer, and gamers should expect chaotic action with a unique story arc that weaves into the films, alongside grand sweeping interstellar adventure.
If Jedi: Fallen Order features multiplayer, I'm thinking it'll be similar to Dragon Age: Inquisition's multiplayer in that it offers an optional live component that lets gamers jump into battles with random players or friends online.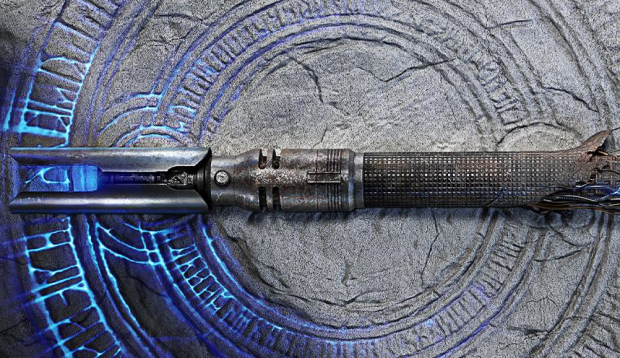 Everything we've outlined here along with what I've seen with EA's business model over the years tells me it should have some sort of monetization that's designed to make money over time.
I hope I'm wrong, and I hope that something as big as Star Wars could rely solely on full game sales to appease Disney and EA. I hope Jedi: Fallen Order only sells post-release DLC.
But today's gaming landscape has investors hungry for microtransaction billions and publishers are all too eager to serve them up.
We openly invite the companies who provide us with review samples / who are mentioned or discussed to express their opinion. If any company representative wishes to respond, we will publish the response here. Please contact us if you wish to respond.