EA: unit sales less meaningful than live services
Live services are extremely important foundations for major games publishers like EA, who earn billions a year from mTX, DLC, and subscriptions.
Published
2 minutes & 4 seconds read time
Games titan EA just posted its financial earnings for fiscal Q2'18, which show strong growth in a critical area that ties its games together: live services. In fact, EA executives highlight just how important these services are compared to unit sales.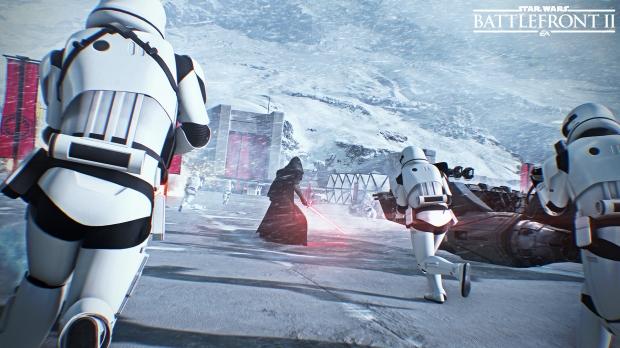 It should be no surprise that EA, a company that makes billions a year from monetized digital content such as microtransactions, DLC, add-ons, subscriptions, values live services so highly. After all we've seen the publisher's games change considerably over time to align into more digital online-based ecosystems such as FIFA Ultimate Team and Battlefield 1 that keep players coming back months after release--and more importantly, continually spending money in the games they play. With this in mind unit sales have become less and less important to the publisher.
When asked if Battlefront II sales are still forecast to hit 14 million copies, EA CFO Blake Jorgensen said: "We give out unit forecasts at the beginning of the year to help people size things. But we're finding units are becoming less and less meaningful to us because obviously there's a difference between a digital unit and a physical unit--and we've been surprised on the growth of digital units. It's all about the live services at the end of the day as well," Blake Jorgensen, Chief Financial Officer of EA, said in the latest fiscal Q2'18 earnings call.
"So assume any change in our unit guidance for any game, including Battlefront II, is built into our annual over quarterly guidance changes that we put in play."
Earlier in the call Jorgensen noted that EA still didn't know how Battlefront II would perform insofar as monetization. The company recently had to shift away from its contested "pay to win" microtransaction plan for Battlefront II in the wake of strong controversy--something that we predicted months before confirmation--but based on the addictive gameplay and core hook the game should do quite well.
(Cont. below)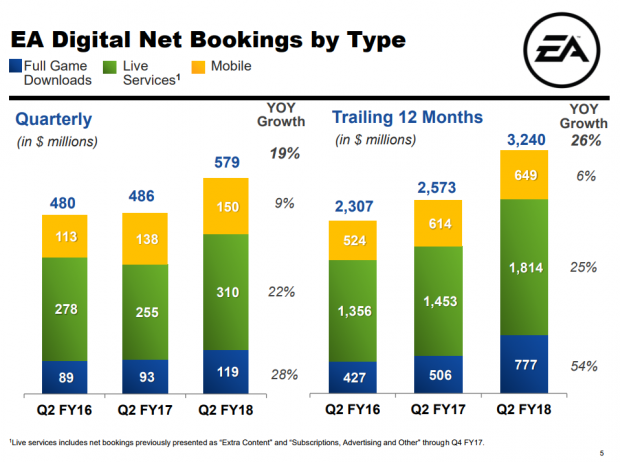 Looking at EA's fiscal Q2'18 results we see just how important live services are for the publisher. These services earned EA $310 million in the three-month period, making up over half or 53% of total digital sales revenues during the quarter. In trailing twelve-month results, which include the last nine months of performance alongside the last quarter (September 2016 - September 2017), EA has earned $1.814 billion in live services, up 25% year-over-year and accounting for a huge 56% of the company's total trailing twelve-month sales digital revenues.
EA expects to earn $5.075 billion in net revenue in the fiscal year ending March 2018, and if history tells us anything, live services will be a significant part of those earnings.
Related Tags