Why EA is firing 350 employees: it's all about business
Revenue misses cause EA to re-think its strategies and re-organize its business.

Published Tue, Mar 26 2019 2:58 PM CDT
|
Updated Tue, Nov 3 2020 11:49 AM CST
Today EA confirmed it will fire around 4% of its workforce to help "streamline operations" and ready itself for further possible revenue misses.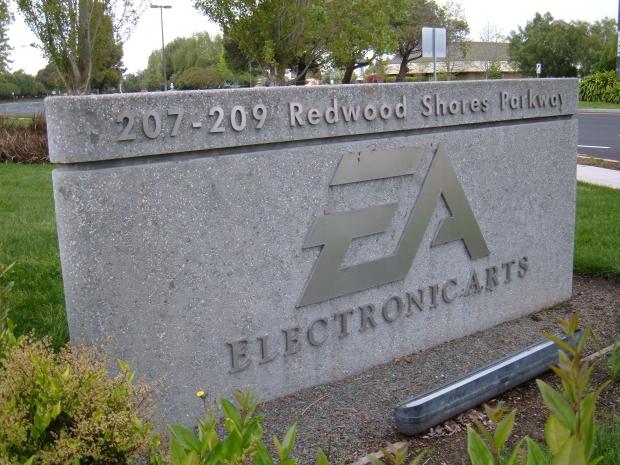 Like Activision-Blizzard, who fired 800 personnel to help fund game development, EA is following suit with its own round of layoffs. The FIFA publisher plans to fire 350 non-game developers across its marketing, publishing, and operations teams. The idea is to trim the fat to make EA a more leaner company and lower the cost of marketing by shaving off jobs--a move that's motivated by the company's recent revenue miss. To understand why this is happening we have to look at the timeline of events that led up to the layoffs, and how they are framed.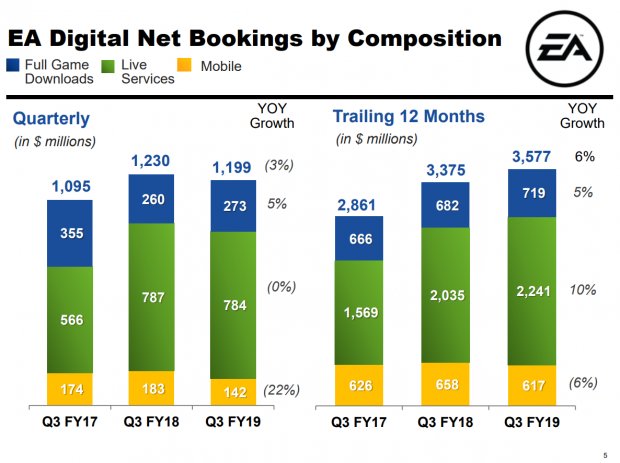 EA's net bookings for Q3'19 were relatively strong, but didn't perform as the company expected.
In Q3'19, one the biggest quarters in the industry, EA missed its sales and revenue targets by as much as $116 million due to lower-than-expected Battlefield V sales, multiple game delays, and steep competition.
Despite earning over $1.2 billion in net revenue, Andrew Wilson called Q3 "difficult" as the company missed net revenue and net sales forecasts by $86 million and $116 million respectively. There's more than meets the eye here. The drop affects all segments--mobile, console, PC, live services, etc.--and initiatives like EA's Origin Access Premiere service apparently didn't take off as planned.
"In the face of this competition, we had significant challenges in Q3 and did not perform up to our expectations. We expect these challenges will continue to impact our performance in Q4, which has led us to lower our full fiscal year net revenue guidance today," Wilson said in the Q3 earnings call.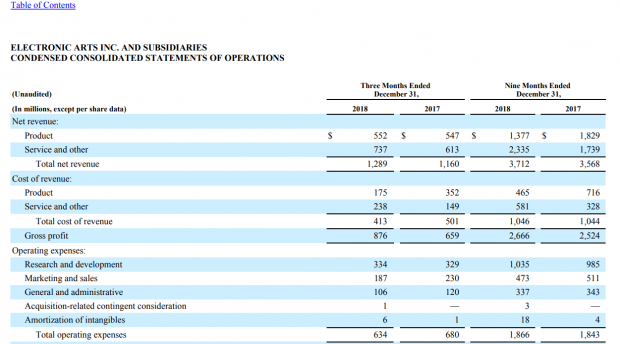 Like most game publishers, EA spends quite a bit on marketing and publishing expenses.
To understand why EA wants to save, we need to investigate on what they're spending.
The company spent $1 billion of its total $1.2 billion in net revenues for the quarter on operating expenses, which include games development, payrolls, R&D, marketing, and more. So EA only kept about $262 million of Q3's earnings as net income and spent about 83% of the money it took in on these expenses.
In the last nine months, EA spent $2.902 billion of its total $3.7 billion on the same expenses, or about 78%, leaving about $801 million left over to keep.
EA also spends quite a bit on marketing and publishing. The company spent $473 million on marketing in the last nine months, accounting for roughly 13% of its total revenues during the period. EA also spent $337 million on administrative fees, which includes employee salaries.
So in an effort to reduce spending, EA did exactly what Activision-Blizzard decided to do and cut jobs across extraneous segments. Reducing spending not only keeps earnings up, but also lessens the impact of more quarterly revenue misses.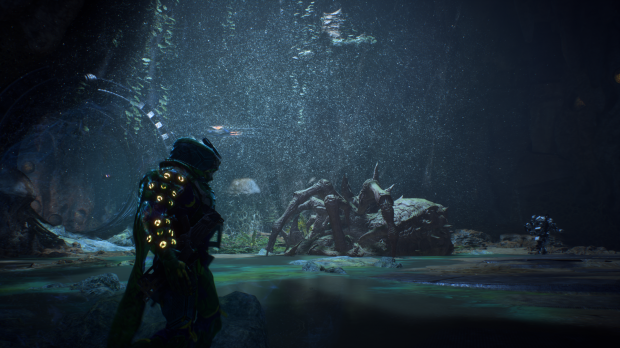 Note that no game development jobs have been affected. No studios have been shut down and no devs have been fired. This is strategic, and shows EA is still commuted to releasing new games and services--the latter of which is extremely important to the publisher.
This revenue drop came at a time when EA was formulating its Creative Council, a new ring of decision-makers who will greenlight new games, services, marketing and publishing campaigns, and business initiatives to help EA avoid more forecast misses.
Armed with its new Creative Council and newfound focus to avoid all earnings drops, the company said it now has to "make hard choices about investments."
Despite not firing any game devs, this affirmation could lead to more cancellations like the two major Star Wars games--Project Orca and Project Ragtag--from EA Vancouver and the now-defunct Visceral Games, and possibly even re-evaluation of core games like Anthem. It could also lead to the scrapping of some of the multiple new IPs that EA is developing.
Here's how Electronic Arts' top brass explains the layoffs:
"We have a vision to be the World's Greatest Games Company," EA CEO Andrew Wilson wrote in an internal memo sent out to employees, as acquired by Kotaku. "If we're honest with ourselves, we're not there right now. We have work to do with our games, our player relationships, and our business."

"As we look across a changing world around us, it's clear that we must change with it," EA publicly said to Kotaku.

"We're making deliberate moves to better deliver on our commitments, refine our organization and meet the needs of our players. As part of this, we have made changes to our marketing and publishing organization, our operations teams, and we are ramping down our current presence in Japan and Russia as we focus on different ways to serve our players in those markets.

"This is a difficult day. The changes we're making today will impact about 350 roles in our 9,000-person company. These are important but very hard decisions, and we do not take them lightly."
EA is expected to release its Q4 earnings sometime in the coming months. Company Chief Financial Officer Blake Jorgensen warned that trends that offset revenue could continue throughout Q4'19 and even into Fiscal Year 2020, so the next report could entail more re-organizational business shifts as well.
Related Tags