EA's live services make triple digital games sales earnings
EA's latest quarterly results show some interesting tidbits, like how its live services tripled the earnings from digital full game downloads.

Published Wed, Jan 31 2018 5:35 PM CST
|
Updated Tue, Nov 3 2020 11:52 AM CST
Electronic Arts' latest fiscal Q3'18 earnings show just how powerful live services are, especially when a big anti-publisher controversy hits.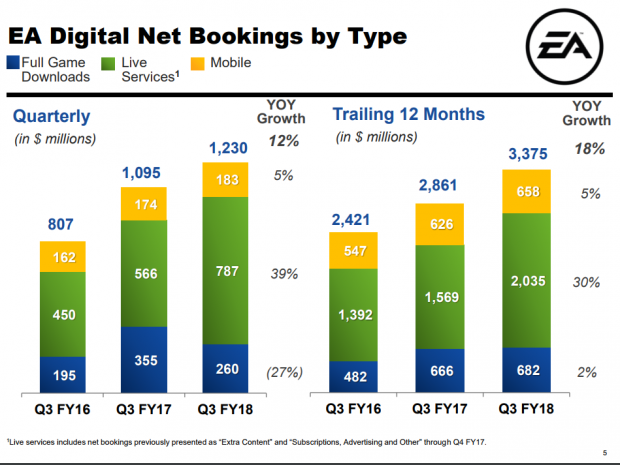 In the third quarter of EA's Fiscal Year 2018 timeline, the publisher made three times as much from live services than full game downloads. Remember that live services include in-game purchases and microtransactions from PC, console and mobile games, as well as subscriptions like EA/Origin Access, DLC, and other digital non-full game purchases. In the three month period from October to December 2017, EA raked in a huge $787 million from live services, up 39% year-over-year. Full game downloads, however, were down by 27% year-over-year to just $260 million--that's over a half a billion dollar's difference.
Live services made up a whopping 64% of the company's digital segment revenues, whereas full game downloads pulled in just 21% of the quarter's segment earnings. In trailer twelve-month figures, which group the quarter with the last 9 months of earnings, live services have made EA $2.035 billion, up a mighty 30% year-over-year and representing about 60% of total trailing twelve-month digital earnings. Conversely, full game downloads didn't even break a billion dollars in the period, sitting at $682 million, or about 20% of total segment earnings for the period.
This highlights a clear trend for EA, one that melds with recent words from company CEO Andrew Wilson: microtransactions and optional in-game purchases are massively lucrative, and will expand and further power the engagement-building strategy that has overtaken the games industry.
Here's what EA CEO Andrew Wilson said during the call in regards to live services:
"Going forward, we believe that live services that include optional digital monetization--when done right--provide a very important element of choice that can extend and enhance these experiences in our games," Wilson said in the call.
"We're committed to continually working with our players for the right experience in each of our games and live services."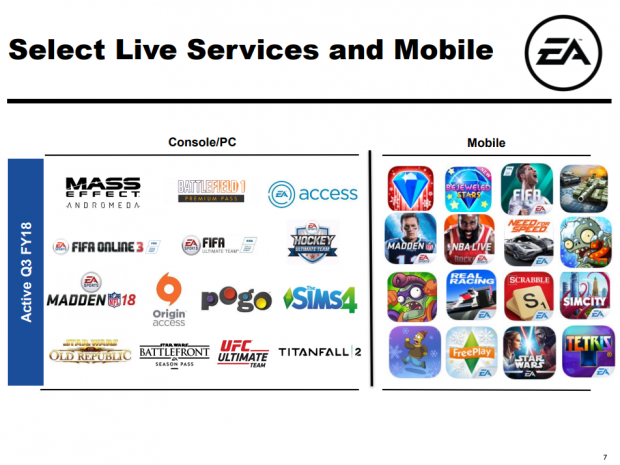 Related Tags