New dark Star Wars Jedi: Fallen Order game teased
Respawn's big new Star Wars game will be revealed soon, and EA is stoking the hype.

Published Tue, Apr 9 2019 3:14 PM CDT
|
Updated Tue, Nov 3 2020 11:48 AM CST
The next big Star Wars game will be revealed this Saturday, and it's a pretty big deal. To celebrate, EA has released some key art to give us an idea of the game's core themes...and they're pretty dire.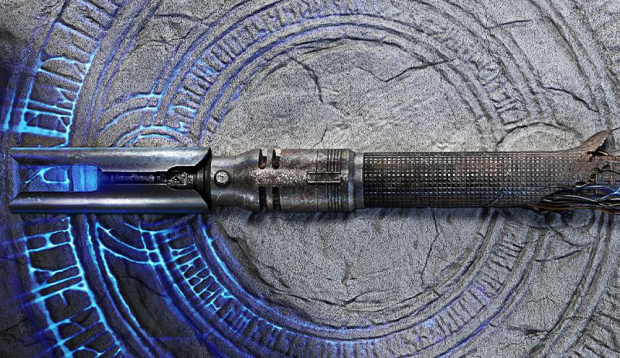 The Titanfall devs at Respawn have been making their new Star Wars game, Jedi: Fallen Order, for years now. Originally set to release after Visceral's cancelled "Star Wars Uncharted" game, Respawn's project has larger-than-life action, an emphasis on third-person Jedi powers and combat, and takes place during an unexplored time between Episodes III and IV when the Jedi were being hunted down during Order 66.
The game has been described as particularly dark, and Respawn promises to focus strongly on character and story development. In fact, Fallout: New Vegas writer Chris Avellone helped pen Jedi: Fallen Order. Now after that quick recap we can take a look at EA's recent teaser, which clearly illustrates that the Jedi are fading away. The lightsaber, which may belong to a padawan named Cal, is damaged and the glyphs are only slightly glowing with power.
Right now we don't know much about Jedi: Fallen Order other than what we've outlined.

But recent reports say the game could be very much like The Force Unleashed without the outrageously over-powered moments. Respawn's promise to push a dynamic story should share similarities with Visceral's project, and the game should follow the magic of the movies quite closely while adding to the canon.
Sources say the padawan, Cal, escaped Starkiller's Jedi massacre and the game will feature characters lifted from the comics. The game takes place five years after Revenge of the Sith, the source says, and will release in November 2019--in time for the holiday season.
Respawn is slated to reveal Jedi: Fallen Order at this year's Star Wars Celebration this Saturday, April 13, 2019 at 2:30pm EST. We'll have all the latest information from the reveal.
Check below for more info on what to expect from the game:
Here's what Respawn's Vince Zampella said about the game at E3 2018: "It takes place during the dark times when the Jedi are being hunted, and it's going to be spectacular."
And here's what Respawn said in their official announcement of the Star Wars project back in 2016:
"We'll be making a third-person action/adventure game set in the Star Wars universe. We promise to pay respect to the Star Wars legacy at all times, a fact that will be constantly reinforced and honored as a central game design tenet. Fans should expect the exemplary level of quality first established at Respawn with Titanfall, a game that epitomizes our studio's dedication to slick, larger-than-life action and fun, groundbreaking mechanics."
Vince also said this back in 2016:
"It doesn't matter if it's in first person. The Star Wars game is a third-person action game. It's going to be more about the character and their experiences. You can see them and identify with them a little differently than you can in a first-person game where it's all about seeing it through your own eyes. But it still has to be about feel and fun."
Related Tags