Visceral Games' cancelled Star Wars project would've told the story through multiple perspectives, just like the films.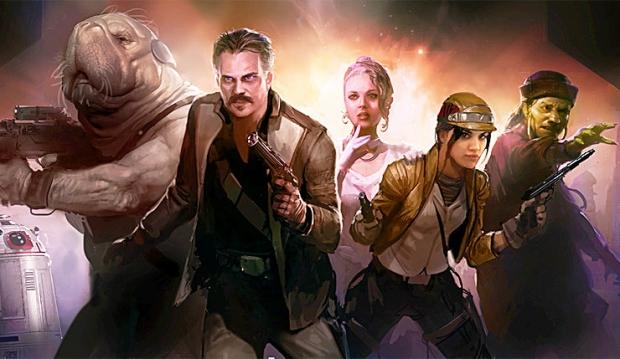 The more I hear about Visceral Games' scrapped Project Ragtag Star Wars game, the more I want to play it. Originally cancelled in 2017 following the closure of Visceral as a studio, the game followed the exploits of a ragtag group of space scoundrels like bounty hunters, misfits, and general ne'er-do'wells.
According to Amy Hennig, who said the game would've been like Star Wars Uncharted, Ragtag was hugely ambitious and would've followed the shifting narrative focus of the movies quite closely.
In a recent interview with IGN, Hennig confirmed the cancelled project would've told the story through the eyes of multiple characters. Ragtag was in development for 3 years and had an ensemble cast that would've added some underdog spirit to the overwhelming Jedi-focused games universe--and even let players improvise to deliver explosively unique moments in-game.
"I did the same thing I did for Uncharted for Ragtag, which was...okay you take these pulp adventure films and deconstructed them to find the requisite parts, the beats, and then how do we reconstruct that as a game in an interactive context and keep that same sense of pace and propulsion so it feels familiar. So I did the same thing for Star Wars," Hennig said.
The major difference was two things: the characters have to be a lot more improvisational, really leveraging the fact that they were the underdog, which meant they had to be really clever about how they used their environment, how they work together, and work that into a game mechanic where players could be improvisational too.
Hennig went on to underline points she made during the 2016 Star Wars Celebration, which promised Ragtag would follow the beats, structure, and overall tone of the films quite closely.
The goal with Ragtag was to make gamers feel as if they're playing a Star Wars movie.
Concept footage from Visceral's cancelled Star Wars project.
"And the other aspect was with side characters. You look at Indiana Jones and he's the protagonist, the other characters are just side characters. They're important, but they're not co-protagonists. In Star Wars, all of them are ensemble stories. And that means all the other characters are co-protagonists. The only way to solve their goals--in Star Wars, you cut away a lot to other events, and we used the Death Star escape an example. For Luke to save Leia, Obi-Wan had to pull the tractor beams down, Han and Chewie had to do their thing, the droids had to open the doors.
"So you could imagine a game where all of those qualities in your cohorts, but they'd also be playable, because if you were playing that you'd be cutting between playing different characters. If you didn't do that in a Star Wars game that was meant to feel like a Star Wars movie, something would feel off and you wouldn't know what it was. But that would be it."
I seriously wish EA hadn't cancelled Project Ragtag, and that Visceral's project was still in the works. Visceral had made tremendous work with Ragtag over the last three years, making models, physics systems, and other unique third-person action elements play nicely with DICE's powerful but awkward Frostbite engine.
Now EA has handed the game off to EA Vancouver, but their game actually died on the vine. EA once again cancelled another Star Wars project so EA Vancouver could make a smaller game that releases sooner.
Respawn's new Star Wars Jedi: Fallen Order game is set to restore balance to the game universe when it launches sometime in 2019.