EA strongly hints Battlefront II has microtransactions
EA says Battlefront II will have a distinct live service plan that will add new content to the game...and we suspect this means microtransactions.
Published May 11, 2017 6:45 PM CDT
|
Updated Tue, Nov 3 2020 11:55 AM CST
6 minute read time
We originally predicted that Star Wars: Battlefront II would have microtransactions, and here's how EA reinforced our forecast with some very specific descriptions.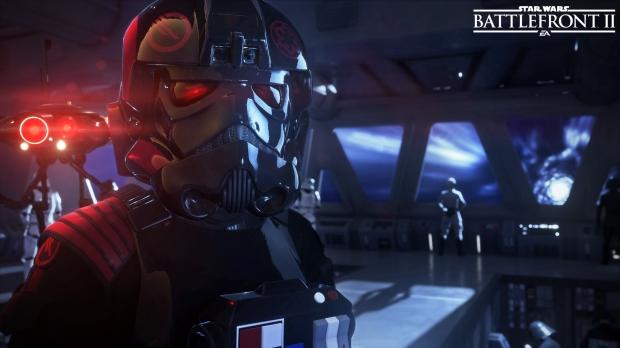 Electronic Arts CEO Andrew Wilson recently affirmed that Battlefront II would launch with three times as much content as the original Battlefront game. Given what I already suspect to be true, I immediately wondered how much of this content would be gated off behind in-game purchases. Wilson said that Battlefront II would have an extensive live service plan that will add more content to the game over time, which is typical for all of EA's big online-based games. To understand how this live service equates to microtransactions, we have to take a look at how EA defines live services, and what they mean.
"Star Wars Battlefront II will have more than three times the content of the previous game at launch, with a brand new story, a new singleplayer campaign, new modes, characters, vehicles and planets from all eras in the Star Wars universe, as well as a live service plan that will continue to add even more fun for the global community. " Electronic Arts CEO Andrew Wilson said in the company's recent earnings call.
As I reported earlier, EA makes huge revenue from live services: last year EA pulled in $1.68 billion from live services. In fact, most of EA's digital net sales were made up of earnings via live services.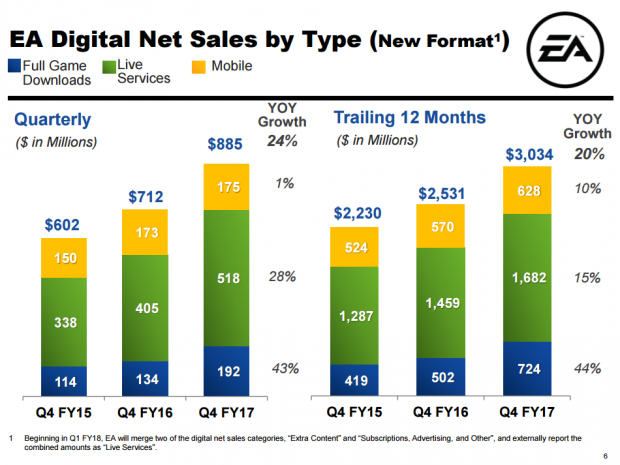 But what are live services, exactly?
This a category that lumps together a number of monetized content features that are featured in online-based games such as FIFA 17, Battlefield 1, Battlefront, and Titanfall 2. Live services include in-game purchases via microtransactions (Mass Effect: Andromeda's loot boxes, for instance) as well as add-on piecemeal DLC or season-pass grade expansions such as Battlefield 1's Premium Pass.
Live services power most of EA's biggest games, and the company has a massively lucrative business formula that involves engagement, DLC, microtransactions and more; EA will use live services as an avenue for prolonged earnings, ensuring the games continue making money long after their release.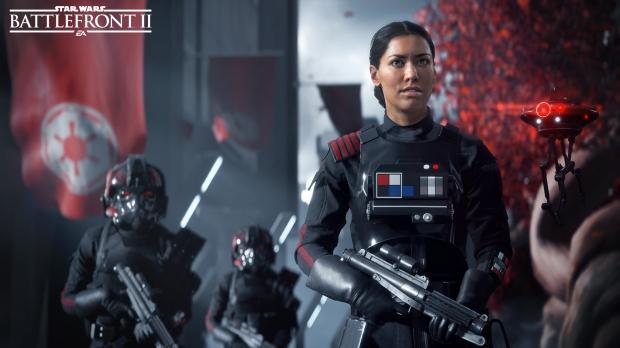 The Clues
Now EA saying that Battlefront II will have a live service plan is obvious, especially since the game has a large online-based multiplayer component. But the main reason why I think Battlefront II will have microtransactions is actually multi-faceted, and has a lot to do with what DICE and EA are saying now, and the mistakes they made with the original game.
DICE's creative director Bernd Diemer recently said that Battlefront II wouldn't have a season pass. "I cannot talk about the specifics of this, but we have something different in mind that will allow you to play longer, be [more] invested in the game without having a fragmented community," Diemer said at the Star Wars celebration.
Diemer's comments prompted EA to say they haven't announced live service info yet, but I'm thinking the DICE dev was somewhere near the mark. EA has to handle Battlefront II's live service plan just right, especially given what happened with the original game.
"While we're not ready to confirm any live service plans just yet, what we can say is this we heard the feedback from our Battlefront community loud and clear. We know they want more depth, more progression, and more content. So we're focused on delivering that in every dimension of Star Wars Battlefront II. We'll have more to share about our plans soon."
EA has made it clear they've learned a lot from the first Battlefront game, and pledges that fan feedback was used to craft Battlefront II. Fans are still quite dubious, especially since 2015's Battlefront had a $50 season pass that didn't even unlock all of its content. The live service map was a broken mess that infuriated the community for quite some time.
Without a proper all-encompassing season pass there's only two real ways for Battlefront II to make money after launch: piecemeal expansions, or microtransactions. Given the first game's terrible live plan, I don't think the first option is valid...so that leaves microtransactions.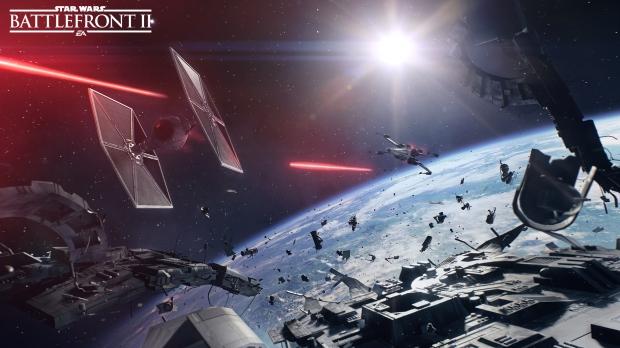 How Battlefront II's microtransactions could work
I personally believe that EA will monetize specific Battlefront II mechanics such as class unlockables, power ups, weapons, ships, and a vast array of cosmetics like weapon/vehicle/armor skins.
I think that these microtransactions will be purchased via an in-game currency, somewhat like Mass Effect: Andromeda, and that the currency purchases will be 100% optional.
Gamers should get a healthy influx of non-premium currency to buy the same upgrades and content that can be bought via premium currency.
EA and DICE have already confirmed that Battlefront II will have a wealth of weapons, armors, abilities and more for players to unlock during their sessions,
At the recent Star Wars Celebration, Battlefront 2's design director Dennis Brannvall said that the team is extremely passionate about supporting the game long after launch, and giving players more ways to further their experience.
"There's a lot of stuff for you to unlock and customize and that's our main way of making sure people can play this game for a long time," Brannvall said during a Q&A session at the Star Wars Celebration.
"We have a very long tail to our game. We are very passionate about supporting it post-launch. [...] We want players to play for a long time so there will be a lot of cool stuff for you to unlock."
Based on what DICE has said, what EA's CEO Andrew Wilson is saying now, and the things that EA must do to distance themselves from Battlefront's original failure, I believe that my predictions should happen.
EA says that it will reveal Battlefront II's live services plans at its EA Play event in June.
Battlefront II will release on November 17, 2017 on PS4, Xbox One and PC. Check below for a list of everything we know about the game so far.
Battlefront 2 details
Full singleplayer campaign that bridges Return of the Jedi and The Force Awakens, play as Imperial special forces commander Iden Versio

New heroes from across all three eras: Darth Maul, Yoda, Luke Skywalker, Kylo Ren and Rey confirmed

Maps from all three eras: prequel, original trilogy, expanded universe - Theed, Takodana, Hoth, Endor, Kamino, Mos Eisley, Yavin-4 and Starkiller Base confirmed

20 vs 20 multiplayer mode

Galactic space battles

Offline 2-player split-screen co-op

Customizable characters and heroes

No season pass, but may have microtransactions

EA Access and Origin Access subscribers get 8-day early access trial starting Nov 9

Releases Nov 17, 2017 on PS4, Xbox One and PC
Battlefront 2 coverage
Related Tags