Visceral's Star Wars project was deep in development before it was cancelled by EA, but the studio's progress won't be wasted.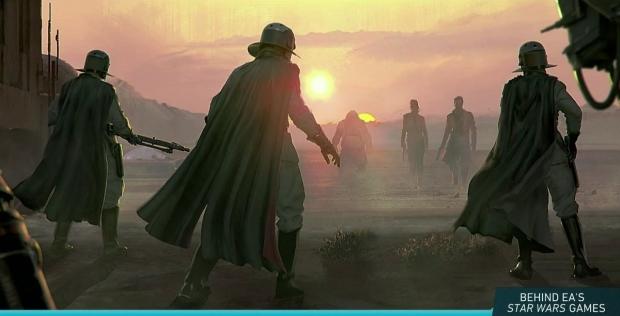 EA has killed multiple Star Wars projects lately. First it cancelled Visceral Games' ambitious third-person story-driven game Project Ragtag, closing the studio in the process. Then Project Orca, which was built on the bones of Ragtag and in development at EA Montreal, was killed off so the studio could morph to a smaller-scale project. While the publisher didn't explicitly outline its reasoning, its focus on billion-dollar live services played a part in the decision.
Now we have more visibility into Visceral's Project Ragtag and how far along it was before EA axed it. In a recent interview with VentureBeat, Amy Hennig, who helmed development of the third-person singleplayer Star Wars game, talked about the process and confirmed the project was pretty far along when EA decided to kill it. "We were very far into development. We had a lot of material. I just think that there was a shift that started feeling inevitable," Hennig said in the interview.
Hennig's team at Visceral also had to wrangle DICE's Frostbite engine and get it to play nicely with an Uncharted-like experience. BioWare too went through great pains building Dragon Age: Inquisition, a big dynamic RPG, in an engine originally built for first-person shooters.
With a lot of effort, Visceral managed to carve out a third-person action game with DICE's potent tools, and that legacy will live on to power future games. The development was hard, technical work and the studio created lots of foundations and methodologies which are now being used by EA Montreal for its new Star Wars project.
"Obviously trying to create a third-person cinematic traversal action game with an engine that was made to make first-person shooters, that was a hurdle," she said.
"But we knew going in that that was the goal. We were going to put this functionality into Frostbite. A lot of the team was hired to do Battlefield, and so that was a bit of a cultural shift, to make this different kind of game. Normally you cache for the project you're making rather than trying to - it's hard to convert the people you have if that's not their type of game."
(Continued below)
Original concept footage for Visceral's cancelled Project Ragtag Star Wars game.
Read Also: Visceral's new Star Wars game to capture the magic of the films
Hennig also said something interesting about Ragtag. The game may have had optional online multiplayer if it had shipped, but its core framework was built solidly around a condensed singleplayer action-adventure game. This of course clashes with EA's current business model of big, online-based open world games that are monetized to the hilt with microtransactions.
"We were trying to make sure that we built in other modes and extensibility and all that stuff. But the fundamental spine of the thing was more like Uncharted than one of these open world, live service games. That's a big gap to cross. I don't know how you get from here to there.
"And then to try to push something that may not quite fit into the portfolio as it is today, and try to do it at this really expensive studio - it was a bit of an uphill battle. All of that stuff is publicly known."
The saga of Visceral Games and its interesting Star Wars game might not end here. Let's hope that one day the project will live on through new and exciting games that aren't complete engagement-driven affairs. Although the game is dead and Visceral is no more, we'll always wondering what Ragtag could've been if EA and Disney had been willing to take a chance.
Despite EA having only shipped two Star Wars games in the last five years, Disney is quite happy with its arrangement with the publisher and has absolutely no plans to make games again.