TweakTown's Best of CES 2019 Awards
There were a LOT of awesome products and gadgets unveiled at CES 2019, but which ones are the best? Here's our Best of CES 2019 list.

Published Jan 11, 2019 6:21 PM CST
|
Updated Tue, Nov 3 2020 6:57 PM CST
8 minute read time
Introduction + Graphics & Gaming
Graphics & Gaming
There were countless new gaming monitors, an amazing spread of NVIDIA GeForce RTX graphics inside of all of these gaming beasts, and larger-than-life BFGDs and 120/144Hz gaming TVs that'll melt a wallet 24/7/365. We'll begin with a huge 43-inch 4K 120Hz display from ASUS.
ASUS Strix XG438Q monitor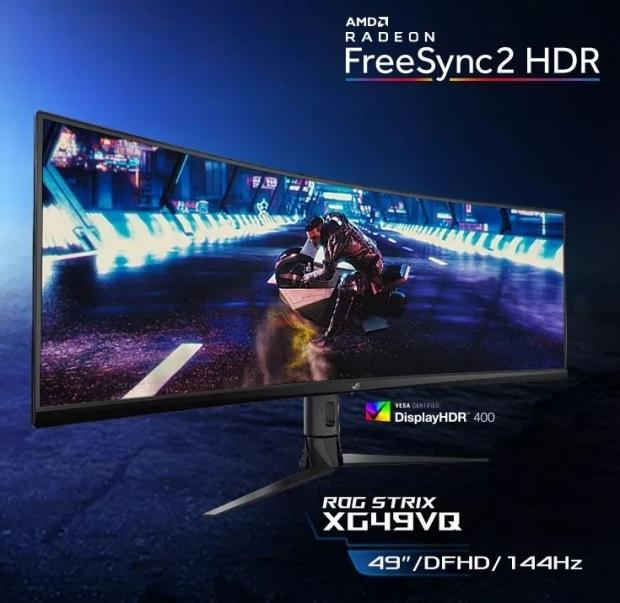 ASUS kicked it out of the park with the announcement of the new Strix XG438Q monitor, a huge new 43-inch display with native 4K resolution and 120Hz refresh rate. It's joined by AMD FreeSync 2 HDR technology, ready for a next-gen Navi GPU later this year. The market opening up to larger 43-inch 4K 120Hz panels is very welcomed as they're tapping out at 27-inch with the first wave of 4K 144Hz displays, but a larger 43-inch 4K 120Hz display? Sign me up.
Dell 55-inch 4K 120Hz OLED (!!!)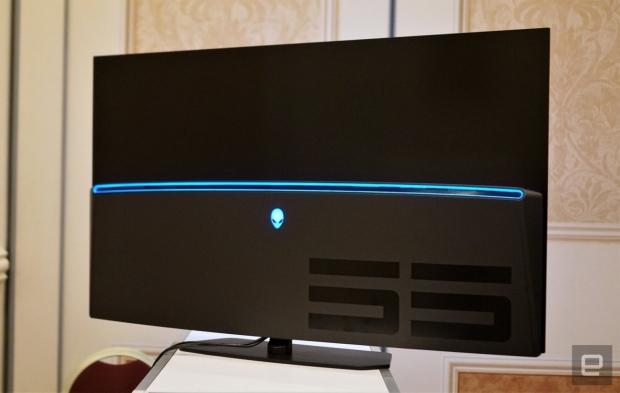 If there is a monitor that went straight to the top of my Must Buy list, it would be the new Alienware 55 OLED. It's a huge new 55-inch 4K 120Hz TV with OLED technology which should ensure beautiful and vibrant colors, deeper-than-real blacks, and super-smooth gaming with its 120Hz refresh rate. Dell and Alienware were quiet on detailed specs, but we should expect big things from the Alienware 55 OLED when it hits the market.
Razer Raptor monitor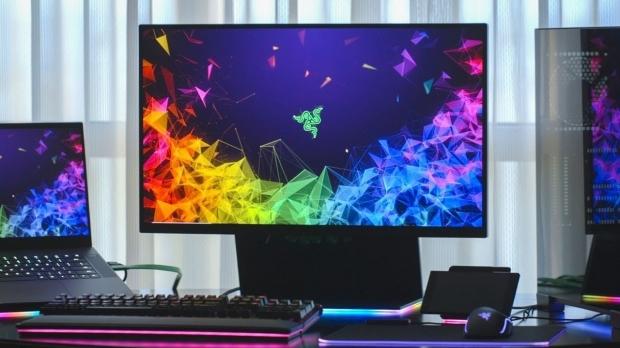 This is a new thing for Razer; gaming displays, and it has come out with one of the most interesting ones in a very long time. The new Razer Raptor is a smaller 27-inch gaming monitor with a native 1440p resolution and 144Hz refresh rate. But it's the design that is special, as it has built-in cable management and a screen that can be height adjusted better than I've seen most other gaming displays do it. This was one of the more nifty gaming monitors at CES 2019.
HP Omen X Emperium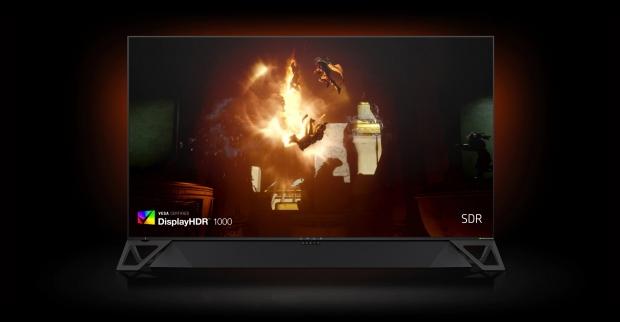 HP's new Omen X Emperium is the latest Big Format Gaming Display, or BFGD, that comes in with a huge 65-inch 4K 120Hz HDR G-Sync TV. HP's new 65-inch 4K 120Hz panel can be overclocked to 144Hz for some high-res, high-refresh rate gaming in the living room. It even includes a built-in NVIDIA Shield and Google Assistant, as well as a soundbar. It'll cost $5000 but if you want the best of the best... look no further than the HP Omen X Emperium.
Samsung 98-inch 8K TV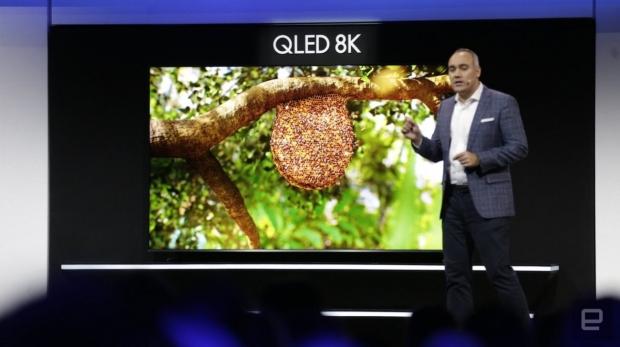 Samsung was one of the first to out its huge 98-inch 8K TV, with an equally-as-large native resolution of 7680 x 4320 it rolls out with Quantum Dot technology and 8K AI Upscaling that Samsung says will make 4K content look great blown up into 8K. We're expecting a cost of $25,000 or more so if you're going to buy one you know where to send it... to me!
Samsung CRG9 monitor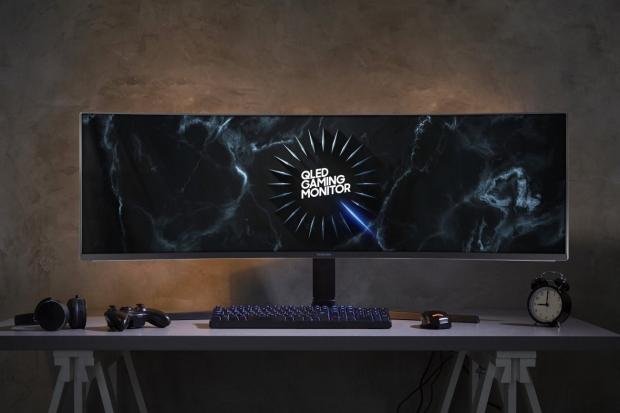 Yet another delicious gaming display this time from Samsung and it's simply-named CRG9 monitor which will arrive as a huge 49-inch 5K 120Hz FreeSync 2 display. The native 5120 x 1440 resolution is great as it provides the equal desktop real estate of 2 x 1440p displays, but in a single and massive super-ultra-wide 5K gaming monitor, oh and all at 120Hz!
NVIDIA GeForce RTX (desktop and mobile)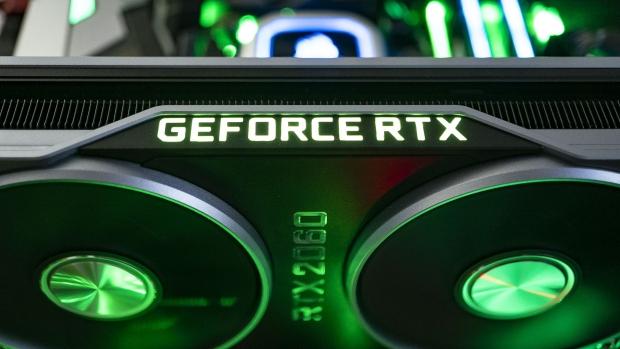 GeForce RTX everywhere. NVIDIA launched its new Turing-based GeForce RTX family of graphics cards over the last few months and there has been an absolute flood of new desktop PCs and gaming laptops unveiled with new RTX series cards and designs. Everything from super-portable RTX 2060 gaming laptops through to mega-beast RTX 2080-powered gaming laptops with 1440p 144Hz and 4K HDR displays. There have been some unique PCs with GeForce RTX graphics unveiled too, and they'll all be needed for the crazy 4K 120Hz and 8K TVs that have also flooded CES this year.
NVIDIA also made its new mid-range GeForce RTX 2060 official during CES 2019, with our review on the card here.
ASUS ROG Mothership notebook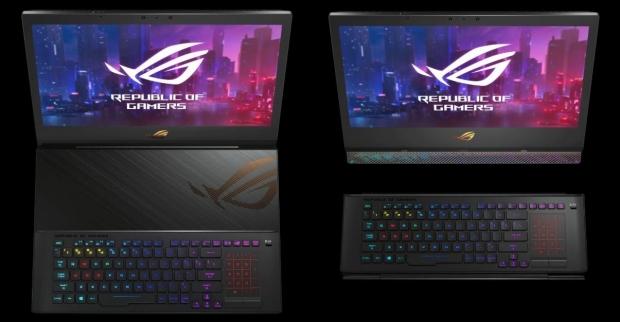 Another big surprise from ASUS this year was the introduction of the ROG Mothership, a new Surface Pro-style gaming laptop that acts as a crazy-fast gaming laptop but will act as a portable desktop gaming PC powerhouse when needed. Inside we'll find Intel's new Core i9-9850HK processor, NVIDIA's GeForce RTX 2080 graphics card and a huge 17.3-inch 1080p 144Hz display with G-Sync technology on top.
MSI GeForce RTX 2080 Ti Lightning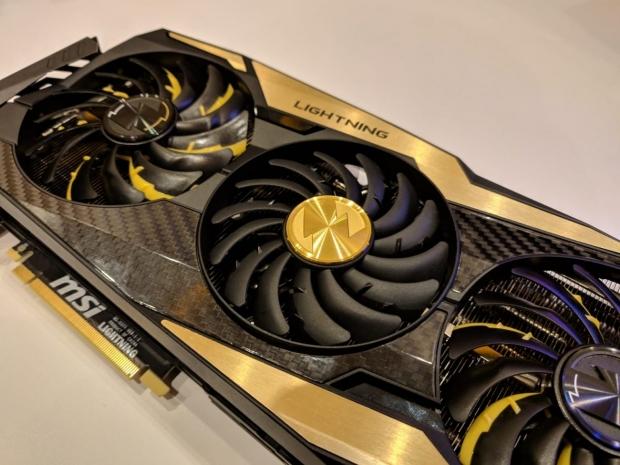 MSI used CES 2019 to unveil its new GeForce RTX 2080 Ti Lightning graphics card, its most premium GPU offering. The new card rocks a huge triple-fan cooler that is covered in a gold/black theme with blends of carbon fiber. This is a card for enthusiasts and I'm sure not many of them would be made. I truly can't wait to see what overclockers and modders can do with MSI's new GeForce RTX 2080 Ti Lightning graphics card.
LG Rollable TV TV R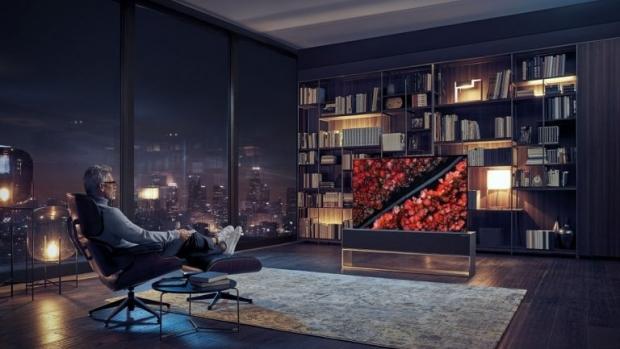 With LG's new Signature Series OLED TV R you truly can roll up your TV and smoke it... well, not really, but you get what I mean. The company unveiled a large-but-not-crazy-large 65-inch 4K OLED TV that rolls back up into its base when you're finished with it. It is a boutique TV meant for the rich and famous, and not for mere mortals. We should eventually see this technology baked down to us in the consumer world in the future, but for now - wow, just wow.
HTC Vive Pro Eye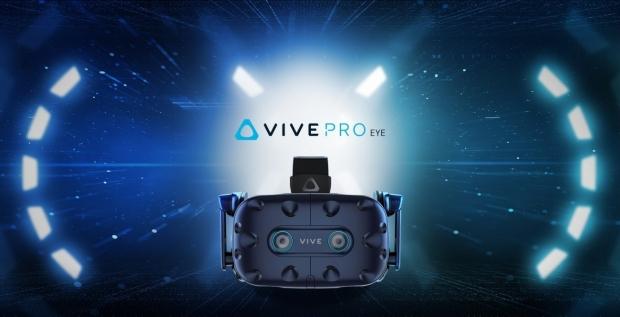 HTC unveiled a new eye-tracking version of its Vive Pro VR kit that sells for $799, with the new Vive Pro Eye made for businesses and enterprise use versus gamers wanting an improved VR experience from the Vive. The new eye-tracking headset is powered through the PC as usual, but packs eye-tracking sensors. It'll sell in Q2 2019 and will be more expensive than the Vive Pro which sells for $799... so maybe $999 or more.
Alienware 51m laptop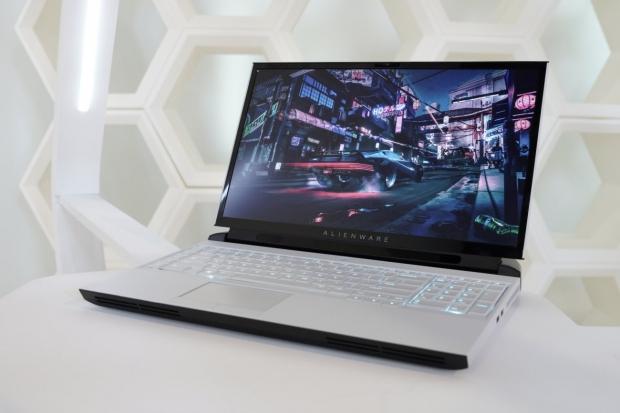 Alienware unveiled a beast of a new laptop with its Alienware 51m that packs an Intel Core i9 processor and NVIDIA GeForce RTX 2080 graphics but it's the huge 17.3-inch 1080p 144Hz G-Sync display that'll have you attracted. Inside is Intel's new Optane storage technology that'll make sure you have super-fast OS and game load times, but what is interesting here is that Alienware is letting you upgrade the CPU as it's a standard desktop-class CPU while GPU upgrades can be done through on-board graphics module replacements. Cool.
GIGABYTE Aorus AD27QD Tactical gaming monitor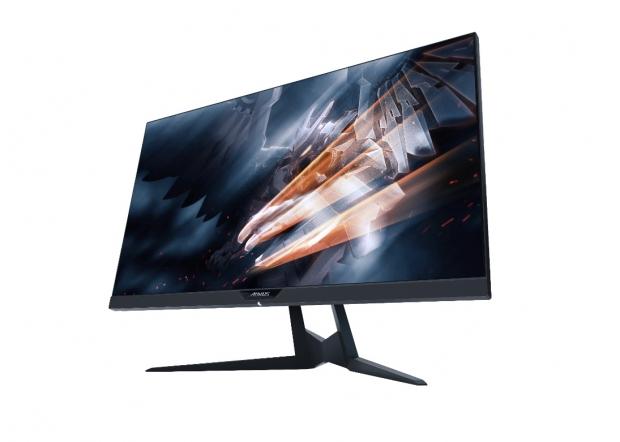 GIGABYTE unveiled a new gaming monitor at CES under its AORUS brand, with a new 27-inch 1440p display with 144Hz refresh. GIGABYTE says it has 95% DCI-P3 RGB color coverage, with swivel, tilt, and pivot options. There are RGB LEDs built into the back of the display that will light up your wall when gaming, which is a nice touch. There's also some nifty noise cancellation technology built into the AORUS AD27QD, too.
CPU & RAM
AMD Ryzen 3000 series CPUs
AMD teased its new 7nm CPUs at CES 2019 with the unveiling of a prototype Ryzen 3000 series CPU of some sort, which is based on the new Zen 2 architecture. It was compared against an Intel Core i9-9900K processor (8C/16T) and the prototype 7nm Zen 2 CPU was beating it. We should expect Zen 2 processors with the Ryzen 3000 series to roll out during Computex 2019 later this year alongside the new X570 chipset that'll rock PCIe 4.0 connectivity.
Thermaltake WaterRAM RGB RAM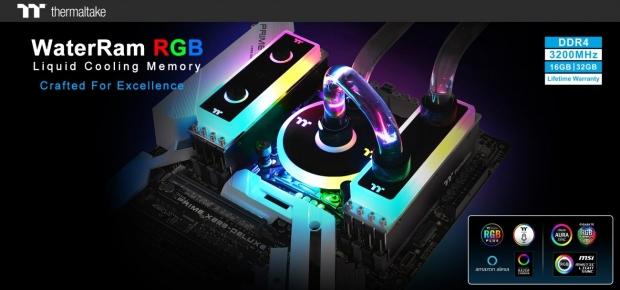 We all knew it was coming in droves, and here it is: Thermaltake has unveiled its first RAM modules that are liquid cooled and of course rock RGB lightning. The new Thermaltake WaterRAM RGB liquid cooling memory arrives in both 16GB and 32GB packages at up to DDR4-3200 spec. It'll cost you a fair bit, with the company pricing it at $439 for the 32GB kit.
G.Skill Trident Z Royal DDR4 RAM
Man oh man does the G.Skill Trident Royal DDR4 RAM look good, but it's also ridiculously good RAM as well. It is available with up to 64GB in a kit, and is gold and diamond infused and just looks so ridiculously good.
Corsair Capellix LED technology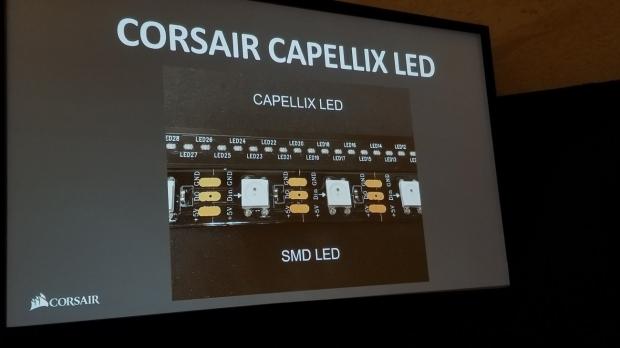 Corsair took a big leap with its ultra-small LED Capellix modules, where they have shrunk LEDs by an astounding 92% which lets the company put even more LEDs on the PCB for brighter hues, as well as lowers power consumption by a huge 40% and lifespans jump 35%. You really can't complain about that. They look better, use less power, and are awesome. Awesome, again.
Storage
Intel Optane Memory H10 with Solid State storage
What do you get with an Intel Optane Memory (cache) SSD and an Intel SSD 660p in the same system? An excellent user experience on the cheap. Sometime around June or July you will be able to buy a single SSD with both 3D XPoint and QLC flash technology combined in a single M.2 SSD that Intel calls Optane Memory H10. It's not like Intel's 660p SSD is slow on it's own. The drive delivers impressive random read performance but QLC, by nature, doesn't offer the same endurance as TLC. Intel's upcoming "hybrid SSD" will increase overall endurance and should deliver a three times boost to random read performance.
Seagate IronWolf SSD
After years of urging companies to make a purpose-built NAS SSD, Seagate is the first out of the gate with such a product. The new Ironwolf SSD uses Seagate's Durawrite technology acquired in the LSI acquisition. The SandForce derived technology lives on and should make an excellent drive for use in SMB and SME NAS.
Seagate says the new series plays a dual role as a high-speed cache tier either in systems or as primary storage. Capacities range from 240GB to 3.84TB. Like the Ironwolf HDDs, the new Ironwolf SSD products use the SATA bus to maximize compatibility with NAS appliances. Also like the HDDs that share the same namesake, the new SSDs support advanced monitoring and reporting details implemented in systems from QNAP, Thecus, Synology and Asustor.
Phison E16 SSD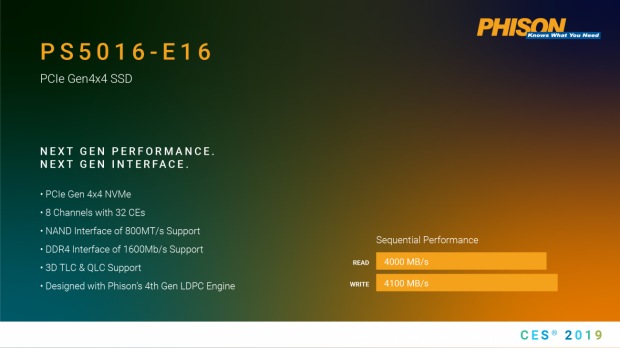 Phison isn't the first to talk about PCie 4.0 consumer SSDs, that honor goes to Silicon Motion with the upcoming SM2264 controller. Phison is the first to show a working reference design that will eventually become a branded product and it's already faster than every existing consumer drive shipping today. The E16 delivered just over 4,000 MB/s sequential read and write speeds while on display using a PCIe 3.0 x16 to PCIe 4.0 x4 bridge that is required to reach the record setting speeds. The E16 should improve on the existing E12 controller currently shipping by 500 to 600 MB/s.
Peripherals & Misc.
Corsair IRONCLAW RGB mouse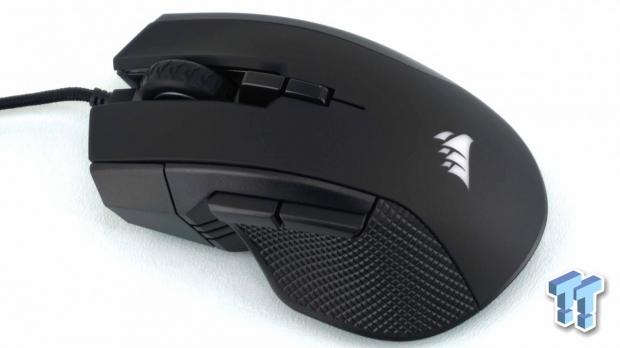 Corsair has released a slew of new products at CES 2019 with the new IRONCLAW RGB the best of the show, so if you're an FPS or MOBA gamer you're going to want to dive in and grab one. You can read Chad's review on the Corsair IRONCLAW RGB mouse right here.
ASUS AX88U router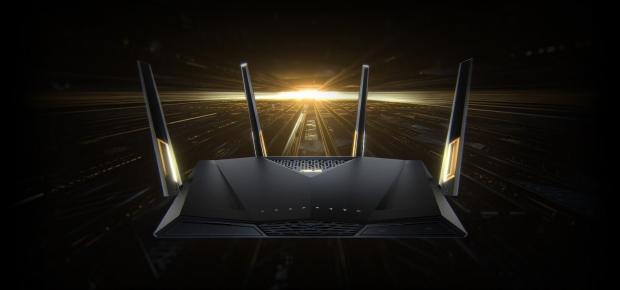 The new ASUS RT-AX88U is a dual-band 802.11ax Wi-Fi router that packs MU-MIMO support, as well as the gaming-focused and built-in wtfast game accelerator and Adaptive QoS. We're looking at up to 6Gbps over Wi-Fi over the 2.6Gbps that is achieved over 802.11ac MU-MIMO courtesy of the 4x4 dual-band Wi-Fi router with 160MHz bandwidth and 1024-QAM, that culminates to 6000Mbps through the 1148Mbps over the 2.4GHz band and 4804Mbps over the 5GHz band. Incredible speeds.
Lian Li PC-O11 Dynamic Designed by Razer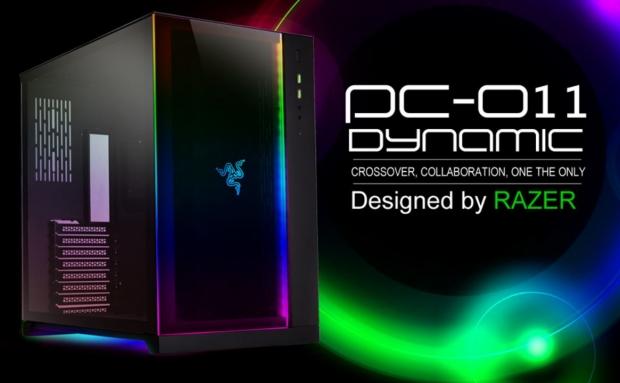 The new Lian Li PC-O11 Dynamic Designed by Razer is exactly how it sounds: a new case from Lian Li that Razer designed. It has RGB lightning throughout, and it all syncs up with Razer Synapse 3, but it has the beautiful design and touch of Lian Li, one of the oldest masters in the game. There are 3 RGB light strips on the case that can be tweaked with Razer's own Synapse 3 software. Heaps of spots for the best hardware you can imagine, with dust filters and protection throughout.
NETGEAR / Arlo Ultra security cameras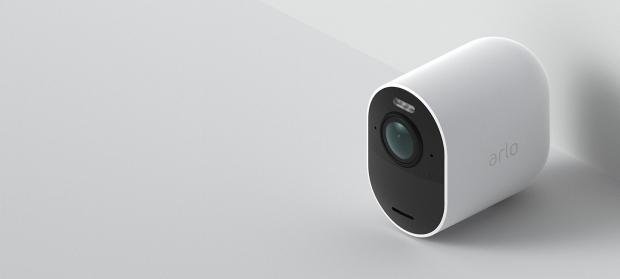 Netgear continues to evolve its Arlo brand of security cameras with the Arlo Ultra unleashing 4K HDR image quality, enhanced night vision, an integrated spotlight which is bright and motion-activated, 180-degree panoramic field of vision, and noise cancellation technology.
PRICING: You can find products similar to this one for sale below.

United States: Find other tech and computer products like this over at Amazon.com

United Kingdom: Find other tech and computer products like this over at Amazon.co.uk

Australia: Find other tech and computer products like this over at Amazon.com.au

Canada: Find other tech and computer products like this over at Amazon.ca

Deutschland: Finde andere Technik- und Computerprodukte wie dieses auf Amazon.de
We openly invite the companies who provide us with review samples / who are mentioned or discussed to express their opinion. If any company representative wishes to respond, we will publish the response here. Please contact us if you wish to respond.