Alienware 51m laptop has swappable CPU, GPU
Alienware's new 51m laptop is modular, and its CPU and GPU can be upgraded.

Published Tue, Jan 8 2019 4:31 PM CST
|
Updated Tue, Nov 3 2020 11:49 AM CST
CES 2019 - Alienware today announced the world's most powerful laptop, the Alienware 51m, which blurs the line between laptop and desktop gaming.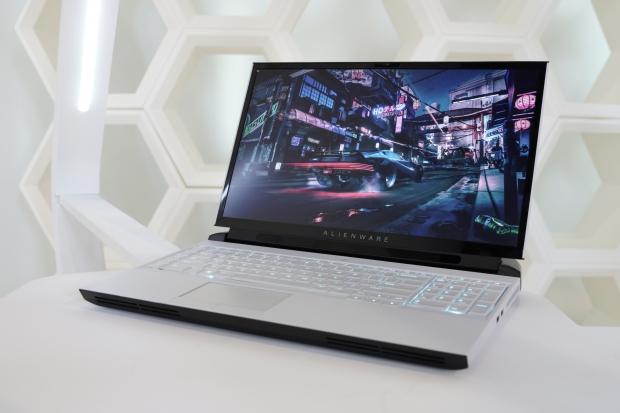 The Alienware 51m sports some serious horsepower with configurations up to an NVIDIA GeForce RTX 2080 alongside a desktop-grade overclockable 9th gen Intel i9 processor, and is the first in brand history to feature 8-core 16 thread Intel CPUs leveraging the Z390 chipset. Despite the raw brunt and power, the most interesting thing about the 51m is it lets users swap out GPU and CPU components as if it were a desktop.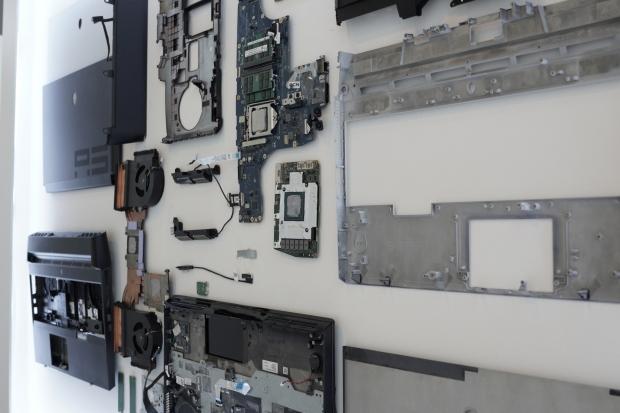 There's one catch: GPU swaps have to comply with Dell's Graphics Form Factor (DGFF) standard, so most gamers will rely on the Alienware Graphics Amplifier external GPU box for upgrades until AMD or NVIDIA release new cards in the format. "CPU upgrades can be done using standard desktop-class processors, while GPU upgrades can be done via onboard graphics module replacement," Alienware said.
The laptop-desktop hybrid also sports a 17.3-inch 1080p FHD 144Hz G-Sync IPS panel display with Tobii eye-tracking, up to 64GB of DDR4-2400MHz RAM, and up to triple storage configurations including Intel's new Optane tech. An enhanced cooling system ensures those higher-end components stay nice and cool during demanding gaming sessions.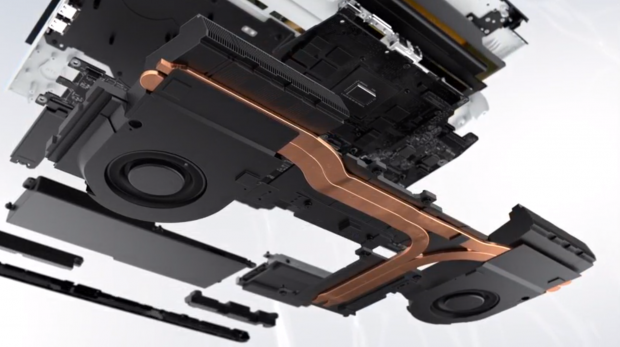 As far as software, Alienware has infused its one-click Command Center tech to manage everything from easy overclocking to RGB color profiles, fan settings, and adjustable gaming performance settings.
No pricing or launch info was confirmed, but as you'd guess there's lots of possible configurations. Check below for a full spec sheet of all the possible Alienware 51m configs: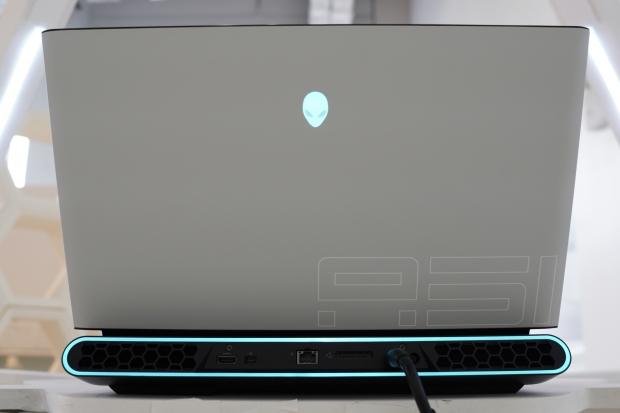 Feature Technical Specification
Model Number1 Area-51m R1
Processor Options
9th Generation Intel® Core™ i7-8700 (6-Core, 12MB
Cache, up to 4.6GHz w/ Turbo Boost)
9th Generation Intel® Core™ i7-9700K (8-Core, 12MB
Cache, up to 4.9GHz w/ Turbo Boost)
9th Generation Intel® Core™ i9-9900K (8-Core, 16MB
Cache, up to 5.0Ghz w/Turbo Boost)
Operating System1,2 Microsoft® Windows® 10 Home 64-bit
Microsoft® Windows® 10 Pro 64-bit
Chipset
Intel® Z390 Chipset
Memory Options1,2,3 8GB (1x8GB) DDR4 2400MHz*
16GB (2x8GB) DDR4 2400MHz*
32GB (2x16GB) DDR4 2400MHz*
64GB (4x16GB) DDR4 2400MHz*
Storage Options1, 5 Single Storage Configurations
1TB (+8GB SSHD) Hybrid Drive
256GB PCIe M.2 SSD
512GB PCIe M.2 SSD
1TB PCIe M.2 SSD
Dual Storage Configurations
128GB PCIe M.2 SSD + 1TB (+8GB SSHD) Hybrid
256GB PCIe M.2 SSD + 1TB (+8GB SSHD) Hybrid
512GB PCIe M.2 SSD + 1TB (+8GB SSHD) Hybrid
1TB PCIe M.2 SSD + 1TB (+8GB SSHD) Hybrid
116GB Intel Optane SSD + 1TB (+8GB SSHD) Hybrid
Dual Storage Configurations
512GB RAID0 (2x 256GB PCIe M.2 SSDs)
1TB RAID0 (2x 512GB PCIe M.2 SSDs)
2TB RAID0 (2x 1TB PCIe M.2 SSDs)
236GB RAID0 (2x 116GB Intel Optane SSDs)
Triple Storage Configurations
512GB RAID0 (2x 256GB PCIe M.2 SSDs) + 1TB (+8GB
SSHD) Hybrid Drive
1TB RAID0 (2x 512GB PCIe M.2 SSDs) + 1TB (+8GB
SSHD) Hybrid Drive
2TB RAID0 (2x 1TB PCIe M.2 SSDs) + 1TB (+8GB
SSHD) Hybrid Drive
236GB RAID0 (2x 116GB Intel Optane SSDs) + 1TB
(+8GB SSHD) Hybrid Drive
Graphics
NVIDIA® GeForce® RTX 2060 with 6GB GDDR6
NVIDIA® GeForce® RTX 2070 with 8GB GDDR6
NVIDIA® GeForce® RTX 2080 with 8GB GDDR6
Display1 17.3" FHD (1920 x 1080) 60Hz Anti-Glare IPS Display
17.3" FHD (1920 x 1080) 60Hz Anti-Glare IPS Display
with NVIDIA G-SYNC technology
17.3" FHD (1920 x 1080) 144Hz Anti-Glare IPS Display
with Tobii eyetracking technology
17.3" FHD (1920 x 1080) 144Hz Anti-Glare IPS Display w/
NVIDIA G-SYNC + Tobii eyetracking technology
Additional Display Specifications (all options)
• Three-sided narrow border displays
• 300-nits brightness
• 72% color gamut
Audio and Speakers
2.0 Speaker configuration
Alienware Sound Center via Alienware Command Center
7.1 Digital Audio out using HDMI out connection
Optical Drive Options Yes
External options only
Ports
1 Alienware Graphics Amplifier Port
2 DC Power Input Ports
1 Thunderbolt™ 3 with DisplayPort
1 RJ-45 Realtek 2.5Gbps Ethernet Port
2 USB 3.1
1 USB 3.1 with PowerShare
1 HDMI 2.0 Port
1 Mini-display 1.4 Port
1 Audio Out
1 Global headset
Slots 4 SODIMMs
Wedge-shaped lock slot
Chassis Materials
Magnesium alloy
Color Options
Lunar Light
Dark Side of the Moon
Keyboard
Alienware TactX keyboard with per-key RGB LED
AlienFX lighting, anti-ghosting, and N-Key rollover
technology 2.2mm key travel, programmable macro keys,
alphanumeric keys
Camera
Alienware HD (1280x720 resolution) camera with dualarray integrated microphones
Connectivity Options1
10/100/1000/2.5Gbps RJ-45 Ethernet network
Killer Wireless 1550 2x2 AC and Bluetooth 5.0
Battery Options
1 Lithium Ion (90 Wh) Battery, ExpressCharge capable,
Integrated
Power Dual A/C adapter Options
180W + 180W adapters
180W + 240W adapters
180W + 330W adapters
Dimensions & Weight
Width 16.1 inches (410 mm)
Height 1.23 inches (31.2 mm) [rear]
Height 1.7 inches (42 mm) [peak]
Height 1.09 inches (27.65 mm) [front]
Length 15.85 inches (402.6 mm)
Max Weight 8.54 lbs. (3.87 Kg)
Software
Alienware Command Center including AlienFX lighting,
Game Library, and Alienware Adrenalin, Alienware Mobile Connect
Peripheral Ecosystem1
Alienware 34 Curved Gaming Monitor - AW3418DW,
Alienware Graphics Amplifier, Alienware Wireless
Gaming Headset - AW988, Alienware Pro Gaming
Keyboard - AW768, Alienware Elite Gaming Mouse -
AW959, Alienware 25 Gaming Monitor - AAW2518H
Related Tags