TweakTown's Best of CES 2020 Awards - AMD Dominated The Show
TweakTown has a bunch of Best of CES 2020 awards to give out, but what did we think was best?

Published Jan 9, 2020 5:05 PM CST
|
Updated Tue, Nov 3 2020 6:57 PM CST
6 minute read time
Introduction
Introduction: The Best of CES 2020
Can you believe it is 2020 already? In the first days of 2020 are some of the hardest days of people working in the technology industry, with the annual Consumer Electronics Show taking place in Las Vegas, Nevada. At the show we have technology and products that range from sex toys to the latest and greatest mobile devices, self-driving cards, gaming PCs and peripherals, and even pizza-making robots on the floor of CES 2020.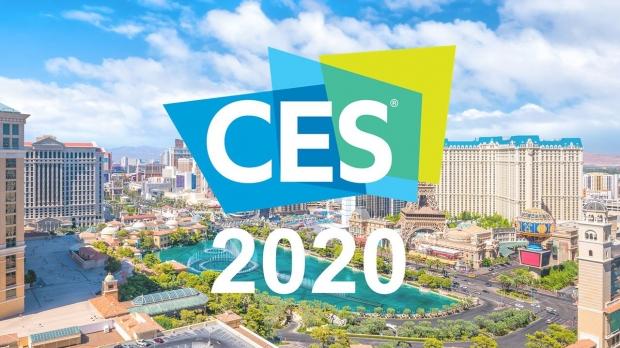 With another CES almost behind us, we have TweakTown's own Best of CES awards to give out -- something that we've compiled a list for in this article. There was a lot to be shown at this years event, with AMD debuting a bunch of new products that started the show off with a huge Team Red bang.
NVIDIA continued its domination in the gaming market with high-end and enthusiast level products, with a much stronger (and very welcomed) push on their Big Format Gaming Display (BFGD) TVs. LG, Samsung, Sony, Dell/Alienware, Panasonic and what felt like every other company on the market has gigantic new 4K 120Hz and plenty of 4K 120Hz OLED TVs on the way in 2020, teased at CES 2020.
Gaming companies took the opportunity to unveil new gaming PCs, gaming laptops, handheld gaming prototypes, cases and peripherals. We have a slew of new high-end gaming monitors with Samsung unveiling a gigantic 49-inch 5120 x 1440 monitor at 240Hz, which will not only hurt your wallet but there's no graphics card that can handle it, yet.
There was no show off of AMD's next-gen Zen 3 architecture, the upcoming 'Big Navi' in the Navi 21 GPU, or NVIDIA's new Ampere GPU architecture. Intel showed off its new Tiger Lake CPU architecture with Xe GPU cores, as well as a quick sneak peek of Intel's upcoming DG1 graphics card playing Destiny 2 at an unknown resolution and detail level.
CES 2020 was a gigantic one this year, and one of the biggest -- a great way to start off a new decade, especially if you're like me and an eternal geek. With that, let's dive into TweakTown's Best of CES 2020 products.
CPUs & GPUs
AMD Ryzen 4000 Series Mobile CPUs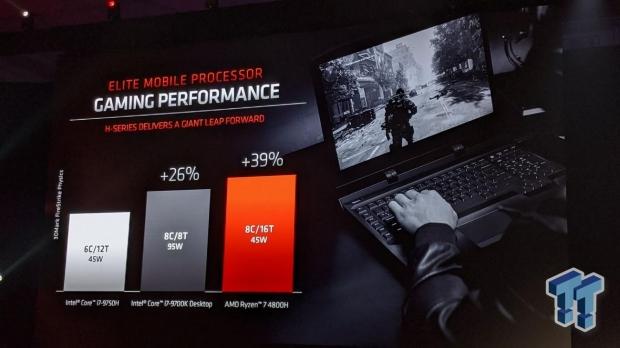 AMD unveiled their new Ryzen 4000 series mobile CPUs at CES 2020, with the flagship Ryzen 7 4800H designed to provide desktop performance for laptops. The new Ryzen 7 4800H provides Core i7-9700K desktop performance in the laptop form factor, while the new Ryzen 7 4800U delivers 8C/16T at just 15W. Expect over 100 designs of Ryzen 4000 series powered laptops in 2020.
AMD Ryzen Threadripper 3990X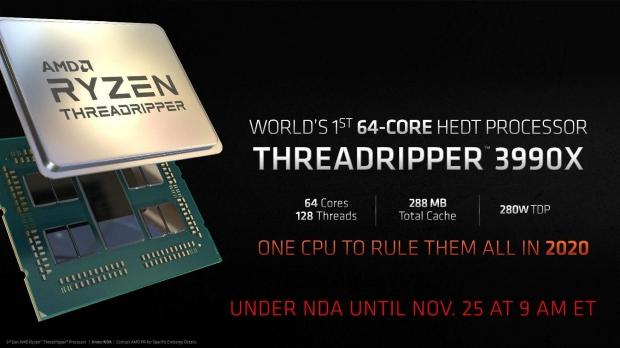 The beast is finally here! AMD unleashed its insane 64-core/128-thread Ryzen Threadripper 3990X processor during its CES 2020 keynote, powered by the kick ass Zen 2 architecture and packing up to 288W of cache. AMD's new Ryzen Threadripper 3990X will cost $3990 (surprised?) when it launches on February 7 to kick more Intel ass.
AMD Radeon RX 5600 XT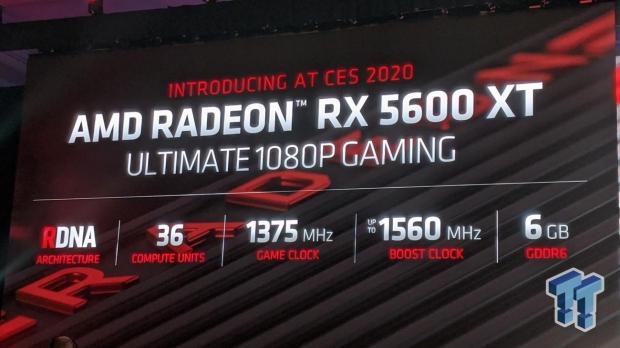 AMD's release of the mid-range Radeon RX 5600 XT wasn't too much of a surprise considering how many leaks there were on it before its announcement at CES 2020, but mid-range Navi and the use of GDDR6 is great to see. AMD is still using the Navi 10 GPU architecture made on the 7nm node here with the RX 5600 XT, as well as 6GB of GDDR6 at 12Gbps.
Intel Ice Lake + DG1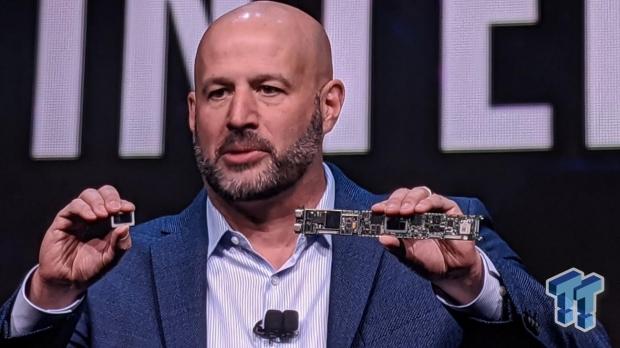 Intel had a tiny showing of its upcoming Tiger Lake architecture, powered by Xe GPU cores -- not only that, but the new Tiger Lake chip will be made on the 10nm+ node while Intel teased its DG1 discrete graphics at CES 2020. There was nothing held up on stage, but it makes it into our 'Best of CES 2020' awards because it references Intel's return to discrete graphics -- and I loved the old school Intel i740 back in the AGP days.
Displays & TVs
ASUS ROG Swift + NVIDIA 360Hz Display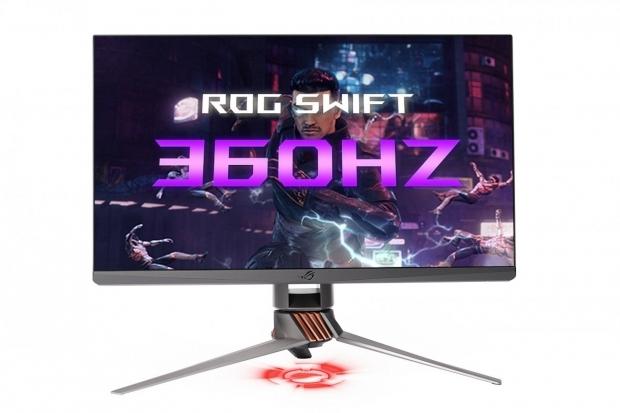 NVIDIA teamed with ASUS on the world's first 360Hz gaming monitor, with a new ROG Swift 360Hz monitor coming in 2020 that will pack a 24.5-inch 1080p monitor with the insane refresh rate of 360Hz. You will need a next-gen Ampere-based graphics card to handle games at 360FPS average, but just holy balls -- 360Hz!
Samsung Odyssey G9: 49-inch 5120 x 1440 @ 240Hz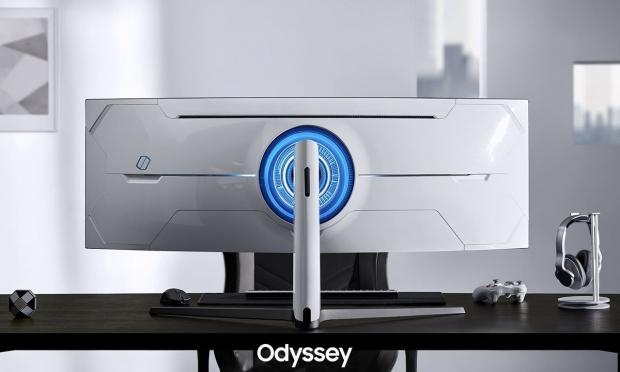 Samsung unveiled a gorgeous new Odyssey G9 gaming monitor at CES 2020 that took my breath away, a gigantic new 49-inch super-ultra-wide 32:9 aspect display with a native 5120 x 1440 (!!!) resolution and 240Hz (!!!) refresh rate. Samsung is using a QLED panel on the Odyssey G9 monitor, with the 5K wide display rolling out with a 240Hz refresh meaning not many cards on this planet can run this display at full graphics/detail (yet).
LG 88-inch 4K 120Hz OLED w/NVIDIA G-Sync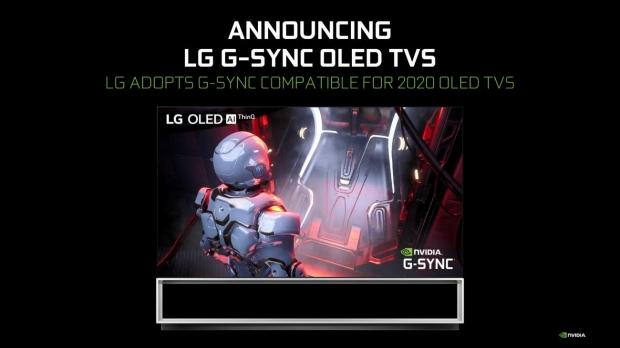 I seriously can't imagine how a gigantic 88-inch 4K 120Hz OLED gaming TV would feel to play games on, but it would be eye-melting. Seriously, it would be an experience you wouldn't forget and that's what LG is all about with its new G-Sync OLED TVs that come in up to an insane 88 inches in size. Native 4K resolution and super-smooth 120Hz refresh rates, all helped by NVIDIA G-Sync tech and on a gorgeous OLED panel. Do want.
Acer Predator CG552K: 55-inch 4K 120Hz OLED Gaming Monitor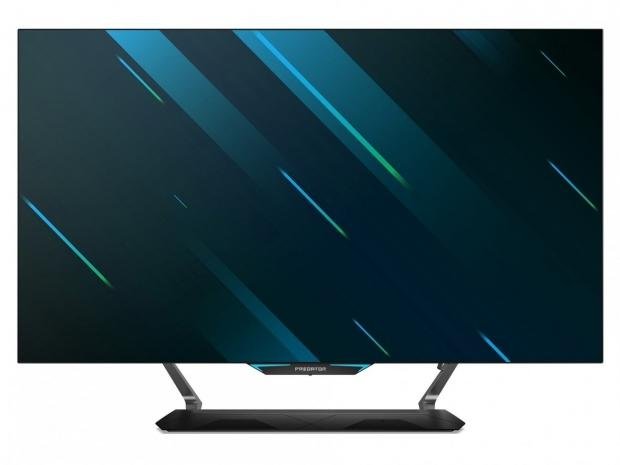 Acer surprised this year at CES 2020 with its new Predator CG552K, a huge new 55-inch 4K 120Hz OLED gaming monitor. Yeah, Acer is here with an OLED-based gaming monitor that is TV-sized, offering 4K @ 120Hz for a cost of $2999. You'll need a beefy graphics card to play on it (NVIDIA GeForce RTX 2080 Ti, or wait for Ampere or Big Navi) but holy balls this would be a gorgeous display to play games on that isn't too insanely large like the 88-inch LG G-Sync OLED TV.
NVIDIA G-SYNC OLED TVs
NVIDIA has steadily increased its big-screen gaming dominance over the years, working with LG on a continuously expanding range of G-Sync Compatible OLED TVs. CES 2020 was no different, with a bunch of new LG OLED TVs unveiled that are ready for your large screen (and sometimes BFGD) gaming needs.
Desktops & Laptops
Origin PC M-Class Studio Desktop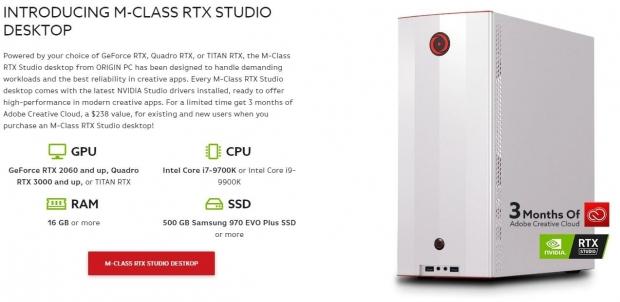 Origin PC was acquired by gaming giant Corsair and has now introduced something interesting in that time at CES 2020, with the new Origin PC M-Class Studio desktop PC which is aimed at professionals. The new system offers insane amounts of power, where you can configure it with a GeForce RTX 2060 minimum right through to a Quadro RTX or TITAN RTX graphics card. It also looks slick as hell, too.
Intel Ghost Canyon NUC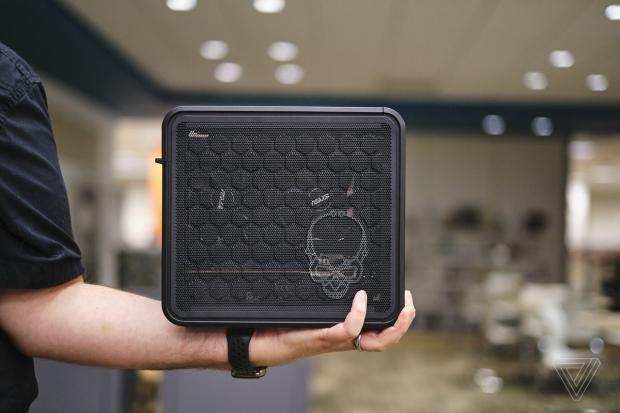 Intel didn't come out swinging too much at CES 2020, but something that did grab our eyes was the tease of a new Ghost Canyon NUC. Intel's new Ghost Canyon NUC is smaller than a PlayStation 4 Pro but has enough room inside to fit a full desktop NVIDIA GeForce RTX 2070 graphics card. You can configure it with some pretty gnarly internals as well, with Intel starting the new NUC pricing at $1050 and launching in March as a barebones system.
Alienware Concept UFO: Nintendo Switch Style Portable PC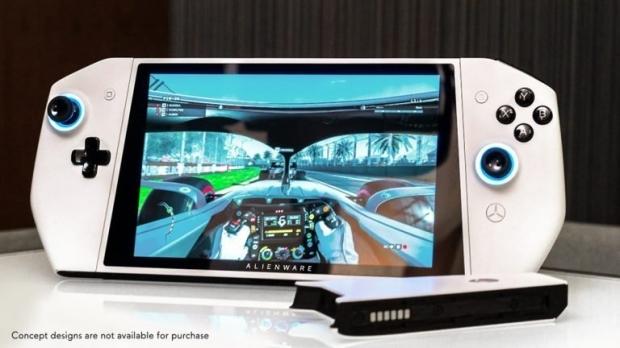 Alienware was showing off an interesting Concept UFO handheld gaming PC at CES 2020, packed with an 8-inch 1920 x 1200 screen and the style of a Nintendo Switch console. Inside, it is powered by Intel's new 10th-gen Comet Lake CPU and integrated graphics. We don't know if the PC will ever make it to market, so it might just be a once-off tease here at CES 2020.
Storage & Cases
WD Black P50
WD really turned portable gaming storage into a big thing in the last year or two, offering its WD Black P50 Game Drive SSDs in varying capacities with some kick ass transfer speeds. We have 500GB, 1TB, and 2TB drives on offer with read speeds of up to 2GB/sec thanks to the USB-C connectivity on the drive.
Seagate FireCuda Gaming SSD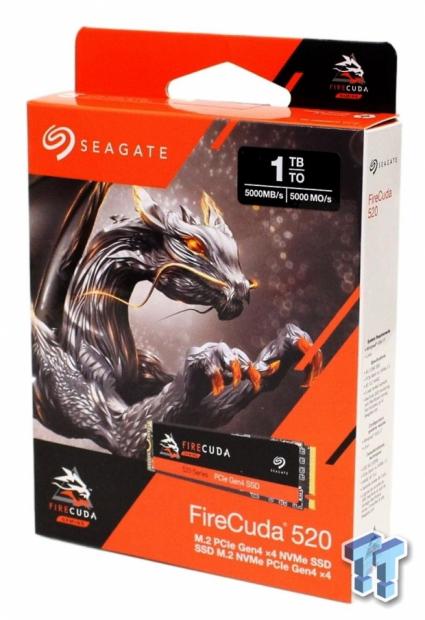 Seagate in its own words wants you to "dominate with ferocious speed" through its FireCuda 510/520 SSDs, offering 500GB, 1TB, and 2TB capacities. Seagate's FireCuda 510 SSD is a PCIe 3.0-based drive while the newer FireCuda 520 SSD is on the super-fast and very-tasty PCIe 4.0 standard offering up to 5000MB/sec reads and 4400MB/sec writes, while the PCIe 3.0-based drive pumps out up to 3450MB/sec reads and 3200MB/sec writes.
Phison - First PCIe 4.0 SSD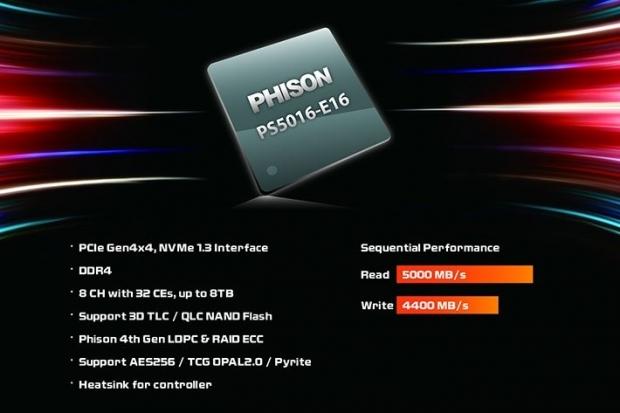 Phison was the first with a commercially available SSD on the new PCIe 4.0 bus, with its PS5016-E16 dominating the last half of 2019 powering SSDs at up to 8TB on the PCIe 4.0 bus. Phison super-powered SSDs offering up to 5GB/sec reads and 4.4GB/sec writes, something that was previously impossible on PCIe 3.0.
Thermaltake View 51
Thermaltake built the View 51 TG ARGB as a specially-constructed full-tower case from its View Series family of cases, with two pre-installed 200mm 5V ARGB fans that make it look gorgeous right out of the box. You can mount your graphics card vertically to show it off, with a full gaming PC lit up by various RGB LEDs inside of the system looking gorgeous when the lights in your room go off for those late-night gaming sessions.
FSP Hydro PTM+ 850W 80 Plus Platinum Liquid Cooled PSU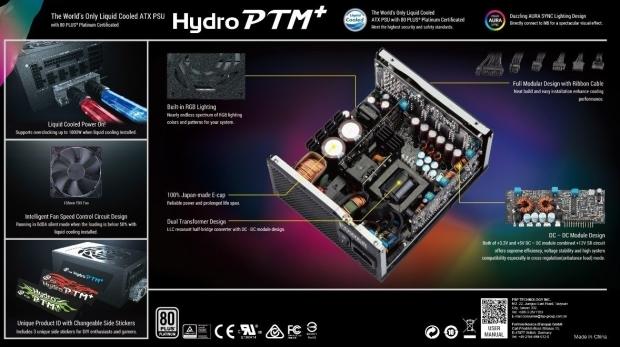 FSP unleashed its Hydro PTM+ is a unique, patented liquid-cooled PSU which has been designed from the ground up to work in some sticky environments. It is the world's first mass-produced liquid-cooled PSU, offering up to 1000W from the 850W model, while the 1200W model can burst up to 1400W thanks to the chilly operation with liquid cooling.
Misc. Products
Elgato 4K60 S+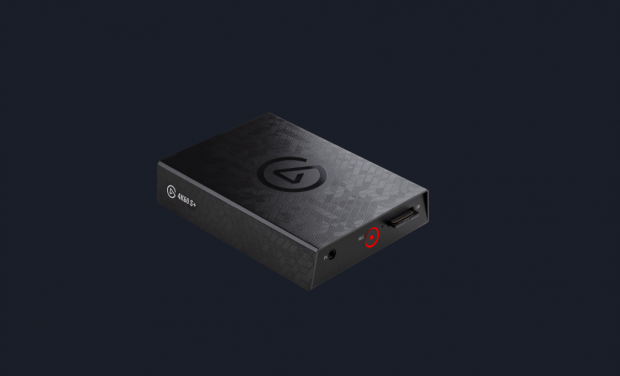 Elgato's new external capture card makes it easier than ever before to capture that glorious 4K gameplay at 60FPS and HDR enabled, with the new Elgato 4K 60S+ capture card able to do just that -- but instead of being an internal PCIe card, it is now an external USB 3.0 box that can also plug into your PS4, or Xbox One and capture 4K HDR @ 60FPS.
K95 RGB Platinum XT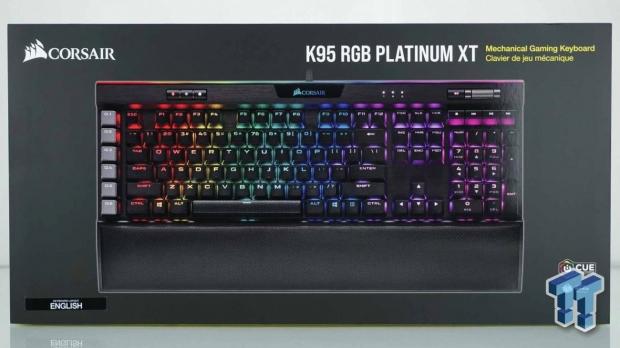 Corsair's new K95 RGB Platinum XT mechanical gaming keyboard was released during CES 2020, with Chad reviewing the keyboard and giving it a very rare perfect 100% score. Corsair added just as many bells and whistles to the new K95 RGB Platinum XT mechanical gaming keyboard as possible, and sets a new standard that in Chad's words will see Corsair's competitors "spend this year trying to match!"
We openly invite the companies who provide us with review samples / who are mentioned or discussed to express their opinion. If any company representative wishes to respond, we will publish the response here. Please contact us if you wish to respond.