GIGABYTE's Computex 2017 Suite Tour and New Products
Steven visited GIGABYTE's Taipei 101 product suite last week at Computex Taipei 2017 and reports back with what he saw.
Published
4 minute read time
Introduction, X399, and X299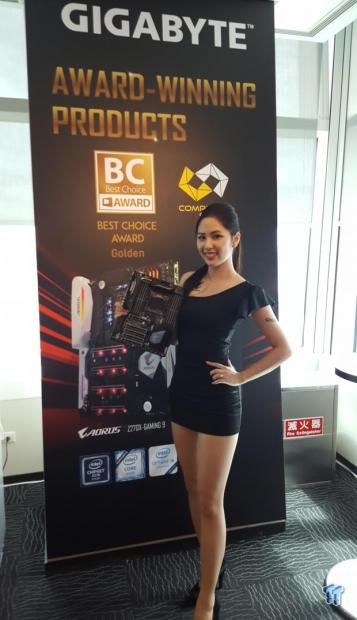 GIGABYTE always goes big when it comes to Computex; a gathering focused on computer technology based in their home country of Taiwan. Every year we fly over to the technology-centric island-country to get a firsthand account of the latest and greatest hardware directly from the source.
Computex is where you find unreleased hardware and booth girls. During our Facebook live stream of GIGABYTE's suite, most of our readers liked the model in GIGABYTE's suite a lot, so I made sure to deliver after the video, and here is the picture in case you missed it!
X399 and X299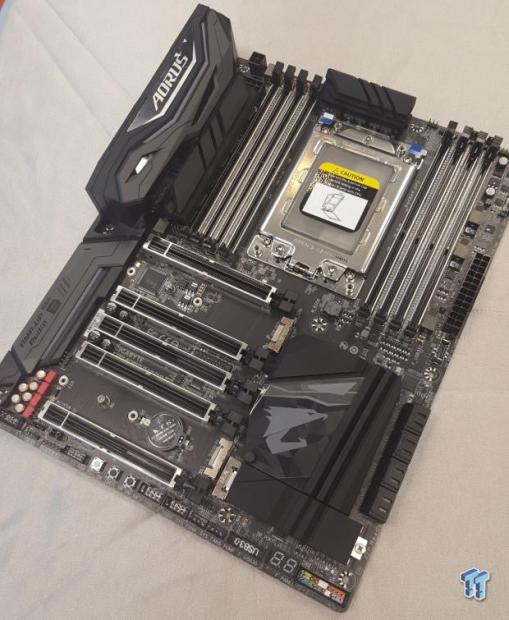 Many people were shocked to see X399 AMD ThreadRipper motherboards in the flesh, and so was I. On the day GIGABYTE was to display it in their suite, I snuck in and did a Facebook Live overview of the motherboard and took these pictures. X399 is AMD's soon to be released platform, but it is not coming anytime soon, so the real focus of the show was X299, with vendors showing just a single X399 motherboard each.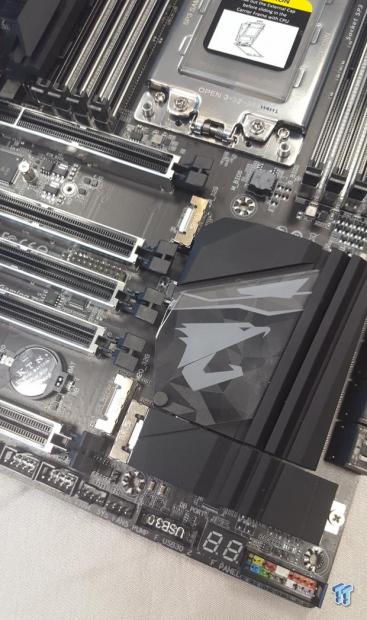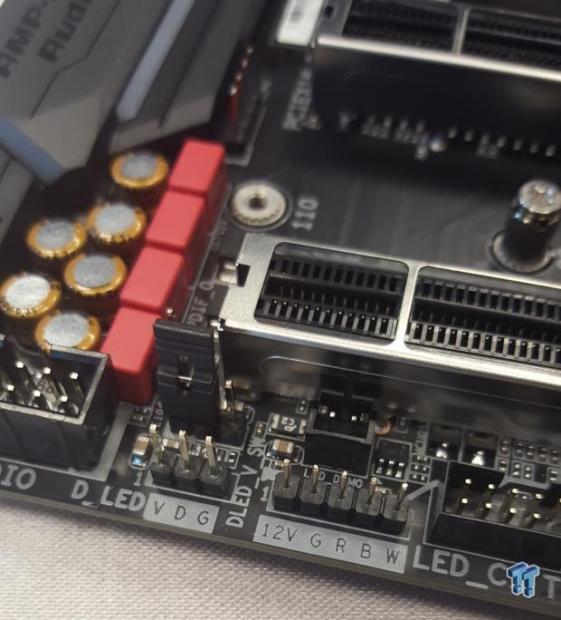 Taking a look at IO, we see a lot of slots and features. AMD claims Threadripper will have 64 PCI-E lanes from the CPU, we hope that is true, and the number of M.2 slots and PCI-E slots are very high, so hopefully that number will stay true when the products launch. The X399 Gaming 7 features many PCI-E slots and could possibly support 4-way SLI/CrossFireX. The motherboard has updated audio, three M.2 slots, overclocking features, and some really killer aesthetics.
A new feature I have only seen on GIGABYTE motherboards this round is digital RGB headers. These are also found on GIGABYTE's X299 motherboards, and they complement the typical RGBW headers we see on GIGABYTE motherboards. Digital RGB Headers allow the controller to address individual LEDs, so you can do some cool RGB LED tricks, and the effects are actually quite impressive. It is also a three-wire protocol; voltage, data, and ground.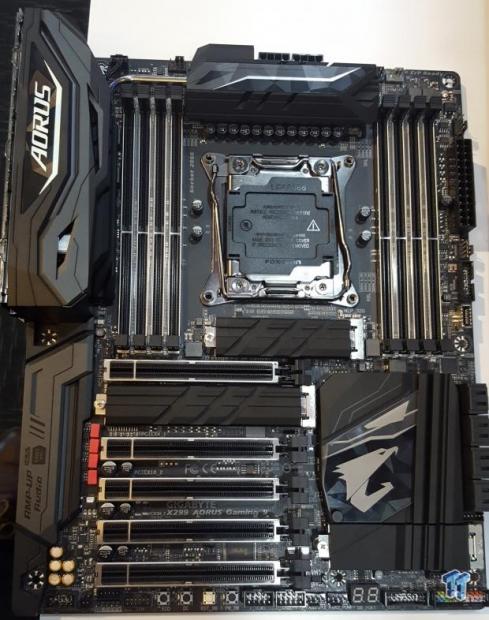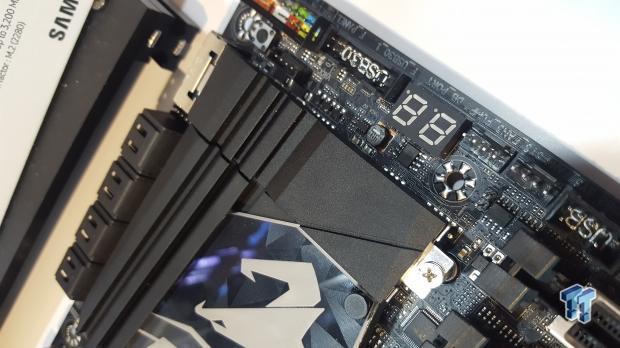 Taking a look at a platform that will launch much sooner than the X399 platform, GIGABYTE's top X299 motherboard is the X399-Gaming 9, which offers a slew of features and aesthetics. Turn off the many RGB LEDs built into the motherboard and you get an almost black motherboard, so those who love RGB LEDs and those who hate them will both be happy. On the Gaming 9, each of the M.2 slots gets a metal heat sink with a thermal pad, and it's easy to use and install as it holds the M.2 screw in place, so you won't lose it.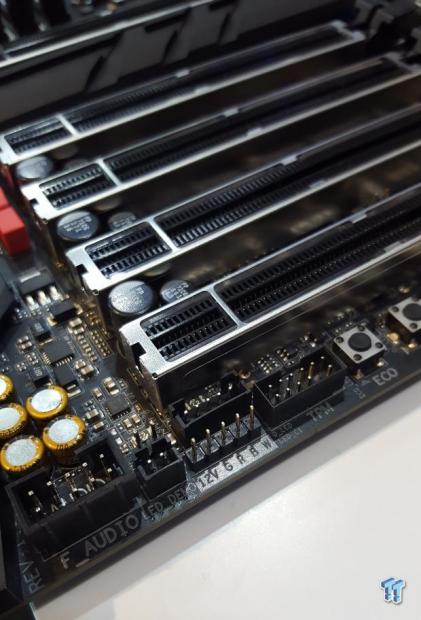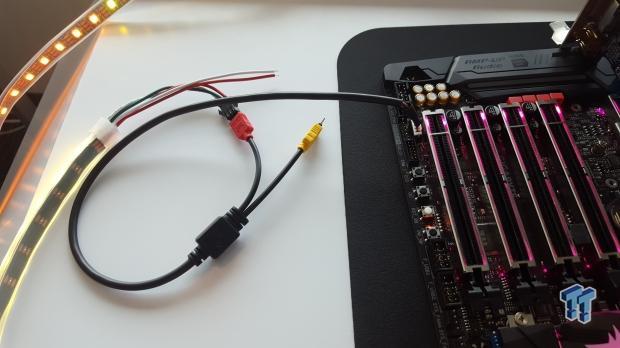 The Gaming 9 also features the digital RGB LED header, but it offers a special header that supports both 5v and 12v digital RGB LEDs, so GIGABYTE adds a special splitter so you can use either.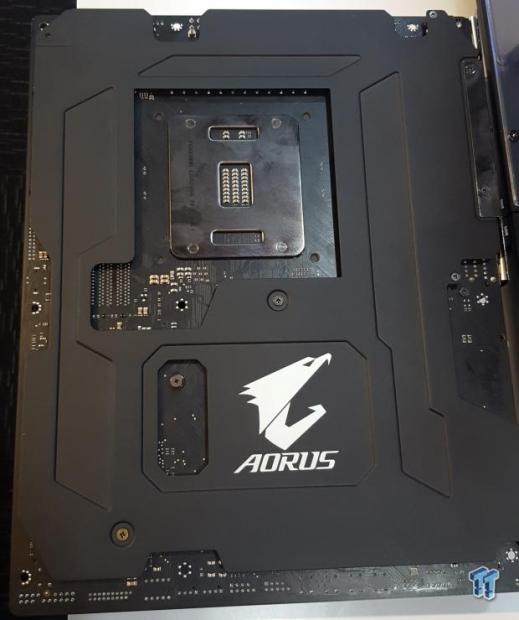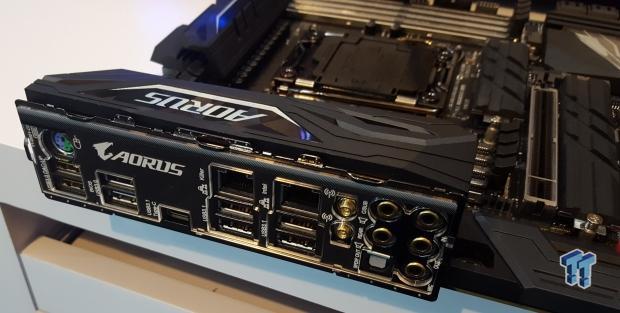 The back of the motherboard features a metal bracket that adds weight to the motherboard and should ensure the PCB stays straight. GIGABYTE has even integrated the IO panel into the rear IO, something some users had requested.
Other X299 Motherboards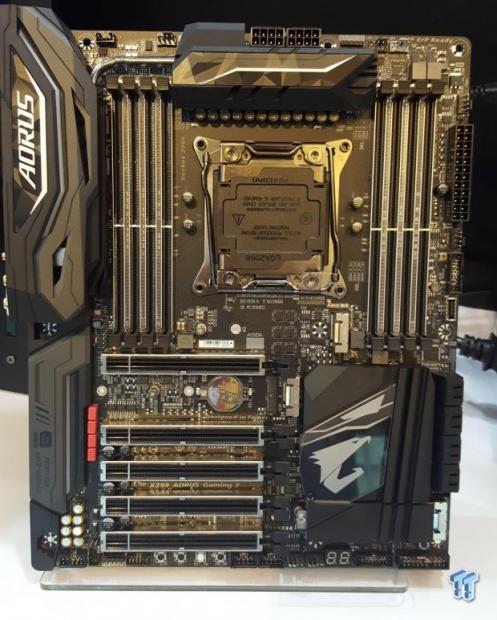 Down one level from the X299 Gaming 9 is the X299 AORUS Gaming 7, which is very similar to the Gaming 9, but is a bit cut down when it comes to premium features such as an integrated IO shield, M.2 heat sinks, and 5v/12v digital RGB LED support.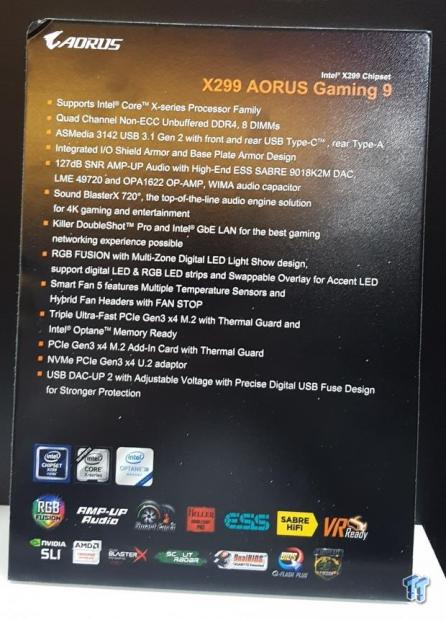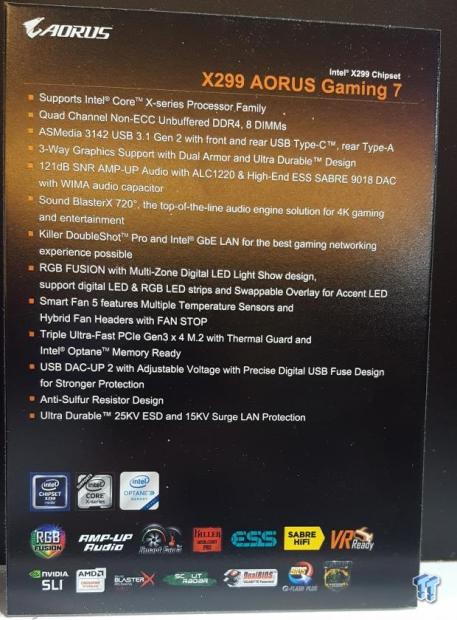 The poster-board cards near each motherboard show off its features and the differences between the motherboards. One different is the audio output SNR, which is a bit higher on the Gaming 9 at 217dB.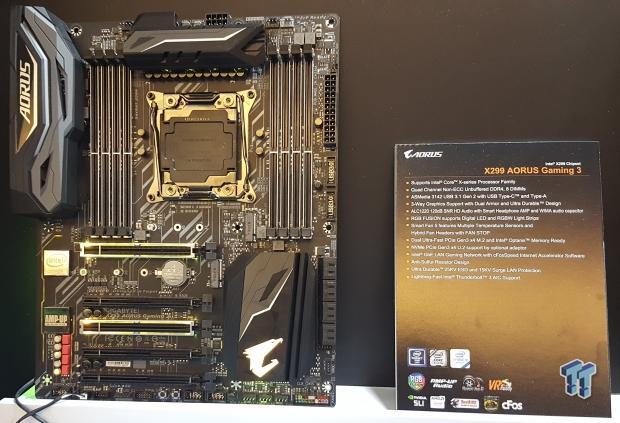 The lower-end motherboard in GIGABYTE's X299 fleet is the X299 AORUS Gaming 3, which offers slightly fewer features than the Gaming 7, and the Ultra Gaming which sits in the place of the X299 AORUS Gaming 5. It features Intel LAN, two M.2 slots, and digital RGB LED support along with traditional RGB LED support.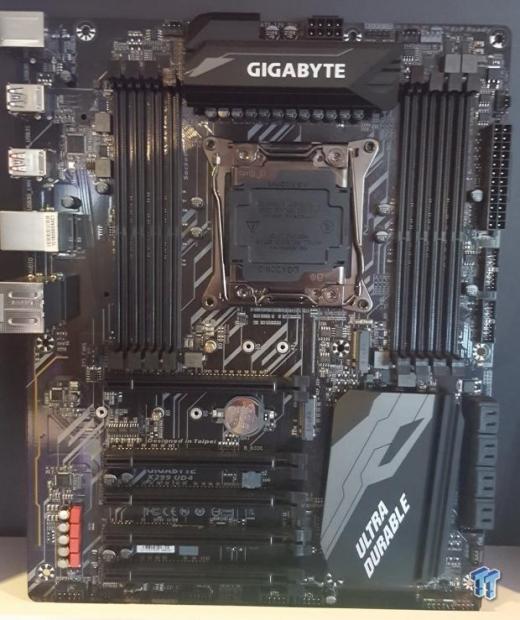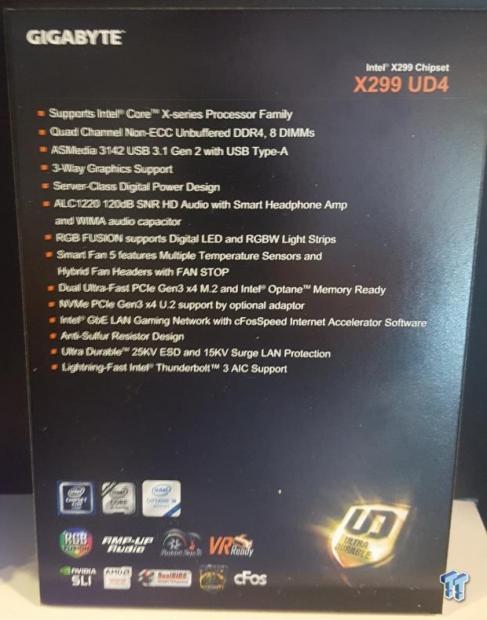 The X299-UD4 is GIAGBYTE's only Ultra Durable motherboard that will be launched at the X299 chipset launch. It has no RGB LEDs; it features an all-black aesthetics, and still maintains some premium features like USB 3.1 that most people care about. It's a solid motherboard designed for those who don't want all the flash of an AORUS motherboard.
Crazy Mods and 128GB of DDR4 Running Over 4GHz
Crazy Mods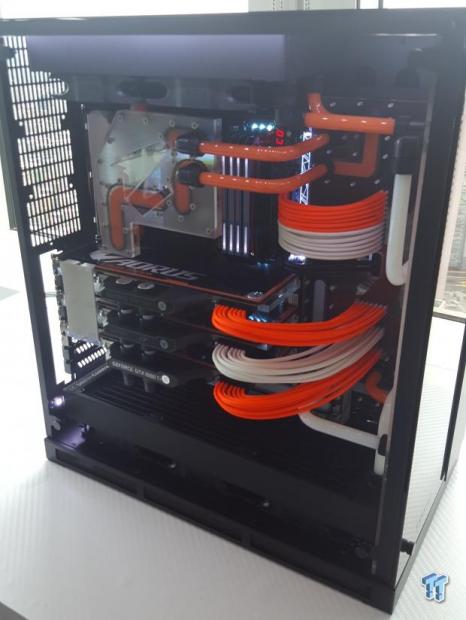 GIGABYTE typically commissions some crazy case mods, and I thought some were interesting. The orange and white build with a custom mono-block for the Z270-Gaming 9 is a very good-looking build with triple GTX 1080s in SLI.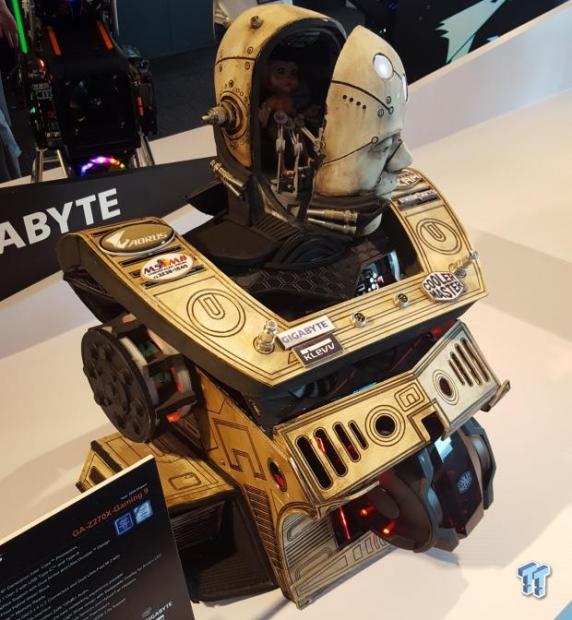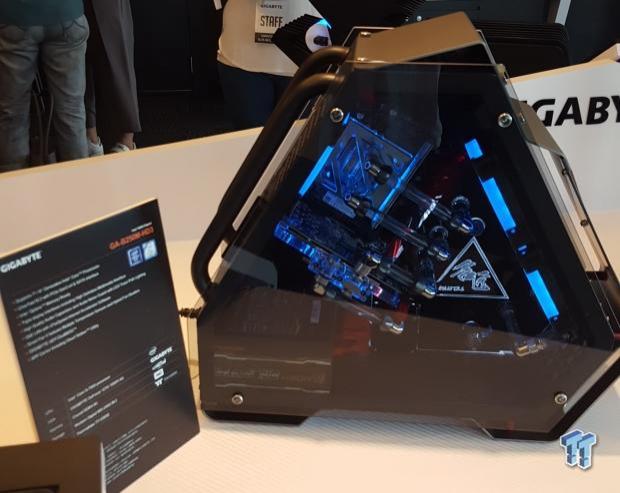 More mods!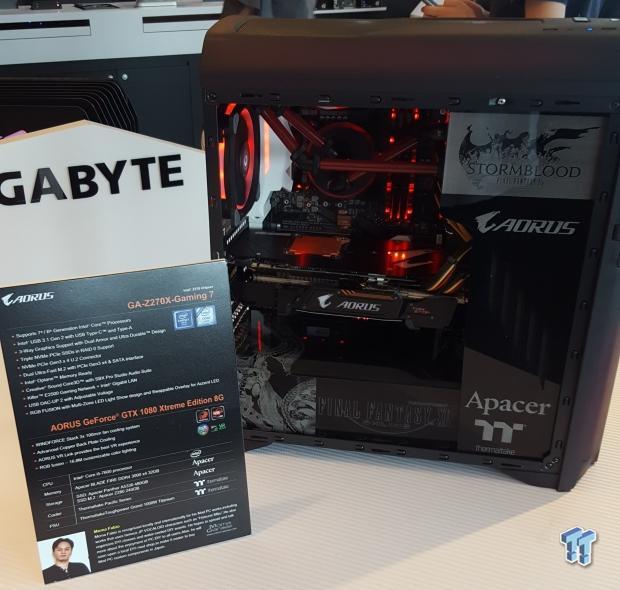 Another mod!
DDR4 Running Over 4GHz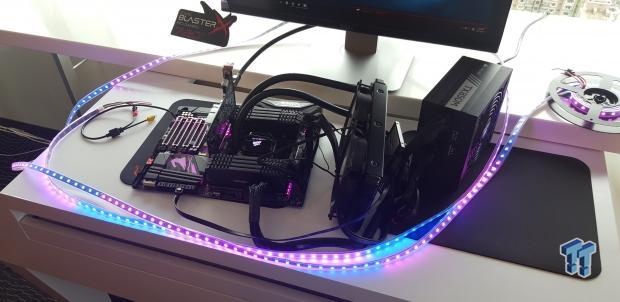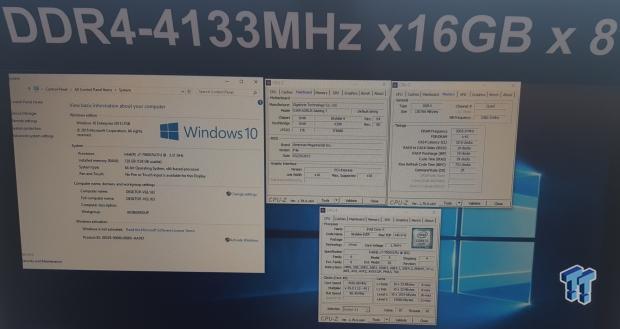 GIGABYTE also showed off their X299-Gaming 9's digital RGB capabilities along and the ability for the motherboard to run 8x 16GB DIMMs at 4133MHz. Running 128GB of DDR4 over 4GHz with just XMP is an amazing feat, and the X299 AORUS Gaming 9 is capable of it, indicating the new platform will be quite exciting for overclockers.
VR BRIX, GPU Enclosure, and Water Proof Keyboards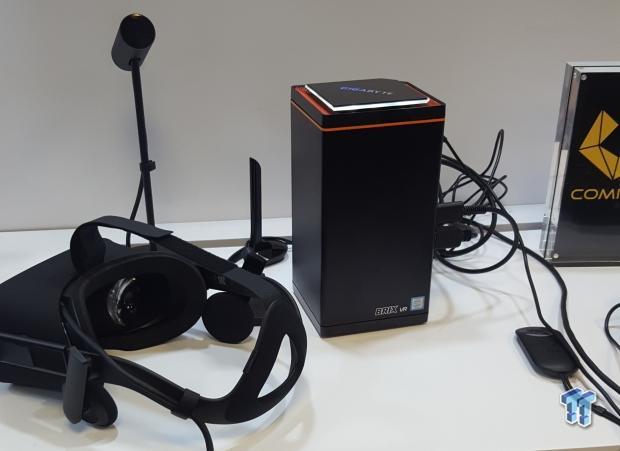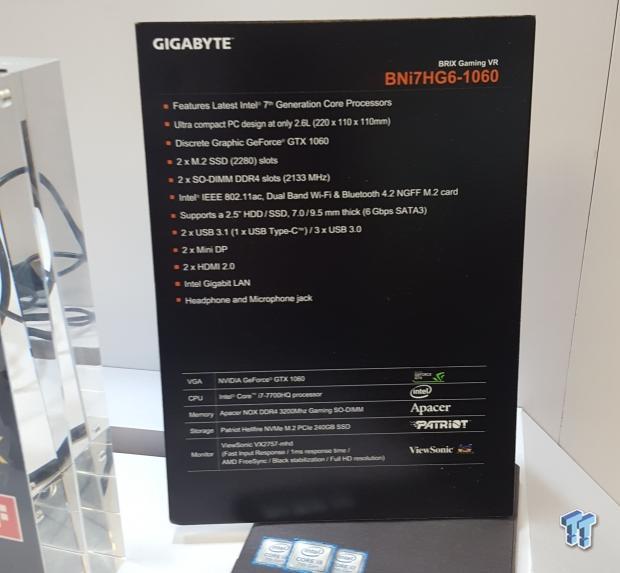 GIGABYTE has a new VR BRIX, designed to provide gaming capabilities to users with a little less desk space. It uses an Intel Core i7, GTX 1060, two M.2 SSD slots, SO-DIMMs, and a slew of other features such as HDMI 2.0 and USB 3.1.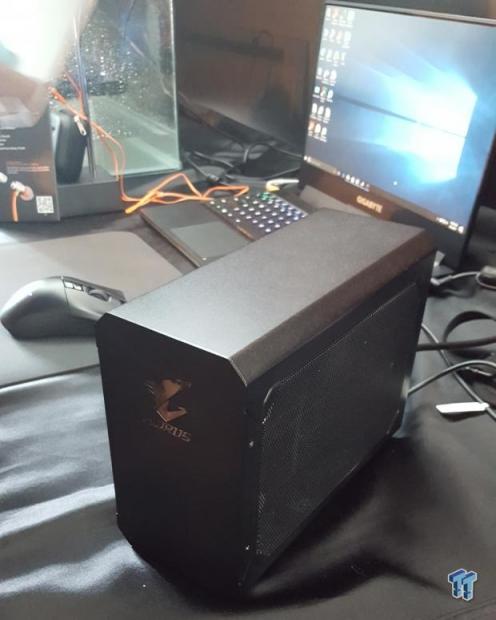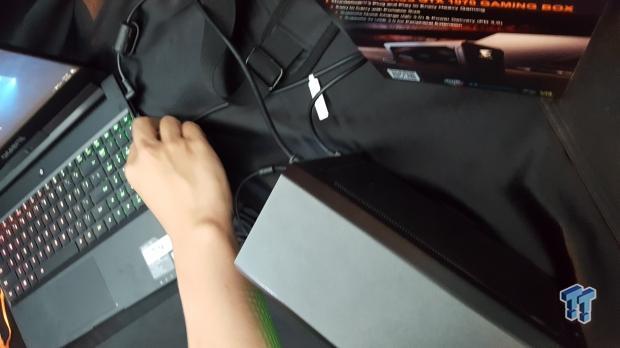 GIGABYTE has also developed a GTX 1070 external enclosure that uses ThunderBolt 3 to connect to notebooks and other devices that could benefit from an external GPU.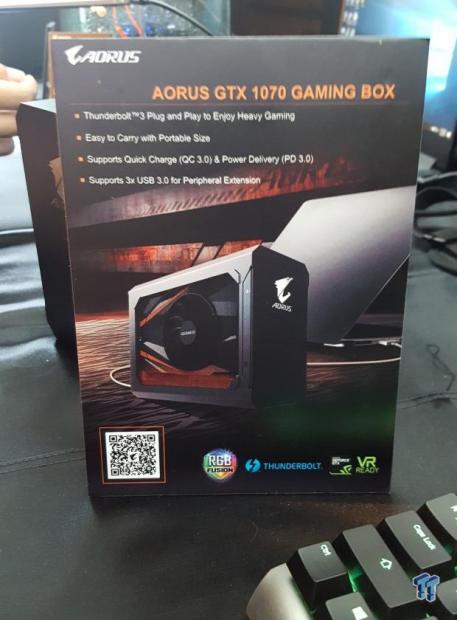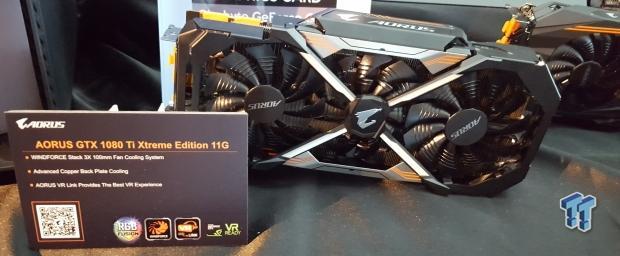 The external enclosure uses a small PCB GTX 1070 along with an integrated GPU to provides gaming capabilities to notebook users. It supports Quick Charge 3.0, Power Delivery 3.0, and three USB 3.0 ports. It's easy to setup with plug and play capabilities. While the GTX 1080 Ti has already launched, GIGABYTE's GTX 1080 Ti Xtreme Edition 11G GPU is an impressive graphics card capable of driving the latest titles at 4K while operating silently.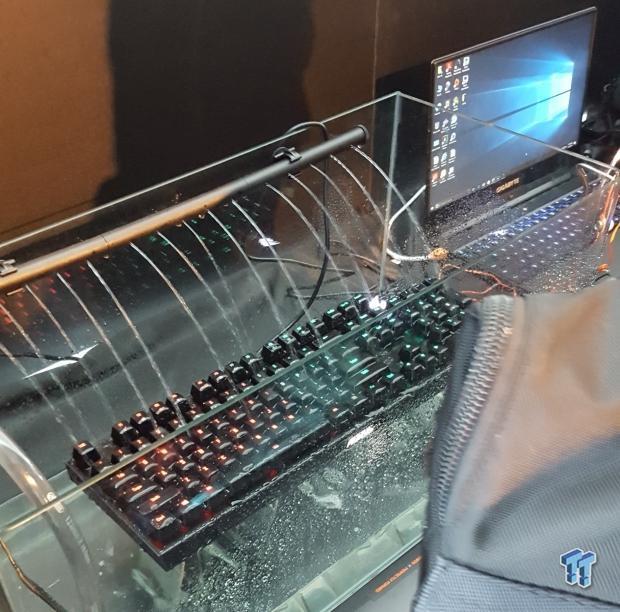 GIGABYTE also showed off its splash-proof keyboard with a physical demo where water is dripped over the keyboard while it is turned on. It is a nice real-life demo that shows the durability of the keyboard. As we have seen GIGABYTE has produced a plethora of new high-performance products ranging from unreleased motherboards to unique gaming accessories.
We will have much more GIGABYTE news coming in the following days and weeks, so stay tuned!
PRICING: You can find products similar to this one for sale below.

United States: Find other tech and computer products like this over at Amazon.com

United Kingdom: Find other tech and computer products like this over at Amazon.co.uk

Australia: Find other tech and computer products like this over at Amazon.com.au

Canada: Find other tech and computer products like this over at Amazon.ca

Deutschland: Finde andere Technik- und Computerprodukte wie dieses auf Amazon.de
We openly invite the companies who provide us with review samples / who are mentioned or discussed to express their opinion. If any company representative wishes to respond, we will publish the response here. Please contact us if you wish to respond.
Related Tags